Project Nim chronicles a team of people trying to teach a chimpanzee to learn and independently use sign language.
Project Nim
For the follow up to his excellent 2009 documentary, Man on Wire, director James Marsh returns to the 1970s for yet another tale of a team of people trying to accomplish what some might consider impossible. This time, instead of a high-wire walk between the twin towers, the goal is to teach a chimpanzee not just to learn signs for words, but to manage the much more complex task of using use language—a skill that linguist Noam Chomsky insisted was restricted to humans. Marsh's acclaimed documentary won Marsh the best documentary directing award at Sundance this year, played in the area last month at the Silverdocs festival, and returns this week for a theatrical run.
The subject of the experiment was the playfully named Nim Chimpsky, a chimpanzee raised nearly from birth by the researchers, practically like a human child. Numerous problems arose during the course of the experiment, and Marsh, much as he did with his last film, tasks himself with reconstructing the tensions of events that occurred over 30 years ago, mainly via present day interviews with those involved. In doing so, he looks to reveal more about human nature than animal nature, and to explore the responsible limits of science.
View the trailer. Opens Friday at E Street Cinema. Bob Ingersoll, one of Nim's handlers featured in the film, and members of Physicians Committee for Responsible Medicine will be on hand for a panel discussion at the Friday 7:15 p.m. screening.

Days of Wine and Roses
Though he'd become identified with uproarious comedies like The Party and the Pink Panther series, Blake Edwards career was varied enough to run the gamut all the way from those films to thrillers, to this hard-hitting drama about alcoholism. Probably Hollywood's most honest depiction of the ravages of excessive drinking up to that point (it still feels pretty raw a half-century later), Days of Wine and Roses starred another man often identified with comedy, Jack Lemmon, as a PR man whose functional, Mad Men-esque daily drinking begins to drown him. With him, he takes down a secretary played by Lee Remick, who he wins over before things really start getting bad; after he introduces her to the pleasures of drink, they go on some of the most uncomfortably pathetic benders short of Nicholas Cage in Leaving Las Vegas. Not even a slightly too-happy ending can undercut the power of this film, particularly of Lemmon's despairing performance, which earned him a Best Actor Academy Award nomination, and foreshadowed the powerfully bleak work he'd later do in the film that would win the award for him, 1973's Save the Tiger.
View the trailer. Monday and Tuesday at 6:30 p.m. at the AFI.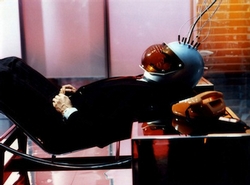 World on a Wire
Tireless German director Rainer Werner Fassbinder almost literally worked himself to death, directing 40 feature films in 17 years, most of which he also wrote, as well as a number of stage plays and television shows. It might have technically been a mix sleeping pills and cocaine that killed him in 1982, but the breakneck pace of his work was surely a contributing factor. In 1973 he was working primarily in German television, but his TV work often was just as cinematic as his movies; the TV shows just had longer stories to tell. One of those stories was World on a Wire, a two-part miniseries adaptation of Daaniel Galouye's pulp-science-fiction novel Simulacron-3. The science-fiction setting was unusual for Fassbinder, though he kept things grounded in a futuristic, but recognizable world that didn't require elaborate effects to attain. The film explores the notion of artificial realities long before anything like them would be possible, as well as artificial intelligences and how they might integrate into human society. Lost to audiences for many years, Janus Films has restored the 212-minute sci-fi epic for a brief theatrical run before an expected DVD release.
View the trailer. Opens Friday at West End Cinema.
Cat People
The Smithsonian American Art museum is in the midst of a retrospective on the work of George Ault, and the painter's somewhat eerie vision of mid-20th century America. Another pair of artists mining similarly dark territory were film producer Val Lewton and director Jacques Tournier, who collaborated on a trio of horror films in 1942 and '43. The first of those is the classic Cat People, a chilling bit of supernatural thriller-noir about a woman who believes she is cursed to turn into a panther whenever she becomes aroused. Lewton and Tournier expertly play with tension and audience expectations, creating one of the mostly definitively creepy early horror films ever made. The museum is presenting this film (along with its sequel, Curse of the Cat People, next week) in conjunction with the Ault retrospective, as part of a series of films that explore American unease during the 1940s.
View the trailer. Thursday at 6:30 PM at the Smithsonian American Art museum. Free.
Captain America: The First Avenger
Poster-boy for performance enhancing drugs, Steve Rogers was a 98-pound weakling transformed by an experimental drug administered by the government into the most perfect and patriotic soldier known to mankind. Overnight, Rogers went from a World War II draft reject to the best and brightest hope of a nation facing not only Adolf Hitler, but also the führer's crimson-faced advanced weapons expert, Red Skull. Marvel Comics takes its final step towards next year's supergroup comic book extravaganza, The Avengers, with this one, which will feature the talents of Iron Man, The Incredible Hulk, and Thor, along with the good Captain and all the minor characters that have been introduced over the course of the films. Joe Johnston directs Chris Evans here, and we all hope that we get the imaginative Johnston of The Rocketeer rather than of Jumanji, and that Evans can throw off the albatross of his appearances in the ill-fated Fantastic Four series, and maybe give Rogers some of the square-jawed, self-aware humor of his small role in last year's Scott Pilgrim.
View the trailer. Opens Friday at theaters all over the area.
Despite being one of the few Indian filmmakers readily welcomed by Western audiences, DVD releases of many of this master's films have often only been available for a brief time before going out of print, and often in releases without much restorative care. This week the Criterion Collection puts out their first release of a Ray film, his 1958 fourth feature, Jalsaghar, or The Music Room. The film tells the story of the end of the life of a Bengalese aristocrat, which also coincides with the end of the Indian zamindari system that gave him his power to begin with. As his days and those of his caste are waning, he puts on elaborate concerts in the grand music room of his mansion, allowing Ray to make a poignant drama about class and tradition in a rapidly changing India that also highlights the nation's music and artistic culture. While the film has been available on DVD before, the care that has gone into this new high definition release is rather amazing if you take a look at these comparative stills. If you're unfamiliar with the director's work, a package that shows his vision as clearly (if not even moreso) than you might have seen on a big screen in 1958, along with all the background that Criterion always supplies in the extras, is likely a good place to start. Even if you've seen The Music Room before, it's unlikely you've ever seen it look as beautiful as this.
Special Features: An eponymous 1984 feature documentary about the life and career of Satyajit Ray, interviews with Ray's biographer, and with Indian director Mira Nair, and an except from a 1981 roundtable discussion with Ray, critic Michael Ciment, and director Claude Sautet.
Watch Criterion's "Three Reasons" for The Music Room's greatness.
Subscribe to Washingtonian
Follow Washingtonian on Twitter
Follow the After Hours Blog on Twitter
More>> After Hours Blog | Arts & Events | Happy Hour Finder | Calendar of Events