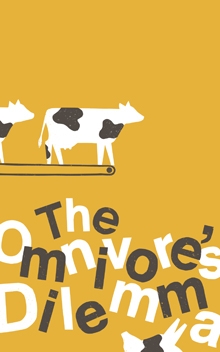 Tuesday, July 26
FOOD: Join Dan Searing, author of The Punch Bowl, for an evening of punch and southern dishes at Eatonville. The three-course menu includes coconut shrimp and vegetable spring roll Hors d'oeuvres, followed by chipotle lamb ravioli, pimento-crusted squab, and double chocolate fudge gateau. Each course will be served with a summer punch. Copies of The Punch Bowl will be available for purchase and signing at the event. Tickets ($45) can be purchased here or by calling the restaurant at (202) 332-9672. 6:30 PM.
THEATER: Michael Pollan's bestselling manifesto The Omnivore's Dilemma is getting a theatrical makeover at Georgetown University. Written and directed by Professor Natsu Onoda Power, the adaptation of the same name explores the cycle of American food. Just like in the book, viewers are taken to corn fields in Iowa, organic farms and hunting grounds, and fast-food emporiums. In the second act, audience members follow a map to smaller scenes staged throughout the building. The question "What should we have for dinner?" will never be the same again. Tickets ($7 to $18) can be purchased at the event Web site. 8 PM; July 26 through 31.
FILM: Celebrate Cuba's national holiday Asalto al cuartel Moncada with a double feature at West End Cinema. First up is Maestra, a short documentary about the Cuban Literacy Campaign of 1961. (Check out the trailer here). Next, Will the Real Terrorist Please Stand Up tells the controversial story of the Cuban Five, a group of spies convicted of conspiracy to commit espionage and murder in Miami. (Watch the trailer here). Tickets ($11) include both films and can be purchased at the event Web site. 7:30 PM.
MUSIC: Drop by Comet Ping Pong for a night of indie-folk tunes, wood-fired pizzas, and, of course, ping pong. Moon Freckles, Bake Sale Memphis, and Paperhead will begin playing at 9 PM. You can sample some of the bands' mellow tracks by clicking on the links above. Tickets ($5) can be purchased at the door.
Subscribe to Washingtonian
Follow Washingtonian on Twitter
More>> After Hours Blog | Arts & Events | Happy Hour Finder | Calendar of Events