Left, steak tartare with pickled mustard seeds; the upstairs bar area. Photographs by Kyle Gustafson
The month-old Lost Society, a steakhouse/lounge that occupies two stories and a roof deck on U Street, isn't the easiest restaurant to find—hence the name.
While purple velvet couches, a bevy of ornate chandeliers, and a DJ booth might suggest otherwise, owners Rich Vasey and David Karim—the former is behind 14th Street's Policy, the latter is a partner in the clubs Josephine and Current—are hoping it'll become known for its food.
Joseph Evans, a former executive chef at Smith & Wollensky, is behind such dishes as steak tartare with pickled mustard seeds and charred green onions as well as filet mignon with bone-marrow butter. His menu runs both high-and low-end; grilled cheese and Nutella s'mores share space with a brandied-cherry Manhattan and lobster stuffed with blue-crab cream.
Already, there have been celeb sightings (Sean Penn) and a line at the door—signs that Lost Society isn't so hidden after all.
Lost Society. 2001 14th St., NW; 202-618-8868. Open Tuesday through Saturday for dinner.
Click the menu to view at full size.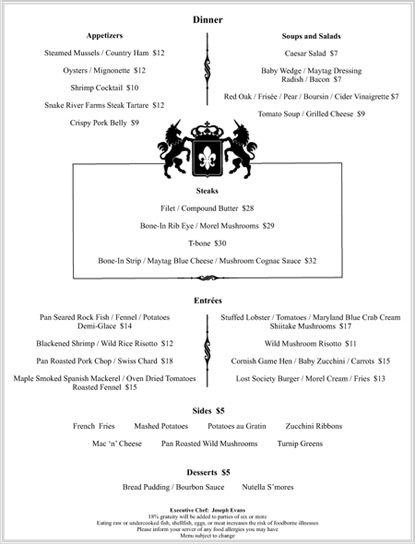 Subscribe to Washingtonian
Follow Washingtonian on Twitter
Follow the Best Bites Bloggers on Twitter
More>> Best Bites Blog | Food & Dining | Restaurant Finder