R.J. Cooper, center, with his team; the dish described as rabbit/carrot/horseradish/sorrel. Photographs by Kyle Gustafson
For all the media buzz surrounding the opening of R.J. Cooper's Rogue 24, there's still a lot about the former Vidalia chef's restaurant that remains mysterious. And that's exactly how he wants it to be.
"Don't walk in with expectations," says Cooper, seated near Rogue's open kitchen that's built in the center of the dining room. "Put yourself in the hands of craftspeople. Come in with an open mind and try to embrace it."
The look of the place is retro-industrial-meets-high-tech: antiques such as the host stand—a drafting table from Cooper's grandfather—share space with rotary evaporators and iPad-toting servers. The space is a 20th century carriage house in an alley near the Convention Center that has both exposed brick and modish globe-like yellow lights.
There are just two menus—a 16-course "Progression" and a 24-course "Journey"—and they have such descriptions as "liquid chicken/cepe/truffle/sheep's cheese." Cooper hints to me that this bite falls somewhere between fried chicken and a soup dumpling, but diners participating in the $100 or $120 menus are encouraged to watch, taste, and ask questions.
The seasonal menu will change often, as will sweet courses from pastry chef Chris Ford (formerly of Trummer's on Main) and cocktails designed by Derek Brown (owner of the Columbia Room). The format draws comparisons between the 52-seat Rogue 24 and Minibar, but Cooper says he doesn't want to be likened to José Andrés's hyper-modern soon-to-expand restaurant: "We have a different creative outlet. If you walk in and expect Minibar, you'll leave disappointed."
"Chefs are put in a box, and it creates boundaries," says Cooper. "What we want to do is open that box for endless creativity."
Rogue 24, Blagden Alley/922 N St., NW, rear; 202-408-9724; rogue24.com. Open Tuesday through Saturday 6 to midnight. "Journey" menu: 24 courses, $120 without drink pairings/$175 with pairings; "Progression" menu: 16 courses, $100/$145.
Click the menu to view at full size.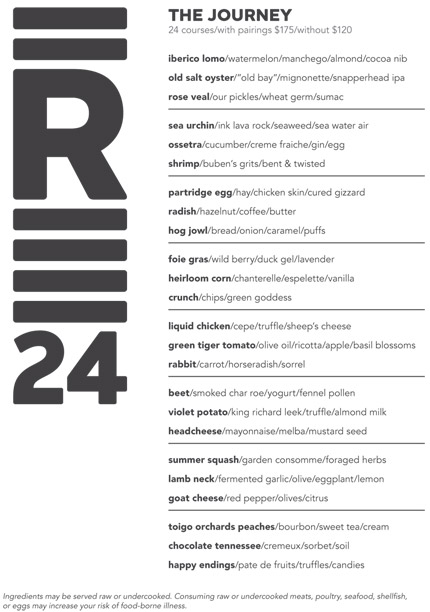 Subscribe to Washingtonian
Follow Washingtonian on Twitter
Follow the Best Bites Bloggers on Twitter
More>> Best Bites Blog | Food & Dining | Restaurant Finder