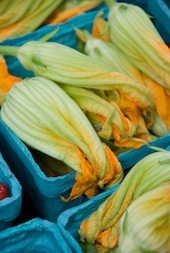 Ballpark Special at Bourbon Steak: Monday, August 1, through Wednesday, August 31
At the Bourbon Steak lounge, two summer staples—hot dogs and beer—come together for a month-long special: A Red Apron Butchery cheddar dog—made with local dry-aged beef and topped with mustard—and a can of the Public, a pale ale from the new brewery DC Brau, are $7. The deal is available Monday through Thursday.
Squash Blossom Festival at Oyamel: Monday, August 1, through Sunday, August 14
During Oyamel's annual two-week festival dedicated to squash blossoms, you'll find the flowers in small plates and cocktails. Dishes include tomato-and-purslane salad with squash blossoms and pork rinds; house-made tamale with squash blossoms, braised pork, and queso fresco; and blossoms stuffed with goat cheese and poblano chiles. There's a tequila-based honeydew punch with squash blossoms and mint, and a "zucchini Mary." Click here for more information.
Rickey Month Final Party at Jack Rose: Monday, August 1; 6 PM
The Rickey was recently named DC's native cocktail—it was invented by a Washington bartender in 1883—and July in Washington was declared Rickey Month by the DC Craft Bartenders Guild. Tonight, Jack Rose is hosting a competition to see which local bartender mixes the best version of the gin-based cocktail. The ticket price ($10) includes one Rickey. Drinks from six finalists are available for an additional $10. DCist has a full list of the 25 participating bartenders.
Mid-City Dog Days Street Sale: Saturday, August 6, and Sunday, August 7
Shops and restaurants along DC's 14th Street are offering deals and specials for the annual summer promotion. DC Noodles, ACKC, 1905, Rice, and Cork—the Market & Tasting Room and the Wine Bar—are offering discounts, specials, and early opening hours. Need some new kitchen gear? Check out Miss Pixie's and Home Rule, where sales run from 20 to 60 percent. Visit the MidCity Web site for more information and a full list of participating vendors.
Subscribe to Washingtonian
Follow Washingtonian on Twitter
Follow the Best Bites Bloggers on Twitter
More>> Best Bites Blog | Food & Dining | Restaurant Finder