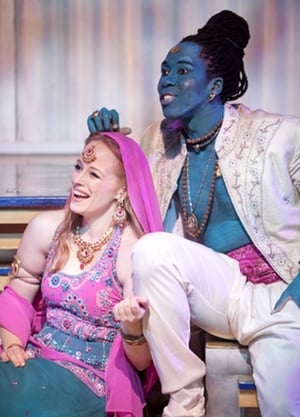 ☆☆☆½ stars out of four
In a battle of good versus evil, it's best to have an army of wisecracking monkeys on your side. That faceoff is the climax of The Ramayana, India's beloved epic story, now the plot line for a gutsy, original staging by Constellation Theatre Company. The show is one of several remounts of successful past productions gracing area stages this summer. Constellation has brought back The Ramayana, a hit for the company back in 2010, with minor staging tweaks and several new cast members, most in supporting roles.
For those who didn't catch the original production (or whose frame of reference for epic poetry is more Homer than Hindu), here's the premise: Ravana (Jim Jorgensen) has tricked the Gods into thinking he's a holy man—so convincingly, in fact, that he has persuaded them to make him invincible to both Gods and other demons. Drunk with power, Ravana now holds humanity in torment, striking down anyone caught praying. Heaven, however, has found a loophole: the immortal Rama (Andrew Honeycutt) must assume the form of a man to defeat him, along with his two brothers and devoted wife. But the plan hits a snag when Ravana's demon henchmen kidnap his beloved Sita (Heather Haney).
Constellation's production is grounded in the history and themes of the ancient work, emphasizing that an individual's destiny is to find his or her greatest talent and embrace it fully. But director Allison Stockman is never too reverent to take risks, and The Ramayana is most exciting when she does. The show is visually striking, from Honeycutt's full-body blue makeup to the garish masks that the demons wear; ribbons of red material stand in for blood and gore. Occasionally, elegant dance interludes interrupt the dialogue, and there's even a snarky rap routine, courtesy of the monkey king, Sugriva (Jon Odom).
Those monkeys, enlisted by Rama to lead him to Sita, are responsible for The Ramayana's most amusing and surprising moments. The actors embrace their mammalian roles with acrobatic glee, led by a thoughtful, earnest performance from Matt McGloin as Hanuman, the monkey God. The ensemble of The Ramayana works together to keep the action moving along fluidly, whether it's actors playing animals, demons or gods. Haney gives a steely, self-possessed performance as Sita, resigned to her temporary fate as victim, but she never appears fully defeated. Honeycutt is a graceful, commanding Rama, but Jorgensen's oily caricature of a villain seems out of touch with the rest of the production's tone.
Underscoring it all is the über-percussionist Tom Teasley, who won a Helen Hayes Award for his pulse-quickening live soundtrack for the play, utilizing several instruments—both ancient and contemporary—along with synthesizers and his own vocal chords for further assistance. It's a masterful performance that helps make The Ramayana thrilling and stimulating to the end.

The Ramayana runs through August 21 at The Source. Tickets ($20 to $35) are available at Constellation's Web site.
Subscribe to Washingtonian
Follow Washingtonian on Twitter

Follow the After Hours Blog on Twitter

More>> After Hours Blog | Arts & Events | Happy Hour Finder | Calendar of Events