CARL R. POPADICK (Left)
Union Major
Ground troops take a "hit" and die by lying down in the field. "There are two guys who fly off their horses," Popadick says. "I'm too old for that." Slumping over in the saddle is his thing. As a member of the cavalry, he rides a Palomino named Petey.
BOBBY COMPTON (Right)
Confederate First Corporal
Reenactors travel to battle sites around the eastern US, from Gettysburg to Mississippi to South Carolina. Participating in Civil War history has become a "small career" for Compton: "Being from Virginia, it's in your face every day."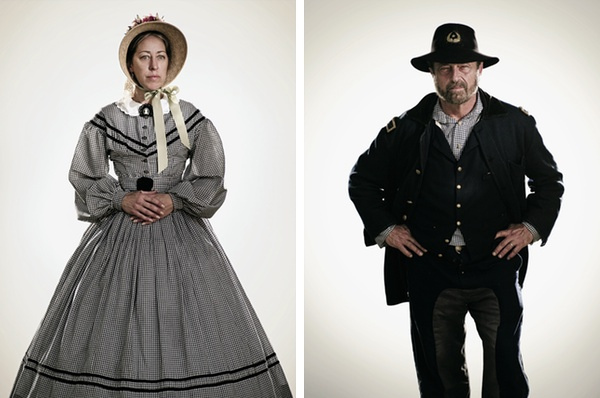 BRENDA ALLAMONG (Left)
Confederate Noncommissioned Officer's Wife
Growing up in Richmond, she dug for Civil War buttons and bullets. Allamong—who now lives in Waynesboro, Virginia—says of the Civil War era's cooking: "It's a lot of cast iron."
TONY DANIELS (Right)
Union General
He liked history and drama in college; reenacting blends both: "It's choreography on a grand scale." He started in 1982 after meeting a reenactor at Toys 'R' Us. "Next thing I knew I was at a meeting of the 7th New Jersey regiment."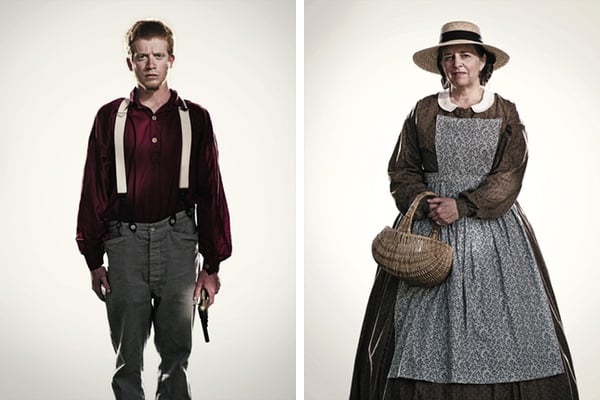 CHRISTOPHER SINGLES (Left)
Confederate Private
Singles—who lives in Newport News, Virginia—likes the rations: potatoes, stews, roasts. During one battle, embers from his rifle ignited gunpowder: "The gun went off when I was reloading. Just a little burn."
KYRA MOOREHEAD (Right)
Northern Civilian
"I couldn't stand history," the Annapolis resident says of school. "It was all dates and numbers." For her, reenactments fill history with personalities. Civilians had to supply soldiers with necessities of life when both governments fell short.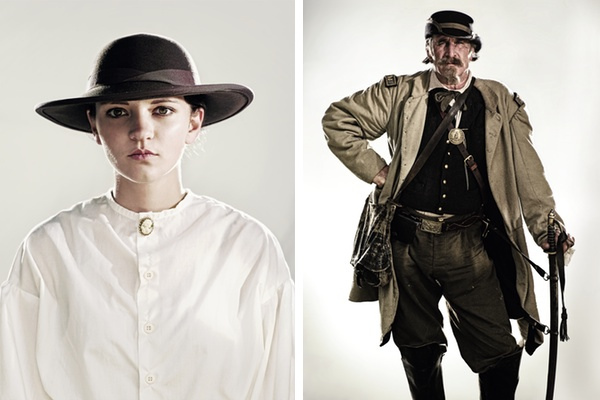 JENNIFER PARKER (Left)
Southern Civilian
Reenactments aren't just battles. Many include a strong living-history component, with full military camps and actors playing civilians. "You make a lot of friends," says Parker, 18, who lives in Big Island, Virginia. "It doesn't matter how old you are."
STEPHEN DUNN (Right)
Confederate Cavalry Captain
The Culpeper resident remembers going to Confederate parades as a child in Georgia. Dunn says the most important part of his reenactor role is to spark imaginations so "young people want to study the history of their country."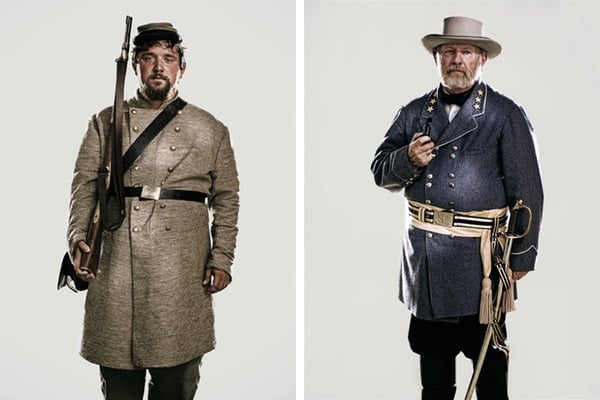 RYAN BROWN (Left)
Confederate Private
"He had 40 horses shot out from under him," Brown says of an ancestor he's researching, a general for the South. Brown, who lives in Maryland's Carroll County, has Civil War history books that "spill off into my closet and into the basement."
JAKE JENNETTE (Right)
Confederate General
A uniform is a way of life after 20-plus years in the Marines and 30 years of reenacting. "When I started," he says, "we wore gray trousers from Sears." He now commands 4,000 men. Reenactors' promotions are by peer vote.
MARY CHAPPLE (Left)
Confederate Officer's Wife
If someone had told her in high school she'd be a reenactor, "I never would have believed it." The Waynesboro, Virginia, resident says weather is a challenge. How do you keep a fire lit in the rain? "Move it uphill where it isn't floating away."
ROBERT FORD (Right)
Union Private
"The war was a major fight for black people," he says. Most black infantrymen were designated as United States Colored Troops. The 4th USCT Regiment Infantry, from Baltimore—where Ford lives—had three Medal of Honor recipients.
This article appears in the August 2011 issue of The Washingtonian.
All photographs by Cade Martin.