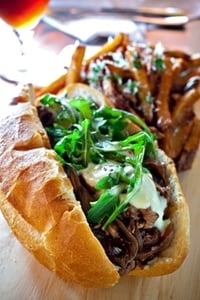 Washington doesn't have a sandwich to call its own, so some area chefs are looking to a neighbor: Philadelphia. The cheesesteak, with its famous—if downscale—mix of sliced beef and Cheez Whiz ("wit" onions is a personal decision) has inspired Washington versions at everything from neighborhood hangouts to a top-dollar steakhouse.
JJ's Cheesesteaks. What this shop lacks in hole-in-the-wall character it makes up for in efforts to be authentic—rolls come from Amoroso's bakery in Philly, and Whiz is an option.
Härth. So what if this newcomer's dining room is lined with shimmery white booths? Its lunchtime cheesesteak—with shaved short rib cooked sous-vide, provolone, peppers, and onions—is as messy as the best of them, albeit on a dainty ficelle with red-wine reduction on the side.
Rustico (Alexandria and Ballston). Chef Steve Mannino's menu skews toward what goes best with beer, so it's no surprise there's a cheesesteak. Braised brisket is tossed with balsamic onions, topped with jalapeño-cheddar béchamel, and stuffed into an Italian sub roll.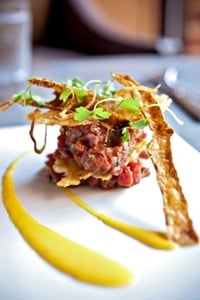 Bourbon Steak. While the lunch menu at this steakhouse says "cheese steak," the sandwich was just a starting point for chef Adam Sobel. What arrives is beef tartare bound by a quail-egg yolk and flavored with Dijon, capers, Sriracha, and ketchup, then layered with Parmesan-and-cheddar tuiles. "I wanted to do something with Cheez Whiz," Sobel says, "but it's not organic.
Cashion's Eat Place. The most popular item on this cozy restaurant's After Dark menu, served Friday and Saturday from midnight to 2 am, is the sub roll stuffed with shavings of slowly cooked rib eye—"almost steamed," says chef John Manolatos—plus onions, broccoli rabe, provolone, house-made mayonnaise, and pepperoncini.
2941. It sounds like blasphemy: a French chef at a white-tablecloth restaurant embracing a dish whose recipe calls for fake cheese? But Bertrand Chemel wanted familiar sandwiches for his business-heavy lunches. His version involves grilled rib eye or strip loin layered inside a griddled house-made Italian loaf with caramelized onions and provolone.
Redwood. You might be in an airy restaurant on a classy shopping strip, but this falling-apart sandwich feels close to Philly. A soft baguette spills over with rib eye, Cubanelle peppers, onion, and a layer of provolone.
This article appears in the August 2011 issue of The Washingtonian.
Subscribe to Washingtonian
Follow Washingtonian on Twitter
Follow the Best Bites Bloggers on Twitter
More>> Best Bites Blog | Food & Dining | Restaurant Finder