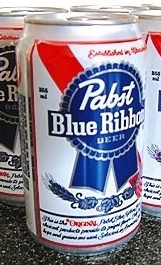 Artisanal ingredients such as house-made bacon and hand-squeezed juices may be trendy, but some chefs are unapologetically hanging onto downscale items.
You won't get Boone's Farm Country Kwencher by the glass at Logan Circle's Café Saint-Ex, but bartender Jonathan Fain freezes the fruity, frat-friendly wine with St-Germain liqueur and lemon for a boozy popsicle. Pabst Blue Ribbon is the choice brew for chef Liam LaCivita's beer-and-cheddar sausages at Clarendon's Liberty Tavern—he says it doesn't overpower the links as a microbrew would. At its coffeehouse sibling, Northside Social, Coca-Cola flavors the soft-serve. Soda also gets creative play at Ballston's Bakeshop, which pours 7-Up into cupcake batter to give it an airy lift.
Crushed Kellogg's Corn Flakes add crunch to the crispy soft-shell crabs at downtown DC's Nage, and pulverized Frosted Flakes coat Saint-Ex's sweet-savory Monte Cristo sandwich, which is stuffed with ham and pan-fried. At Penn Quarter's Hill Country, French's French Fried Onions add crackle to the green-bean casserole when the house-made topping runs out.
At PassionFish in Reston, chef Jeff Tunks admits to folding Velveeta into the mac and cheese. "It's like Tom Cruise in Risky Business when he talks about his dad's Porsche," he says. " 'There is no substitute.' "
This article appears in the August 2011 issue of The Washingtonian.
Subscribe to Washingtonian
Follow Washingtonian on Twitter
Follow the Best Bites Bloggers on Twitter
More>> Best Bites Blog | Food & Dining | Restaurant Finder