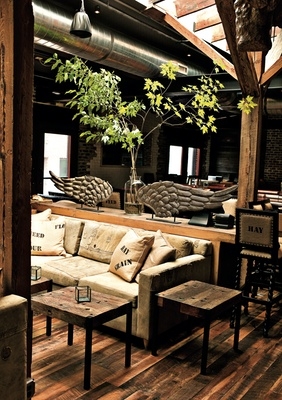 COZY ETHNIC SPOTS
Momo Sushi
212 Queen St.; 703-299-9092
Done in shades of green tea and cinnamon, Momo Sushi has a Zen vibe. Dishes to go for include tuna carpaccio with a bracing swipe of creamy wasabi sauce; ultra-brittle shrimp and vegetable tempura; and the Tuna Trio Roll (crunchy-spicy, red, and white), a triple-whammy of flavor. The miso soup is brighter and fresher than at other places.
Pita House
719 King St.; 703-684-9194
Fans like to keep mum about the Pita House, a family-run Lebanese restaurant where baba ghanoush has a smoky finish and cheese-filled savories are made with hand-rolled dough. Patteh bel bathnjan—a mash-up of chickpeas, eggplant, pine nuts, and crisp pita triangles drizzled with butter and yogurt sauce—dazzles. Simpler but still satisfying is subtly spiced, lamb-studded brown rice. Desserts are a draw, too, be they rosewater-scented rice pudding or nut-filled baklava.
Thailand on Royal Street
835 N. Royal St.; 703-535-6622
It may look like a flying saucer ready for takeoff, but the mound on nearly every table at Thailand on Royal Street is pad Thai. The kitchen puts its own spin on the popular noodle dish by cloaking it with a paper-thin omelet. Underneath is the traditional jumble of chicken, sprouts, rice noodles, and peanuts. Other plates to seek out include papaya salad with spicy-chewy batons of sun-dried and deep-fried beef; green-curry fried rice with Thai basil, eggplant, and a choice of meats; and grilled pineapple with vanilla ice cream and coconut-caramel sauce.

TAKE THE FAMILY
Majestic
911 King St.; 703-837-9117
With homey favorites such as fried chicken with mashed potatoes and gravy, the family-style dinner on Sundays at the Majestic is usually irresistible. And this retro-modern skylit space has other pleasures: a mixed green salad with house-made Green Goddess dressing, Chesapeake seafood stew, and coconut cake. As the day wears on, the room shifts from a business crowd to couples and families to a lively scene at the cocktail-driven bar.
Eammon's
728 King St.; 703-299-8384
Irish chef Cathal Armstrong is best known for elegant farm-to-table dishes at Restaurant Eve, but he's not above slinging fries and doughnuts at his fish-and-chips shop, Eammon's. Nearly everything on the menu—from stingray to bananas—gets a dunk in the fryer, but the fish sandwich is the star. A hot slab of fried cod in a crispy crust is slathered with thick tartar sauce and placed between a roll that's soft on the inside with a crunch on the outside. For dessert, there are Snickers, Milky Way, and Mars bars—all fried.
BGR the Burger Joint
106 N. Washington St.; 703-299-9791
In three years, Mark Bucher's BGR the Burger Joint has spread from its original location in downtown Bethesda to all corners of Washington—as well as to Alabama, Florida, and South Carolina—including a storefront in Old Town. But quantity hasn't compromised quality. The place turns out reliably great patties—made with hand-ground, dry-aged beef—on brioche buns. Basic versions with cheddar and bacon are as good as more complex combinations, such as lamb with tzatziki and feta. Don't miss the shakes, whether a classic chocolate or a flavor of the month—options have included Thin Mint and cherry.
DATE NIGHT
Brabo
1600 King St.; 703-894-3440
Chocolate-brown walls and shimmery table lamps give an elegant glow to Brabo, a favorite with old- and new-guard Alexandria. One reason is the seamless service. Another is chef/owner Robert Wiedmaier's Belgian/Modern American plates. Mussels and frites (with three dipping sauces) are marvelous.
Brabo Tasting Room
1600 King St.; 703-894-5252
In an adjoining historic building, the more casual Brabo Tasting Room has an easy-to-like menu with picks ranging from endive with blue cheese and walnut oil to house-made charcuterie.
The Butcher's Block
1600 King St.; 703-894-5253
The Butcher's Block, a deli/market next door that's also part of the Wiedmaier empire, has house-made sausages and pâtés, meats, artisanal breads, Belgian beers, and prepared items to eat in or take home.
Restaurant Eve
110 S. Pitt St.; 703-706-0450
There are many ways to dine at Restaurant Eve. You might have nibbles and craft cocktails made by mixologist Todd Thrasher at the bar. Or sit down for seafood chowder with aïoli in the serene bistro. Or splurge on the Tasting Room, an intimate space with multicourse menus. No matter what you choose, chef/owner Cathal Armstrong knows that top-notch service can only enhance a great meal.
Virtue Feed & Grain
106 S. Union St.; 571-970-3669
A few blocks away is Armstrong's newest and biggest restaurant, Virtue Feed & Grain. Rough-hewn wood beams, exposed brick, and lanterns and votives give it a cozy glow. Food is comfort by way of the Irish pub: deviled organic eggs with velvety filling dusted with cayenne; a crisp ham-and-cheese toastie; chicken pot pie bound with a creamy stock. The brew list is long, and because mixmaster Todd Thrasher is involved, cocktails should be taken seriously, too.
The Grille
116 S. Alfred St.; 703-838-8000
Tucked into the recesses of the Morrison House hotel, the Grille has a clubby feel. But rather than being stiff, it's a lively spot where a jazz pianist plays standards and at times even leads sing-alongs. At dinner, look for plates such as herby oysters Rockefeller, steak frites with blue-cheese butter, and chocolate pot de crème. Brunch means dishes like fried chicken and waffles, and Saturday afternoon tea is a full-on affair.
Vermilion
1120 King St.; 703-684-9669
A perch by the second-story windows at Vermilion is ideal for taking in the street scene below. Chef Tony Chittum's playful approach translates into such bar snacks as "frickles," addictive fried pickle rounds with the house Green Goddess dip, and sliders with pimiento cheese. Dinner turns more serious—from English pea soup with sheep's-milk yogurt and pine nuts to pan-roasted snapper with blue-crab imperial and Provençal beurre blanc. It's back to witty with dessert. An über cookie plate is piled with oatmeal cream pie, a pudding pop, a "Hostess" cupcake, and a house-made "Snickers" bar with buttery cashews in place of peanuts.
Grape & Bean
118 S. Royal St.; 703-664-0214
Rustic wood and cork accents give Grape & Bean the feel of a subterranean wine cellar. Order by the glass or bottle, then consider a cheese or charcuterie board or a wine-friendly sandwich such as earthy truffled egg toast. The artisanal chocolate bars and fair-trade coffees make for an ideal finish.
AL FRESCO BRUNCH
Jackson 20
480 King St.; 703-842-2790
The courtyard at Jackson 20 is a breezy spot for brunch on summer days. Look for updated Southern fixings including biscuits with sausage gravy and the BELT—bacon, egg, lettuce, and fried green tomatoes on toasted brioche. In the evening, check out country-ham sliders on the lounge menu and the bucket of crunchy batter-fried chicken and lush macaroni with bits of ham and bacon.
This article appears in the August 2011 issue of The Washingtonian.