Chin Han and Marion Cotillard star in Contagion, a thriller about a worldwide epidemic.
Contagion
Steven Soderbergh continues his slow march toward what he has variously described as a retirement from filmmaking—or perhaps just a sabbatical with this sobering worldwide epidemic thriller. The director, working from a script by Bourne Ultimatum scribe Scott Z. Burns, assembles an all-star ensemble cast into a multi-threaded, multi-continental story that structurally contains echoes of his work in 2000's Traffic.
In the film, a hybrid virus from bats and pigs finds its way to the human population and works with a speed that is shocking both in its transmission rate and its quick mortality. Soderbergh and Burns avoid centralizing the story, instead giving nearly equal weight to multiple storylines. The film follows the work of scientists at the CDC (Laurence Fishburne and Kate Winslet); the actions of a sensationalistic, conspiracy-theory driven blogger (Jude Law); and the survival of a father (Matt Damon) and daughter near the source of the outbreak.
View the trailer. Opens Friday at theaters all over the area.

Good Morning, Freedom! Spanish Cinema after Franco
The AFI borrows a program from its sister organization across the Atlantic, taking this 15-film set from a British Film Institute series looking at the newfound freedom available to Spanish filmmakers once Spain transitioned to democracy following the end of the repressive rule of Francisco Franco in the 1970s. The series is, as one might expect, heavy on the work of Pedro Almodóvar, the most accomplished filmmaker to come out of this era (and still working, undiminished, to this day). There are a half-dozen titles from him, starting with his 1980 feature debut, Pepi, Luci, Bom, and Other Girls Like Mom. The program covers much of his '80s work as well, including his 1988 massive international hit, Women on the Verge of a Nervous Breakdown. The series also features the work of Carlos Saura (Cria Cuervos) and José Luis Garci's Best Foreign Language Film Oscar-winner Begin the Beguine—the first Spanish film to win the award—among other landmark works from Spain's cinematic reawakening.
View the trailer for Pepi, Luci, Bom, and Other Girls Like Mom. Starts Friday at the AFI and continues through September 22. See the schedule for complete listings.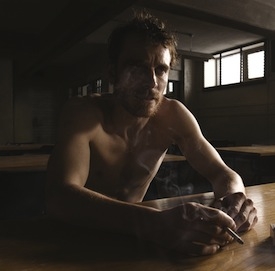 Hunger
The Sackler currently has a selection of video art by Turkish artist Hale Tenger on display, and in conjunction with that exhibit, the Freer & Sackler is showing two movies selected by the artist. Assistant curator Carol Huh will be on hand to discuss the films' influence on Tenger's work. First up, this Friday, is video artist Steve McQueen's first foray into narrative filmmaking, the devastating 2008 film Hunger, in which Bobby Sands (Michael Fassbender), an Irish Republican Army volunteer, leads a hunger strike among a number of other IRA members imprisoned by the British government in 1981. McQueen collaborated on the script with Irish playwright Enda Walsh, and the resulting film, while based on a real life, is almost abstract in its treatment; McQueen seeks to capture the numbing mundanity of prison life alongside the brutal tactics of the British guards and the pain and suffering of a man starving himself to death. Few features of the last decade have used the visual potential of cinema so elegantly to convey both emotion and physical sensation so effectively. Criminally underseen upon its release, now is a good time to familiarize yourself with a true modern masterpiece, just as McQueen's follow-up, Shame (also starring Fassbender) premieres at the Toronto and Venice film festivals this month.
View the trailer. Friday at 7 PM at the Freer Gallery. Free.
Lunch Line
Have you ever wondered how school lunch programs came into existence? That question also occurred to filmmakers Michael Graziano and Ernie Park as they set out to make a documentary about a school gardenening project in Chicago. Their original project eventually led them to a film that was much larger in scope; they took on the creation and evolution of school lunches in America since they were first instituted after World War II. The film looks at the debates over nutritional standards and budgets, alongside efforts by some to reform a program many view as deeply flawed.
View the trailer. Thursday at 7 PM at the National Archives, followed by a panel discussion with former Secretary of Agriculture Dan Glickman, nutritionist Dr.Margo Wootan, and filmmaker Michael Graziano. Free.
Looking at the Other: Cultural Dialogue Through Film
It's perhaps surprising that there aren't more programs like this in the coming week, given the tenth anniversary of the 9/11 attacks this weekend. A decade later, the Goethe-Institut has assembled this thoughtfully programmed collection of films that seeks to examine cultural differences and a lack of cross-cultural understanding that played a part in the attacks. This coming Monday, the first program in the series takes five short films from or about Pakistan that, in combination, seek to give a more in-depth picture of that nation than what we may see on the news. Each subsequent program comes at the issue in different ways. Next week's documentary, By Comparison, is about the manufacture of bricks in different societies throughout the world, and the final week's narrative feature, War and Love in Kabul, is about a forbidden relationship between a Kabul couple who have known each other their entire lives.
Beginning this Monday, and continuing each Monday through September 26, at the Goethe-Institut. $7, or $4 for members.
DVD/Blu-ray Pick of the Week: Hanna
Hanna found director Joe Wright continuing to break himself out of the period drama box that many had assigned to him after he opened his career with Pride and Prejudice and Atonement. Following the underwhelming The Soloist, Wright practically reinvented himself entirely with Hanna, the fairy tale-inflected story of a young girl raised her whole life to learn the skills she needs to be an expert assassin. Wright's talent with visual stylization has never been in question, but to see him apply it here, to an international espionage thriller in settings that range from stark and rural to cold metal and concrete, is simply dazzling. If the story itself ends up being a little obvious, it's no matter: Wright, with a big assist from Saoirse Ronan's intense performance, makes it well worth overlooking any flaws. You can check out my complete review here.
Special Features: Audio commentary from director Joe Wright, a few behind-the-scenes featurettes, an anatomy of a scene analysis, and a small selection of deleted scenes, including an alternate ending.
View the trailer:
Subscribe to Washingtonian
Follow Washingtonian on Twitter

Follow the After Hours Blog on Twitter

More>> After Hours Blog | Arts & Events | Happy Hour Finder | Calendar of Events