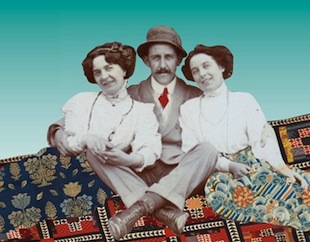 Wednesday, September 7
FASHION: Stop by the Textile Museum's Twice Is Nice event for an evening of fashion, music, and drinks. Trash Cats, a vintage pop-up shop, will be coordinating a clothing swap in the garden—so bring your pre-loved pieces for something new-to-you. Indie band Laughing Man will be playing in the garden, while DJ Baby Alcatraz will be spinning tunes in the galleries. Plus, sweet treats from Pinkberry, Whisked!, and Honest Tea will be on hand. Tickets ($10) include one drink and can be reserved by clicking here. 6 to 9 PM.
THEATER: Don't miss opening night of Fahrenheit 451 at Round House Theatre. In the adaptation of Ray Bradbury's 1953 novel, books and free thinking are banned. But when Montag, a fireman charged with burning forbidden books, befriends a woman who dares to read, he finds himself caught between intellectual freedom and the law. The play runs through October 9. For tickets ($25 to $50), go to the Round House Theatre's Web site. 7:30 PM.

COMEDY: Channel your inner-Chris Rock during Washington Improv Theater's free workshop. Learn to break out of your shell, harness your creativity, and crack a few jokes. The theater is offering free classes through Sunday; To register, click here. Tonight's workshop if from 7 to 9 PM.
MUSIC: Synth-pop artist Pat Grossi is dropping by the Black Cat tonight. The LA-based musician performs under the name Active Child and spent his formative years in the Philadelphia Boys Choir. You can listen to some of his tracks here. Tickets ($10) can be purchased through the Black Cat's Web site or for $12 at the door. Doors open at 8 PM.
Subscribe to Washingtonian
Follow Washingtonian on Twitter

Follow the After Hours Blog on Twitter

More>> After Hours Blog | Arts & Events | Happy Hour Finder | Calendar of Events