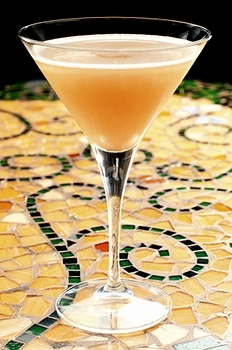 Carolyn's New Listing at Nest
4921 Bethesda Ave.; 301-718-6378
At neighborhood favorite Nest Cafe, regular customers sometimes get to create a drink. Frequent patron Carolyn Sappenfield came up with this boozy, lightly floral blend of Belvedere vodka, fresh grapefruit juice, and sweet elderflower liqueur.
Golden Boy at Jaleo
7271 Woodmont Ave.; 301-913-0003
Chef José Andrés shows his playful side with this glistening Spanish cocktail. The sparkling wine Cava is mixed with dry amontillado sherry, bitters, lemon, and a pinch of gold dust. The result is a bright burst of flavor and color.
Mediterranean Manhattan at Gaffney's Restaurant
7141 Wisconsin Ave.; 301-907-7500
While most drinks on Gaffney's menu veer into the too-sugary realm, its twist on the traditional Manhattan has just the right touch of sweetness. Maker's Mark bourbon is shaken with Tuaca, an Italian brandy blended with citrus and vanilla.

Ruby Slipper at Newton's Table
4917 Elm St.; 301-718-0550
Bar manager Gunnar Jacobson borrowed basil from the restaurant's kitchen for this popular martini, which he muddles with Bombay Sapphire gin, lime, and Ruby Red grapefruit juice. A sip has the herbaceous freshness of a mojito without the sugary bite.
Tennessee Cider at Redwood
7121 Bethesda La.; 301-656-5515
If you need a transition drink to go from summer to fall, this zesty concoction poured over the rocks is a good bet. Jack Daniel's whiskey and fresh cider conjure up autumn, while sweet-spicy ginger beer recalls warmer days. Redwood's patio is an ideal spot for sipping.

This article appears in the September 2011 issue of The Washingtonian.