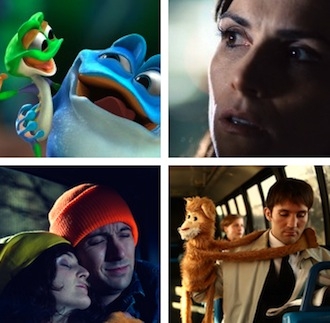 Monday, September 12
FILM: The DC Shorts Film Festival is well underway, and tonight's eclectic showcase at E Street Cinema features a Wiccan teen, the sex lives of the elderly, and an alien abductor-in-training. And be sure to read our introduction to the festival. Tickets ($12) can be purchased at the festival's Web site or at the box office ($15). 9 PM.
Tuesday, September 13
KID-FRIENDLY: The DC Anime Club is hosting a Sailor Moon book party at the Georgetown Barnes and Noble. After a six-year hiatus, the popular anime series is returning to the US, and to celebrate, the club is pulling out all the stops. Channel your favorite character during a costume photo shoot, play Sailor Moon-themed games, and munch on small snacks. Free; 5 to 8 PM. To RSVP call 202-262-2083.
Tuesday, September 13
MUSIC: Mulebone and Jackson Edwards of The Weathervanes are dropping by the Iota Club & Cafe tonight. The band have won blues artist of the year awards from radio stations across the country. You can listen to some of Mulebone's tracks here. Tickets ($12) can be purchased at the door. 8:30 PM. Editor's Note: We originally said this concert was scheduled for Wednesday. We apologize for any confusion.
Wednesday, September 14
SIGNING: The founder of TOMS Shoes, Blake Mycoskie, is stopping by Sixth and I Synagogue to sign copies of his new book, Start Something That Matters. Tickets ($28) include one copy of the book and can be purchased through the synagogue's Web site. 7 PM.
Thursday, September 15
ART: The Greater Reston Arts Center's annual sale is back with more than 150 pieces. And with prices ranging from $100 to $300, you can finally decorate that empty wall without breaking the bank. Proceeds will benefit the center's artists, exhibitions, and educational programs. Free; 5 to 8 PM. The sale will continue through Sunday, September 18.
Subscribe to Washingtonian
Follow Washingtonian on Twitter

Follow the After Hours Blog on Twitter

More>> After Hours Blog | Arts & Events | Happy Hour Finder | Calendar of Events