Silver Spring's own slice of the Live Nation franchise opened yesterday. Photograph by Kyle Gustafson
Back in July, the 9:30 Club's weekly e-mail to fans announced 58 new shows. "Bow down . . . We Ain't Kiddin'!!!," the e-mail read. To those paying attention, club owner Seth Hurwitz was putting all his cards on the table.
For the past few years, he's been gearing up for battle with Live Nation, the Los Angeles-based entertainment behemoth behind the new Fillmore music club in Silver Spring, which opened yesterday. Hurwitz and other concert promoters fear they're about to be forced into a David and Goliath competition with a fiercely competitive and deep-pocketed corporation.
The Fillmore name comes from one of San Francisco's most storied cultural venues, made famous by legendary rock promoter Bill Graham, who brought in everyone from The Grateful Dead to Pink Floyd. Live Nation bought the Fillmore in 2007 and announced plans to franchise it, renaming clubs across the country and opening two new Fillmores—one in Silver Spring, and one in Charlotte, North Carolina.
When the first, unsubsidized Fillmore opened in Charlotte in 2009, it made an immediate impact on the local music scene. Two venues there have come close to foreclosing, and others are scuffling.
John Ellison, owner of Amos' Southend rock club, estimates his profits are down 25 percent over the last year. He blames Live Nation. "They're bidding crazy amounts on shows. There have been bands that have played at Amos's who we paid $20,000 and the Fillmore offers them $30,000," he says. "They're trying to weed out the other live entertainment clubs."
Ellison says other clubs haven't been able to afford to continue booking top talent since the Fillmore has opened. "Their pockets just haven't been as deep as Live Nation's, who can afford to lose $300,000 per club in a year. It's like a quarter in their pockets," he says. "Other clubs can't do that."
It's not that bands don't want to play at Amos's. Ellison will begin negotiating with a band's management, only to find out Live Nation has forbidden a band from playing at his club. "They say no, Live Nation bought the tour. I see it eight to ten times a year," he says. "It's a Live Nation tour and we don't even have a chance at it."
Although the two cities are different, what happened in Charlotte could happen in Washington, says Dante Ferrando, who owns the Black Cat nightclub near Logan Circle. "You put somebody in the mix that tends to throw money around," he says, "they might not put everybody out of business, but they will mess everybody up."
Live Nation refused repeated requests to comment for this article.
Hurwitz has built his brand by nurturing acts as they're up-and-coming. His company, I.M.P., may book a band to play at the 9:30 Club, then, as the band grows in popularity, it will play at DAR Constitution Hall, then at Merriweather.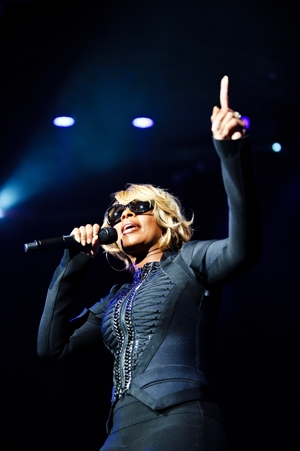 He's already felt the company's wrath. For years, the Merriweather Post Pavilion, whose booking he manages, boasted one of the nation's strongest summer lineups; it consistently ranked among the top amphitheaters in the US. Bands would play at both Merriweather in Columbia and Nissan Pavilion—now Jiffy Lube Live—in Bristow. But in 2008, only five shows at Merriweather drew more than 10,000 fans. More major acts were playing at Nissan, a Live Nation-owned venue.
The 9:30 Club is one of the most successful nightclubs in the country, attracting 259,792 fans last year. At Merriweather, Hurwitz can't consistently outbid Live Nation for artists, especially when it has exclusive contracts with many of them. But by booking smaller festivals and putting faith in strong mid-sized acts like Animal Collective and Wilco, Merriweather has flourished the past two years.
Hurwitz hasn't had to change his strategy at 9:30 Club—yet. But the new Fillmore could allow Live Nation to snatch up bands who may have played at the 9:30 Club, causing a trickle-down effect that may hurt local clubs of all sizes.
Says Ferrando: "We're not going to compete with Live Nation for many acts, but Seth will. And if Seth gets outbid, then he has to take the next artist down, and that may be my act. Then I might have to take someone who would have otherwise played at the Rock & Roll Hotel." Ellison says he has already seen a similar effect in Charlotte.
Many of Live Nation's artists are already household names like U2 or Madonna. But with the Fillmore chain, House of Blues, and other nightclubs they own, they're capturing artists earlier. Having a subsidized venue in Silver Spring, Hurwitz says, will help them. "I'll compete with anyone. If a club on an equal footing wins because they do a better job—I have no fear of that," he says. "But with no real rent or expenses, Live Nation will be able to buy a band's early history."
The company won't have many expenses because of the three-way deal cut between Lee Development Group, Montgomery County, and Live Nation. Nine years ago, Lee Development Group's Bruce Lee offered to donate the property to Montgomery County in order to build a new location of the Birchmere. In exchange, his company would be allowed 15 years to develop the larger property behind the site. Under the terms of the deal, if the Montgomery County planning board didn't approve whatever project Lee decided to build, the county would owe him more than $25 million. To build the club, Montgomery County and the state of Maryland would each chip in $4 million to help fund the Birchmere. But talks broke down between the Birchmere and the county.
Lee proposed working with Live Nation instead. Liquor laws were loosened, and proposals from other companies, including I.M.P., were ignored. The contract is highly favorable to Live Nation—it'll pay lower rents. It's the first for-profit arts venue to receive government subsidies in the county.
Upon hearing the terms, Hurwitz offered to build the club with his own money, or to pay the county double the rent Live Nation would pay. He offered to make the space open for free to community groups on certain days.
Montgomery County Executive Isiah Leggett ignored his proposals. At the groundbreaking, I asked him why. "They have no incentive to build the club," he says. "Their best case scenario is for nothing to happen with this property. They'll make more money with their one club in DC than both clubs. They'll just delay and the property will just sit here."
Hurwitz filed a lawsuit against the State of Maryland, saying the project is an illegal use of taxpayer funds. He even had a temporary restraining order shortly before the groundbreaking, but it was thrown out. Hours after the groundbreaking, Hurwitz expanded the lawsuit to include Montgomery County officials, including Leggett. People like Seth Hurwitz, Leggett says, are the reason the project went over the original $8 million budget. "They say the project is over budget and it's a bad deal, well, if we were able to do this years ago like we wanted to, it would have cost $8 million." In August, it was decided that $3.2 million in county funds would be used to pay for the overages.
At the groundbreaking, the two Montgomery County council members who have opposed the Fillmore, Marc Elrich and Roger Berliner, were missing. Berliner says the county made a mistake going through with the deal. "It was never clear to me that this was something that needed a subsidy," he says.
Within the music industry, Live Nation has proved to be a powerful force. In the late '90s, music promoter Robert Sillerman started buying independent music promoters and operating them as SFX Entertainment. Instead of individual promoters booking tours in their local market, SFX began to book entire tours nationwide. In 2000, Clear Channel Entertainment acquired SFX. Since it formed as a spinoff of Clear Channel Entertainment, Live Nation has continued where SFX left off. It owns or has exclusive booking rights at more than 100 major venues in the US. It has exclusive contracts with some of the industry's biggest artists. In 2009, Hurwitz sued Live Nation in Maryland US District Court for its attempts "to entice and coerce artists to appear only at amphitheaters and other venues it owns, operates, or at which it controls the booking."
Until recently, Live Nation still didn't control one aspect of putting on a show—ticketing. Industry leaders estimated that Ticketmaster sold 80 percent of all concert event tickets. In 2009, Live Nation tried to get a piece of that pie by creating its own ticketing program. After one month, the companies discussed a merger and became Live Nation Entertainment a year later.
Bruce Springsteen said the merger was "the one thing that would make the current ticket situation even worse for the fan than it is now." Springsteen railed against Ticketmaster after fans trying to buy tickets for his 2009 tour were automatically redirected to TicketsNow, a Ticketmaster-owned ticket resale site. The company charges a 25 percent fee on each sale made through TicketsNow.
Most music promoters make their money from ticket sales. Not Live Nation. In order to prevent other venues from booking a band, it's been known to offer bands extraordinarily competitive portions of expected ticket revenues. In 2008, Live Nation lost $80 million on ticket sales. It made the money up in venue operations—ticket fees and concessions. Dean Budnick and Josh Baron, authors of the recent book Ticket Masters, a history of Live Nation, Ticketmaster, and StubHub, say these deals have driven up the bottom line of ticket prices. From 1996 to 2008, the average ticket price for the country's top 100 tours rose from $25.81 to $67.33, almost four times the rate of inflation. "Some of the service fees from the show are rebated back to the promoter," Budnick says. "The way they're making this money back is that Live Nation is getting higher rates from the ticket fees kicked back to them."
When a band is planning a tour, deals with Live Nation go something like this—Live Nation will present a full itinerary for the band to play. The deal will usually include solely Live Nation-owned or operated venues. Sometimes, bands express a desire to play at an independent venue, such as Merriweather. In order to prevent the bands from playing the venues, Live Nation offers bands a bonus—up to $500,000 to accept the tour as-is. Hurwitz said at the antitrust meetings that bands have the opportunity to say no and reroute the tour, "just like my kids could say no if I served them ice cream for dinner." Baron says it'd be a "slap in the face" for a Live Nation act to request to play at the 9:30 Club over the new Fillmore.
One artist who no longer plays at Merriweather is Jimmy Buffett. For years, he played annually at both Merriweather and the then-Nissan Pavilion. In fact, he's played more shows at Merriweather than any other artist. But that all stopped after Hurwitz took over Merriweather's operations from Clear Channel. Buffett now skips Merriweather because he's managed by Front Line Entertainment, which is owned by Live Nation chairman Irving Azoff. "I put a call in every year," Hurwitz says. "Every year they had a new excuse. Now they just don't return my calls." For more than a decade, Buffett, one of the industry's most prolific tourers, has played at the Live Nation-owned Jiffy Lube Live at least once a year.
A former Ticketmaster official says stories like Buffett's are "the elephant in the room" when it comes to the Live Nation-Ticketmaster merger. If independent venue owners think Live Nation-owned acts won't play their venues, they feel like they have little choice but to continue selling tickets through Ticketmaster. "Ticketmaster uses this threat of 'You're not getting [our] talent in that building if you go with another ticket company," he says.Hurwitz says that if clubs continued to use Ticketmaster, they'd be giving a percentage of their sales to a company trying to put them out of business. The company would have access to sales records and customer information. "It would be like Pepsi forcing Coke to use its services as its distributor, and pretend that the intelligence Pepsi gathers won't harm Coke," Hurwitz said during the antitrust hearings. "It just can't happen and maintain a fair and level playing field."
Last night the Silver Spring Fillmore brought its first act, Mary J. Blige, to the stage. And while the Fillmore's current lineup doesn't immediately seem like a threat to the 9:30 Club, it'll be worth watching to see what develops over the next few years.
Subscribe to Washingtonian
Follow Washingtonian on Twitter

Follow the After Hours Blog on Twitter

More>> After Hours Blog | Arts & Events | Happy Hour Finder | Calendar of Events