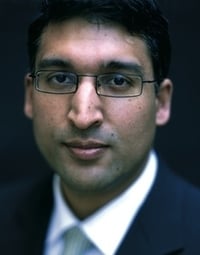 Former acting solicitor general Neal Katyal has settled into his new position as co-head of the appellate practice at Hogan Lovells just in time for the new Supreme Court term. He left the solicitor general's office in June after Donald Verrilli was sworn in as the official replacement for Elena Kagan, who departed her post as SG when she was confirmed as a Supreme Court justice.
After being courted by upward of 30 law firms, why did Katyal choose Hogan? He says the firm's expertise in health care, financial services, and patent litigation aligns with the types of cases he hopes to argue at the high court, and he also was attracted by Hogan's history of having a leading Supreme Court practice. But what sealed the deal was the people at Hogan, namely the appellate group's other co-leader, Catherine Stetson. Katyal and Stetson have been friends for five years and have bonded over an appreciation for alternative-rock concerts. Among the shows they've seen together: the National and Gnarls Barkley.
This article appears in the October 2011 issue of The Washingtonian.