George Clooney stars as Governor Mike Morris in The Ides of March. Photograph courtesy of Sony Pictures
George Clooney's latest directorial effort is an adaptation of Beau Willimon's 2008 play Farragut North, about a hotly contested Democratic party presidential primary, and the complex—and often unsavory—machinations that go into the making of a candidate. Clooney casts himself as the candidate, an idealistic progressive whose campaign posters and rhetoric recall the 2008 Obama campaign. But the focus of this movie is actually Stephen, (Ryan Gosling) campaign's architect and second-in-command in the campaign under Paul (Philip Seymour Hoffman). This is a dream team of a cast, with Gosling following one tightly wound, fantastic performance in Drive with another here, along with the typically excellent Clooney and Hoffman, and the great Paul Giamatti as a competing campaign manager. This is no inspirational political film about the power of an idealistic candidate to effect change: It's is easily the darkest, most pessimistic work that Clooney has directed, a step into the political underbelly that leaves no one innocent, and no one unscathed.
View the trailer. Opens Friday at theaters all over the area.


DC Asian Pacific American Film Festival
The 12th annual DC APA Film Festival gets underway tomorrow night at E Street Cinema with a screening of Saigon Electric, a Vietnamese take on the dance film template of the Step Up-type films, about a ribbon dancer who joins up with a street dancer to try to win the big competition. Director Stephane Gauger will be onhand for a Q&A, and the festivities will move over to Ultrabar for the festival's opening night reception. The festival then runs through October 15 (with a break Monday through Wednesday) with a couple of evening programs each weekday and multiple programs throughout the weekend days. Some programs combine shorter features with a handful of short films, others are completely devoted to short films, and a few only have feature-length films. All of the festival's programming seeks to "bring attention to the creative output from Asian Pacific American communities and encourage the artistic development of APA films."
View the festival trailer. Opens tonight and runs through October 15 with screenings at E Street Cinema, the Goethe-Institut, the Freer Gallery, and the Navy Memorial. Check the schedule for complete listings.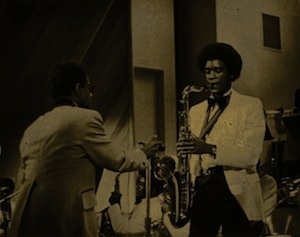 From 1968 to 1977, Houston's Kashmere High School built an elite school band that was known nationwide as the best, and the architect of that success was music teacher Conrad O. Johnson. Johnson was a composer and arranger, and molded these teens into a funk outfit that could have shared the stage with any pro act. Documentarian Mark Landsman's film looks at the history of the group, as well as the efforts of a group of former band members—now in their fifties—as they attempt to organize a tribute concert for the 92-year-old Johnson. That sounds like boilerplate material for an heart-string-pulling educational film, and reviews acknowledge that it hits all those familiar beats, even as they praise it for being no less inspirational for its adherence to formula.
View the trailer. Opens Friday at the AFI and E Street Cinema.

The Autobiography of Nicolae Ceaușescu
It's no secret that film can be a powerful tool for evil when placed in the hands of skillful manipulators. One need only watch The Triumph of the Will to see how easy it is to paint a picture of the Nazis as heroic saviors; even in documentaries, "truth" is determined by the people pointing the camera and, later, cutting the film. Romanian director Andrei Ujica's film takes that notion and essentially creates a fictional portrait of the life of Romanian dictator Nicolae Ceaușescu compiled entirely from fact. Without narration or explanation, he embarks on a 3-hour tour of Romanian state film archives, chronologically showing the rise and reign of Ceaușescu, and approaching the project as if Ceaușescu was telling his own story through this archival footage. His purpose is not to obscure the truth, but rather to further illuminate it by showing how easily it is obscured. The result is an engrossing look at the mania and delusion of power.
View the trailer. Opens Friday at West End Cinema.
Italian director Elio Petri built his career making overtly political films that reflected his own personal activism for leftist causes going back to his school days. This film is the first of his feature films, a thriller starring Marcello Mastroianni as an antiques dealer who engages in shady practices and is eventually arrested­­—but not for the transgressions he assumes. Petri is less interested in the dirty dealings of this one criminal than in the institutional corruption of politicians and police that he shines a light on through this film.
View the opening few minutes of the film. Sunday at 4 PM at the National Gallery of Art. Free.
DVD Pick of the Week: Submarine
The debut feature from British director and comedic actor Richard Ayoade might be easy to write off as too twee, too reminiscent of Wes Anderson, too in love with its own nostalgic sense of design. But for me, Submarine manages to dance right up to the edge of those critiques without ever being excessive in any case. A coming of age story about a precocious, morbid, and entertainingly solipsistic teenager, Submarine softens the caustic character of Oliver (Craig Roberts) from the Joe Dunthorne novel it's based on just enough for the audience to have some empathy for him—even if they do find his affectations and ability to self-sabotage by setting up walls between himself and his parents, or himself and his new girlfriend, Jordana (Yasmin Paige). Ayoade's filmmaking is just self-aware enough to put the viewer at a distance from the material, helped along by Oliver's fourth-wall-straining narration, but so skillful that I found myself emotionally engaged even as I was admiring the technical beauty of the filmmaking.
You can read my full review of the film over at DCist.
Special Features: Deleted scenes, and a making-of featurette.
View the trailer: