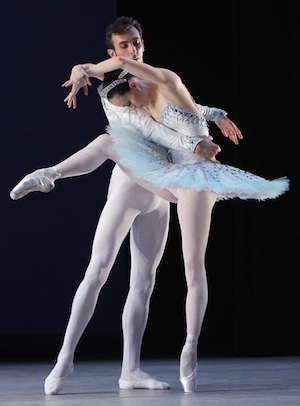 Wednesday, October 12
BALLET: Don't miss opening night of the Suzanne Farrell Ballet's All-Balanchine program at the Kennedy Center. The dance company's tenth-anniversary season kicks off with Concerto Barocco and a special collaboration of Diamonds with the Sarasota Ballet. The critically acclaimed company "is undeniably one of the classiest," according to the Washington Post. Tickets ($29 to $84) can be purchased through the Kennedy Center's Web site. The show runs through October 16; tonight's performance starts at 7:30 PM.
MUSIC: Indie singer Lisa Hannigan is dropping by the Rams Head tonight. Before releasing her solo album, Sea Sew, the Irish import spent several years singing backup for Damien Rice. You can listen to some of her tracks here. Hannigan will be joined by blues singer Gavin Glass. Tickets ($25 plus tax) can be purchased through the Rams Head's Web site. 8 PM.
BOOK DISCUSSION: Join award-winning journalist Dana Priest at the Spy Museum as she explores what she calls the "fourth branch" of the US government. Priest will also screen segments of the Frontline documentary associated with her book, Top Secret America: The Rise of the New American Security State . Tickets ($7 members, $9 nonmembers) can be purchased through the Spy Museum's Web site. 6:30 to 8:30 PM.
KID-FRIENDLY: Stop by the Natural History Museum's National Fossil Day celebration on the Mall for an afternoon of hands-on activities and presentations. Pint-size paleontologists can uncover "ancient" treasures at a fossil dig, make their own bird feeder, learn about the science of fossils, and more. Free. 10 AM to 2 PM.