Vincent Price in The Last Man on Earth
October brings some of my favorite annual series to the AFI, and the first of those is the Halloween on Screen retrospective. This year, the cinema is focusing on the films of horror legend Vincent Price, as 2011 marks the 100th anniversary of his birth. With over 200 titles in his filmography, there's plenty to choose from, and the AFI settled on eight, mostly from his 1960s work, including some of his most famous collaborations with Roger Corman on Edgar Allan Poe stories: The Raven, The Masque of the Red Death, The Pit and the Pendulum, and The Tomb of Ligeia. There will also be an "interactive" screening of The Tingler, which famously gimmick-prone director William Castle sold by promising an immersive experience that involved vibrating devices in theater seats. The AFI is promising an experience that is "an homage to Castle's legendary showmanship." Fans of the oft-adapted Richard Matheson novel I Am Legend can catch the Price version of it in The Last Man on Earth this weekend.
In addition to the Price titles, the AFI will have their usual screening of F.W. Murnau's silent Nosferatu with live musical accompaniment, but they're also adding in a screening of the 1925 silent version of Phantom of the Opera, also with live music. They'll round things out with a couple of more modern titles—zombie comedy Shaun of the Dead, and the 2009 Norwegian Nazi zombie scarefest Dead Snow.
View the trailer for The Last Man on Earth. Opens Friday and runs through Halloween at the AFI. Check the schedule for complete listings.
Reel Affirmations Film Festival
After taking 2010 off due to funding difficulties, Reel Affirmations returns for its 20th festival in 2011, with an impressive slate of LGBT-themed films playing at venues across town over the course of the next ten days. Opening night tomorrow is at Lisner Auditorium with the local premiere of Dirty Girl, which stars Juno Temple as a misunderstood bad girl who takes her gay, abused classmate (Jeremy Dozier) on a road trip from Oklahoma to California. You can read my full review at NPR. There are dozens of films screening at area cinemas and embassies in the days that follow, so check the festival program guide for complete descriptions of all they have to offer this year.
Opens tomorrow and runs through October 22 at a number of venues in town. Check the full schedule for complete listings and to purchase tickets.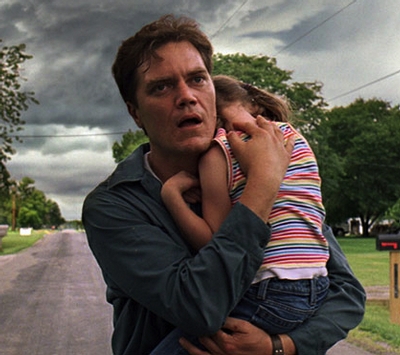 Well received on the festival circuit in frequent appearances from Park City to Cannes to Toronto, the second feature film from writer-director Jeff Nichols gets its DC theatrical release this week. The film stars Michael Shannon as a Midwestern father who begins to have terrifying dreams of a coming storm. He responds by obsessively building a shelter in the backyard, causing strain in his relationship with his wife, played by Jessica Chastain, as well as his neighbors. Nichols creates a steadily mounting sense of dread in a quiet thriller that uses the power of this one man's dreams—or is it his impending insanity?—to subtly explore much larger issues.
View the trailer. Opens Friday at E Street, Bethesda Row, and Cinema Arts.
Continuing with the AFI's series, this week also sees the start of their yearly Film Noir festival, presented by the Film Noir Foundation, which consistently blends well-known classic noir titles with less-prominent gems. In the former camp, things kick off this weekend with the original, Joan Crawford-starring version of Mildred Pierce, which provides a fascinating contrast in style for anyone who enjoyed Todd Haynes's miniseries version on HBO earlier this year. Also on screens this weekend is Burt Lancaster in The Sweet Smell of Success, surely one of the darkest and most pessimistic movies about media ever made, and you can catch Humphrey Bogart in John Huston's Maltese Falcon later on in the series. There will also be a crossover with the Vincent Price retrospective of the Halloween series, Otto Preminger's Laura, featuring a very young Price in a movie that helped inspire the term "film noir." Many of the rest of the films on the list may be unfamiliar, but trust the Film Noir Foundation's programmers: Showing up for a random title is a consistently rewarding experience.
View the trailer for Sweet Smell of Success. Opens Saturday, and runs through November 2 at the AFI. Check the schedule for complete listings.
Catherine Deneuve and John Malkovich star in this adaptation of the last volume of Marcel Proust's intimidatingly dense masterwork, In Search of Lost Time. An old man in bed (Marcello Mazzarella) reminisces about his life, and his memories become the episodes that make up the movie—not all specifically from the volume being adapted here, as director Raoul Ruiz reaches back to previous volumes for some of the memory sections. Like Proust's work, the film doesn't so much tell a story as examine memory, and the way that it creates the disjointed portrait of our lives in our own heads.
View the trailer. Thursday at 7 PM at the Hirshhorn. Free.
Winding up the three AFI series we're covering this week is the annual DC Labor Film Fest, a brief seven-film collection that takes place over the course of this weekend, presented with the assistance of the local branch of the AFL-CIO and the Debs-Jones-Douglass Institute. This year's series features an interesting selection of films relating to labor in different ways. There is what one would immediately think of as a labor film, Made in Dagenham, about female workers at a British Ford factory, and on the white collar side, the George Clooney-starring Up in the Air about professional downsizers. Last year's Oscar-winning documentary, Inside Job, which makes the case that corporate America engaged in wholesale theft of working America, also makes an appearance. More surprising entries might be the excellent Duncan Jones film Moon, which is a quiet sci-fi film that also has interesting things to say about how we treat the workers who do the jobs that no one else wants to do. And All the President's Men, celebrating its 35th anniversary, which comes back to a common theme in the Labor Film Fest: whistleblowers, and those who stand up to powerful wrongdoers.
View the trailer for All the President's Men. Opens tomorrow and runs through Sunday at the AFI. Check the schedule for complete listings.

DVD/Blu-ray Pick of the Week: Tree of Life
One of this year's most anticipated films, from one of America's least prolific yet most endlessly fascinating directors, was also one of its most divisive. Critics argued over its profundity or lack thereof. Audiences either sat enraptured in the images onscreen, or stomped out of the cinema angrily demanding their money back. Some theaters even were reduced to posting notices letting people know that this film was perhaps not the sort of thing they're expecting from a Brad Pitt vehicle, and that, having been so warned, there would be no refunds. Terrence Malick's The Tree of Life is remarkable if only for its place as a piece of art that initiates impassioned discussions. You can read my thoughts in my full review, but I find its willingness to be confounding and often impenetrable to be one of its bravest qualities. In a cinematic culture where originality is considered a financial liability, and any perceived barrier to accessibility is death to a studio executive, the notion that someone could make a film like this, a film worth arguing over and debating long after its release, is inspiring in and of itself. As for the home video release, Malick's stunning compositions and rich imagery are exactly what the high-definition Blu-ray format was made for.
Special Features: No commentary or deleted scenes or any of the common extras one might look for here, but there is a half-hour film about the making of the movie, which includes input from Brad Pitt, the film's producers, and other great directors lauding Malick's achievement, like Christopher Nolan and David Fincher. Characteristically, Malick is nowhere to be found.
View the trailer: