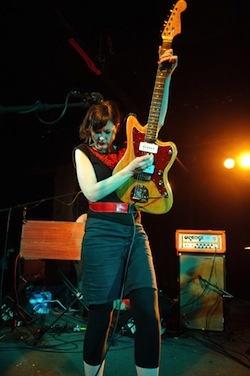 Here's the problem with supergroups: The initial flash of fanfare tends to be more interesting than the actual music. Thankfully, Wild Flag isn't just a supergroup. It's also a bona fide band, made up of four independent pieces that, when fused together, form something truly great. Composed of seasoned pros and vanguards of the 1990s independent rock scene—Janet Weiss, Rebecca Cole, Carrie Brownstein, and Mary Timony—Wild Flag revels in blasts of organ, seesawing lead guitars, and colossal drum breaks. The band's debut album doesn't just play, it bounds forward and attacks with an unrelenting urgency rarely heard in contemporary rock music.
While Brownstein may be the may be the most recognizable name in the lineup thanks to a stint at NPR and IFC's sketch comedy series Portlandia, she splits fronting duties with fellow guitar ace and vocalist Timony. Native Washingtonian Timony studied guitar at the Duke Ellington School of the Arts in Northwest and later released her first record with the band Autoclave through influential DC label Dischord Records. A force in the mid-'90s with her band Helium, Timony now has two decades under her belt as a working musician, though if songs like "Something Came Over Me" are any indication, her pop hooks are as sharp as ever. This Thursday, Wild Flag plays a sold-out show at The Black Cat. We caught up with Timony in advance to chat about the band's debut, 90s guitar rock, and more.

Wild Flag – Romance from Merge Records on Vimeo.
When did you first get the call about Wild Flag?
Carrie was asked to do music for a soundtrack for a movie called !Women Art Revolution. She enlisted Janet and Rebecca to play with her and write the music. After they recorded a bunch of songs, they found out that they needed vocals, but they hadn't written it with that in mind. So Carrie just called and said, "Hey, how about putting some vocals on this one song?" I did that, and then I guess they'd had a lot of friends collaborating on the project and wanted to collaborate again, but this time they wanted to try to make it into a band. Carrie asked me if I wanted to head out to Portland and make music with them.
A lot of people refer to the members of Wild Flag as 'lifers.' Did you ever think you'd still be making music this important to people two decades in? What drives you to keep going at it?
First of all, I just think it's funny that rock music is kind of like sports: Once you pass 35 you're a dinosaur. It's kind of weird. In other careers, that's not quite an issue. But it is a really hard thing to do with your life, so it makes sense a lot of people don't want to do it forever, because you don't make that much money. What keeps me going is the music. Personally, creativity is really important for me. I could maybe be doing anything that's some sort of art form. That's how my brain works. I ended up choosing music, but it's just really important for me to be creative. Playing music is something that makes me happy.
How does the songwriting process work, especially with Carrie Brownstein? You both are incredible lead guitarists and singers. How do you pick your spots?
There are a few ways that we write songs. Someone will bring in the chord progression and vocal melody that they've written at home into the practice space. Then we all talk about it and arrange it. Or we've written songs just by writing in the practice space. Like, "How about these two notes together?" "Should I come up with a part here?" So it's very collaborative. Janet is a really incredible drummer, but she's also really got an ear for arrangement. She's basically the arranger in the band. She has a really great sense of how songs flow and the way different parts fit together.
Did it help with recording that you toured beforehand?
Yes, definitely. The plan when we started the band was to play a lot of shows before we recorded. You can't make a good record as a band without doing that. Playing live really helps you figure out what's working and what's not. We dropped a lot of songs that way. We kept weeding things out that weren't working. I'm glad we did that, because we would have a made a really different record if we hadn't played those shows first. We also just really wanted to make a record that sounded like us playing live.
And you did, you recorded live?
Everything was live except for the vocals. I feel really proud of that, because I hadn't done that personally in a long time. Maybe since I first started making records. I mostly record on Pro Tools myself these days, and you get really used to that. So it was a challenge, but totally worth it. It really captures the energy of the music. Even some of the guitar solos, I don't think I've ever done that live. On "Something Came Over Me" I played all those solos live and I was just sweating. It was so hard, but it was also absolutely worth it because that energy is there. I like to record with overdubs, and that's something we did later with the vocals, but it's definitely a very different experience. It was good for me to do.
Speaking of "Something Came Over Me," that's one of my favorites of the year. How did that track come about?
Thanks. That was one that I came in with some chords and a vocal melody and we just messed around with it. Carrie came up that awesome guitar part. The way the guitars work together is just really fun. And Janet and Rebecca came up with their own cool parts and we just worked it all together. It really became something much better than what I had originally brought in.
"Oh Yeah" is another standout for me. How did that end up as a bonus track and not on the record?
Thank you so much. It was really sad. It had to get axed. There was no room for it on the vinyl, so it became a bonus track. The record company didn't want to put it on the CD if it wasn't on the vinyl.
A lot of songs on the record directly reference the power of making music and being in a band, like, "Sound is the blood between me and you," or, "You're coming through in stereo." Was that intentional to make a record about making music?
It wasn't intentional, it just kind of happened. Carrie has a song called "Romance" that's about the power of music over her. I definitely have at least two or three songs about that. I didn't even realize it until we were in the studio recording vocals, and I was like, "Wow, a bunch of these songs are about music." It's kind of cool, actually.
Your music video for "Romance" is hilarious. Whose concept was that? And how did you get permission to wreak havoc in Jackpot Records in Portland?
That's Tom Scharpling ( Monk, The Best Show on WFMU) and he's just a hilarious guy. We had a great time. We basically just had a ton of locations that we were running to and from all over Portland. It was two days from sun up to sun down and it was just really fun. That was all his concept. We loved working with him.

Considering you played in great '90s bands like Helium, how do you feel about all the current nostalgia for '90s guitar rock and its resurgence with bands like Yuck?
It's interesting to me. It's weird how things get flipped back around so quickly. It hasn't been that long since the '90s. But if you're younger and didn't experience it, I think it's a way of being in the '90s. I understand that. You're growing up and you're just a little too young to be in the youth culture of that period. So your way of joining is to reference it later. I kind of understand that, because I think I did that with the '80s for a while. I like the music. I've heard Dom and they're pretty cool. If you're gonna do it, just do it well.
There's a bit of a double standard in music writing regarding the term all-female. Obviously, when a band is all male, no one bothers to describe it is as such. Does it bother you when writers describe Wild Flag as all-female?
It's too bad when it has to be pointed out. That just shows it's unusual. I'm personally at a point in my life now where I don't really think about that stuff quite as much as I did when I was younger. In the early '90s when I was younger and getting into bands, it was more of a statement to be a girl. It was a bit more rare to be a woman playing a guitar, which now I really don't think is that unusual. For me, I love playing with these guys because they're my favorite musicians. I was never at one point, "I'm gonna be in a girl band." I was just excited to play with three of my all-time favorite musicians.
What's next for Wild Flag after the current tour?
We're playing All Tomorrow's Parties in England in December and then we're doing a European tour and touring the US again in the spring.
Do you feel like this band is something you could be invested in for the next few years?
I think we all take it pretty seriously. We all want to be in a band and make money that way by touring. It's fun for us. Being on tour a lot is certainly hard, but it's not a side project. We're serious about it.