"Bringing the outdoors in–that's what this kitchen is all about," says Bethesda homeowner Judy Aldock. Photograph courtesy of Aidan Design
Where to Find It:
Refrigerator: Sub-Zero
Range: Dacor
Wine Cooler: Sub-Zero
Hot and Cold Filtered Water: Franke Little Butler
Coffeemaker: Miele
Faucet: Grohe Ladylux
Disposal: Waste King
Cabinets: Wood-Mode provided by Aidan Design
Microwave: KitchenAid
Dishwasher: Miele
Counters and Integrated Sink: Stainless steel custom-made by Metal-Fab
Granite Counter: Norwood Marble & Granite
Oven: Dacor
Hood: Custom Dorsa model by Cheng Design
When architect Hugh Newell Jacobsen built this house in 1962, it was named House of the Year by Architectural Record. In Bethesda's Glen Echo Heights neighborhood, the modern home sits on a deep lot filled with beautiful trees.
Owners Judy and John Aldock had lived there nearly 25 years when they decided it was time for a kitchen overhaul. "In those days, rooms were conceived of as boxes," says builder Mark Grisar, who oversaw the renovation. The kitchen was closed off from the dining room, and even though it overlooks the home's woodsy back yard, it felt disconnected from the outdoors.
Grisar tore down the wall separating the dining room from the kitchen to create a bigger, more open space. A floor-to-ceiling sliding glass door and adjoining deck, once off of the dining room, now opens into the kitchen.
He also removed all of the wall cabinets, exposing the original brick. A new row of freestanding kitchen cabinets along the back wall makes up for lost storage.
Jacobsen's design included two small circular skylights, which Grisar replaced with one four-by-eight-foot rectangular skylight. "Sun fills the room," he says.
In keeping with Jacobsen's aesthetic in the rest of the house, Judy Aldock wanted the kitchen to feel minimalist and streamlined. She chose oak cabinets with a black stain as well as stainless-steel counters and appliances–including a handmade hood by California-based Cheng Design that has a sculptural, artistic quality. "People are so afraid of black," says Nadia Subaran of Aidan Design, which did the cabinetry. "But the exposed-brick walls and wood floors add warmth."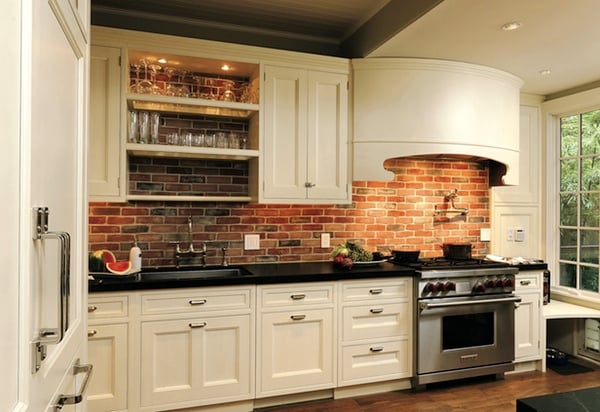 This brick-veneer backsplash matches a 100-year-old exposed-brick wall on the kitchen's opposite side. Photograph courtesy of Jennifer Gilmer Kitchen & Bath
Where to Find It
Lighting: Urban Smokebell Lantern by Baker
Stools: Custom-made by Thos. Moser
Countertops: Vermont soapstone
Floors: Walnut
Breakfast table: Custom-made by Wright Table Company in Morgantown, North Carolina
Banquette: Custom Furniture & Upholstery
Cabinets, refrigerator enclosure, and tiger-maple china cabinet: Premier custom-built
Range: Wolf
Refrigerator: Sub-Zero
Dishwasher: Miele
Microwave: GE
Oven: Gaggenau
When a fire devastated the interior of the century-old DC rowhouse of Matt Voorhees and Chris Dorobek in January 2008, the couple saw a silver lining. "It allowed us to really take a look at what was wrong with the house and fix it," says Voorhees.
At the top of their list was a new kitchen for the Woodley Park home. The narrow space had a cramped layout that made it hard to entertain and prepare a meal simultaneously. "It simply didn't have the right flow," says Dorobek.
They turned to Jennifer Gilmer Kitchen & Bath to help them create a rustic-looking kitchen with modern amenities. "We wanted it to be well edited and tailored but also respectful of the period of the house," says Voorhees.
To make the kitchen feel as if it were on a converted porch, they covered the walls in broad horizontal planks. Gilmer also rearranged the appliances and moved the bar area to create more open space. She relocated the powder room down the hall so that it didn't interrupt the kitchen and added a banquette. New French doors lead to the back yard, giving guests a place to mingle just outside the kitchen.
Voorhees, who dislikes the clutter that can collect in traditional corner cabinets, had Gilmer install deep corner drawers that slide out on a diagonal. A doggy door tucked under a bench next to the range lets their three dogs in and out of the house. They placed the refrigerator and other appliances behind wood paneling to retain the kitchen's traditional look.
Just a year and a half after completing the renovation, Voorhees and Dorobek decided to sell when their longtime dream home went on the market. After moving into this house, the new owner gutted and redesigned the entire ground floor–with one exception.
Says Voorhees: "She didn't touch the kitchen."
Next: Clean Lines, Casual Feel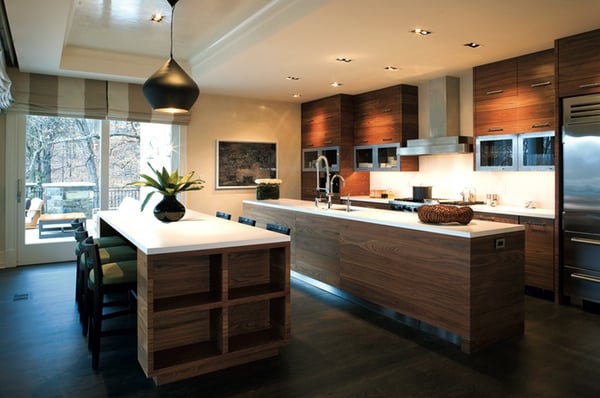 Bowa's Patricia Tetro says more clients are forgoing a traditional table in favor of double islands: "Rather than separate spaces for prep and eating, it integrates the space." Photograph by Jim Tetro
Where to Find It
Refrigerator: Sub-Zero
Range: Viking
Dishwasher: Miele
Hood: Best
Sinks: Julien
Faucets: Hansgrohe
Backsplash: Calcutta Gold marble from United States Marble & Granite
Floors: Oak from 5th Avenue Floors
Chandelier: Circa Lighting
Cabinets: Custom by Ivan C. Dutterer, based on the architect's design
Dishwasher: Miele
Microwave: GE
Oven: Gaggenau
The owners of this new home near DC's Foxhall Road had a combined kitchen and family room in their old house. "They liked the way that worked for them, so we replicated it in the new home on a larger scale," says architect David Jones, who oversaw the project.
"We didn't want it to look like the family room is in the kitchen," says Jones. To achieve this, he didn't install too many overhead cabinets. A large pantry with a built-in hutch and cabinets makes up for lost storage.
He also hid all of the appliances behind painted wood doors, including the microwave, which is tucked under the island's countertop. Traditional touches such as a wrought-iron chandelier and marble along the countertops and backsplash make the space feel formal. Jones says that the marble's light veining gives the room character. French doors leading to the terrace bring in sunlight.
The rest of the house–a Classical Revival design–is painted beige throughout. After considering stained wood for the cabinets, Jones chose a pale gray-green. The paint color is a subtle contrast with the marble countertops and beige walls.
Jones says the key to combining a kitchen and family room is to focus on the living space: "Keep the kitchen beautiful and in sync with the room so it feels like a natural part of the space."
Next: Formal and Inviting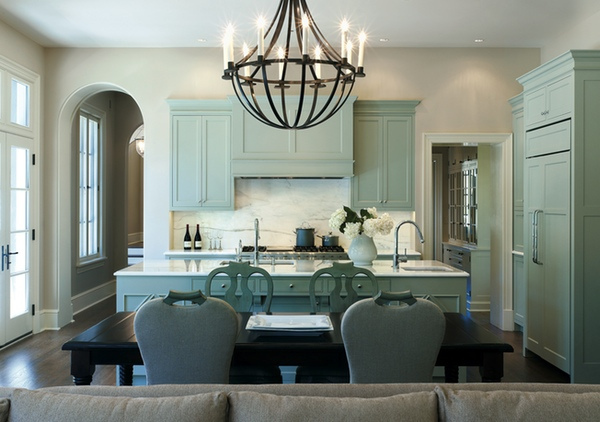 With its hidden appliances and marble countertops, this kitchen flows seamlessly into the adjoining family room. Photograph by Anice Hoachlander
Where to Find It
Cabinets: Premier Custom-Built, through Kitchen and Bath Studios
Counters: Blizzard honed by Caesarstone
Faucet: Tara Classic by Dornbracht
Pendant fixture: Tom Dixon
Motorized shades: Lutron Sivoia QED, installed by Integrated Media Systems and DeMott Drapery Designs
Sliding doors: Kolbe & Kolbe Millwork Co.
Range hood: Vent-A-Hood
Refrigerator: Sub-Zero
Range: Viking
From the street, this house in McLean looks like an ordinary one-story rambler. But inside are some surprises.
Built into a steep hill overlooking the Potomac River, the home, which is actually four levels, offers good water views–especially from the downstairs kitchen.
The owners, who entertain frequently, asked Bowa Builders to create two kitchens: one for formal events and parties on the main level and one, shown here, for family dinners and informal gatherings with friends.
Patricia Tetro, principal at Bowa, says the homeowners wanted the space to be contemporary but still functional and warm. Walnut cabinetry with a horizontal grain was used to create long, clean lines. A row of stainless-steel cabinets and a stainless toe-kick along the bottom of the primary cooking island reinforce the design's parallel lines. The homeowners chose white Caesarstone for the countertops and backsplash. "They wanted something very monolithic," says Tetro.
A second island, which doubles as a kitchen table, helps foster a casual feel. The owners are able to cook and hang out with friends at the same time.
"The countertop and both islands have the same lines, same materials, and are the same height," says Tetro. "It pulls everything together."
The warm, neutral color palette is carried outside onto the adjoining deck, where French-limestone floors echo the white countertops and backsplash in the kitchen.
The project's architect, David Cooper of ACG Architects, says the kitchen's success lies in its simplicity: "It's classic and elegant."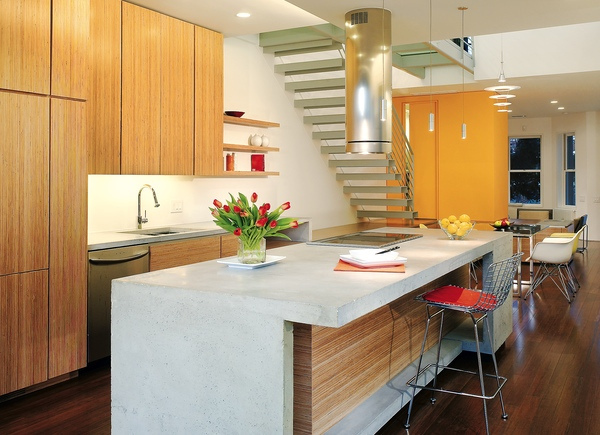 The centerpiece of this Capitol Hill rowhouse kitchen is the custom-made concrete island, which was brought in by forklift. Photograph by Anice Hoachlander
Where to Find It
Countertops: Custom by Elbwrm
Floor: Bamboo by Plyboo
Cabinets: Base cabinets by Ikea, custom panels by Studio Twentyseven
Light fixtures: Lightolier, Vibia, Belfer, Alcko
Range: KitchenAid
Oven: KitchenAid
Refrigerator: Electrolux
Ten years after buying their rowhouse on Capitol Hill, Robert Bates and Juan Felipe Rincon wanted an update. Built in 1906, the house had a configuration that was compartmentalized and dark, making the limited square footage feel even smaller.
"The kitchen layout was horrible–it wasted most of the space," says Bates. They also disliked its outdated look: white laminate cabinets, vinyl flooring, poor-quality appliances. They hired Studio Twentyseven Architecture, a DC firm, to design a new space that felt more open and modern.
Architect Hans Kuhn and his team tore down a wall that separated the kitchen from the dining room and replaced a brick wall along the back of the house with floor-to-ceiling windows. That part of the house now is flooded with natural light.
In the old kitchen, there were cabinets all the way around the bottom of the island, making it an awkward place for seating. The new concrete island–brought into the home in three pieces by forklift–doubles as a dining table and food-prep area. Kuhn says the concrete's porous texture gives the space a natural, organic look.
With most of the appliances hidden behind cabinets and under the island, the space feels less like a kitchen and more like a dining and entertaining space. A yellow-orange wall provides a focal point and blends well with the kitchen's natural-wood and concrete surfaces. "The owners were looking for a single color that was bold and uplifting," says Kuhn.
Bates says the whole house now feels more bright and open: "In a small rowhouse, every square foot is important."
This article appears in the October 2011 issue of The Washingtonian.