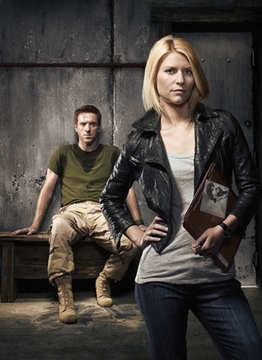 Welcome to WashingTelevision, our new column dedicated to all things TV in DC. This fall, we're working mostly with Homeland, Showtime's new drama that stars Claire Danes as a troubled CIA operative and Damian Lewis as the recently rescued POW who Danes's character suspects may be more than just a returning hero. Missed last night's pilot episode? Read our recap, which is chock-full of spoilers, or you can watch it in its entirety at Showtime's Web site.
Like so many spy dramas, Homeland opens in Baghdad, where a pale, wan, terrorist scarf-wearing Carrie Mathison (Danes) is navigating traffic and frantically negotiating with her boss, CIA deputy director David Estes (David Harewood) to save the life of one of her informants, who she says has important information about an imminent attack on US soil. The only problem? He's a bombmaker, and Estes tells her "We don't dictate to the Iraqis any more." So Carrie, in the first of many actions designed to let us know that she's a Maverick with a capital M, bribes her way into an Iraqi jail and promises to keep the informant's family safe if he reveals his final secret. He whispers something into her ear as the guards drag her away.
Cut to ten months later, and several monument/memorial shots to set the scene in Washington (Homeland was largely filmed in Charlotte, but if you're planning on playing a Washington landmark drinking game, you're in luck). Carrie, who is not only a maverick but also chronically late for work, pops a mysterious-looking green pill while getting dressed (something about the fact it's hidden in an aspirin bottle tells us it isn't going to be a vitamin). She drives into work at Langley, where Estes calls her out for being late, before announcing something that shocks her: American forces have rescued a US Marine, missing for the last eight years and presumed dead. We see Nicholas Brody (Lewis) for the first time, complete with a mess of orange hair that makes him vaguely resemble the Geico caveman. "I'm an American citizen" he tells the troops who discover him, although really, with hair like that, he needn't have bothered.
Carrie looks shocked, and we realize why when she talks quietly to her mentor, Saul Berenson (a gruffly bearded and almost-unrecognizable Mandy Patinkin) on a Langley bench. Since we've got to assume that security there is pretty top-notch and all, they probably could have found a better place for their top-secret discussion, but never mind. Turns out the whispered information Carrie heard at the beginning of the episode was the news that an American POW had been "turned," and may be used in a planned attack against the US. To Carrie, who was unaware of any surviving POWs up till this point, it's all too obvious that Brody is the man in question.
And Brody? He's getting a haircut and a shave at an American army base somewhere in Europe, and requesting to make a phone call to his wife, Jessica (Morena Baccarin), who is unfortunately at that exact moment sleeping with someone else and looks pretty shocked to hear from her eight-years-missing husband. Nevertheless, she pulls it together, goes home, and busts her teenage daughter smoking pot, which temporarily distracts her from the news she was about to share. Dad, she tells daughter Dana and son Chris, is coming home.
While Jessica is preparing for the homecoming and doing that thing that people always do on television but never, ever do in real life, i.e. practice conversations with themselves in the mirror, Carrie is preparing to illegally bug Brody's house. She ropes in an old friend and freelance technician to install cameras and recording devices in the Brody house, which the old friend does, bringing along his eminently suspicious brother to help. This turns awkward when the brother, rootling through Carrie's bathroom cabinet for "migraine medication," finds the mysterious green pill and starts asking questions. Since he's breaking 12 federal laws, he tells the technician, he'd kind of like to know who he's dealing with.
Meanwhile, Brody is flying home and puking his guts out on the plane, causing his superiors to wonder if the planned meeting with the vice president can be postponed. But he gets off the plane and embraces his tearful wife and daughter, while his son sticks out a hand, saying formally, "Nice to meet you." Then he's honored, on-camera, at a ceremony with the cheerful, Biden-a-like VP, before running into an old friend, Mike. Mike, it transpires, somewhat awkwardly, is the man his wife was sleeping with the day before. The next shot we see is a sign reading "Semper Fi," or always faithful, which seems ironic, to say the least.
Carrie—who we find out in one scene is taking a powerful anti-psychotic, hence the little green pills—proceeds to watch the Brody family over the next few days, including a horrifically uncomfortable moment where she peers at Brody having sex with his wife (to her credit, she at least removes her headphones). It's voyeuristic, disturbing, and obviously a massively illegal invasion of privacy, which is what Saul at least thinks when he walks unexpectedly into her house and discovers the setup. Carrie, pretty sure she's going to jail, does what any emotionally fragile person would do: She hits on her mentor, listens to jazz, has a meltdown in her closet, and goes to a bar to pick up a man, wearing an engagement ring to put off anyone looking for a commitment. And it works—until something about the musicians playing their instruments (FYI, there is no fancy live jazz venue with a fireplace in DC, as far as I'm aware) makes her realize that Brody, too, was making unusual finger movements during all his on-camera appearances, presumably as some kind of communication. Carrie calls Saul, and while all isn't forgiven, he does promise her he'll get a code-breaking team on it.
Brody, who seems to be dealing with his return home more normally than one would imagine, has already had a clandestine meeting with his former army buddy's wife, who asks him how he died. "He was beaten to death," he tells her calmly, as we see flashbacks of the bloodied, bruised corpse. On a run in Washington, he stops at the Capitol and remember the uncomfortable truth: It was him doing the beating. Meanwhile, Carrie says something that seems to suggest she feels personal guilt about 9/11: "I missed something once. I won't let that happen again."
In a nutshell: Is Brody a terrorist? Is Carrie absolutely out of her mind? Is the CIA the most dysfunctional place to work, ever? Jokes aside, Homeland so far is a pretty gripping and suspenseful thriller, and this may be some of Danes's best work yet. Tune in next week to see more on Brody's unusual behavior, Carrie's mental illness, and the first appearance of an extremely unorthodox informer.