Updated June 28, 2012: After
President Obama and Solicitor General
Donald Verrilli—who argued the administration's case for the Affordable Care Act at the Supreme Court in March—the biggest winner today is
likely
Tom Goldstein and his team at
SCOTUSblog. As the tension and excitement
leading up to the high court's health-care
ruling steadily rose, so did Goldstein's readership. The
website devoted to Supreme Court coverage has become Washington's
go-to source for high court news, thanks largely to its
live-blogging of the minute-by-minute action at One First Street on
decision days like today. By 10 this morning, 344,000 readers
were tuned into SCOTUSblog's live feed. By 10:22, more than
860,000 readers had logged on. And when the health-care
decision was finally read, and CNN inaccurately flashed that the
individual
mandate had been struck down, it was SCOTUSblog that got it
right, alerting its readers that the Affordable Care Act had been
ruled constitutional. Even President Obama has been relying on
the site for his Supreme Court news.
Check out Washingtonian's piece about Goldstein and the evolution of SCOTUSblog from our November 2011 issue below.
• • •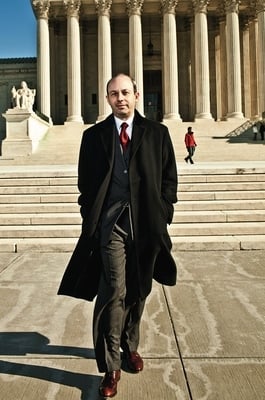 Tom Goldstein, one of Washington's high-profile Supreme Court lawyers, started SCOTUSblog with his wife and fellow lawyer, Amy Howe, nine years ago. The Web site covers the Supreme Court, analyzing cases and aggregating writings and documents. In the last year, it has gotten 8 million hits, and it's on track to get as many as 12 million in the next. "It has become like a third child," says Goldstein.
Goldstein and Howe's baby keeps growing. After 18 months of negotiating with media companies, Goldstein reached a sponsorship deal with Bloomberg Law this fall. The move has allowed SCOTUSblog to grow from one full-time employee to four. The site, which Goldstein funded himself, had operated on a $250,000 budget. He says the Bloomberg deal has allowed him to dramatically increase staffing and investment in the site without losing money. After banning reader comments for the past seven years, the site has launched a discussion forum. Goldstein hopes that letting readers interact will lead to more traffic.
In the midst of the site's redesign, Goldstein found time to argue a case at the Supreme Court in October, challenging prison strip-search policies.
There have been other changes for Goldstein. In January, he left Akin Gump Strauss Hauer & Feld, one of DC's largest law firms, after five years; he was co-head of the Supreme Court and appellate group and of the litigation department. He returned to the small firm he founded earlier in his career with his wife. Called Howe & Russell before his return, it now goes by Goldstein & Russell. An avid poker fan, Goldstein says his departure from Akin Gump was spurred by his largest client, PokerStars, which ran into conflicts with another Akin Gump client.
But Goldstein says a return to a megafirm may be in the cards. PokerStars' business no longer operates out of the US, so once the embattled online gambling site's current dispute with the US government wraps up, Goldstein's work for it will end. After that, he says, rejoining a major firm like Akin Gump "is certainly a possibility."
This article appears in the November 2011 issue of The Washingtonian.