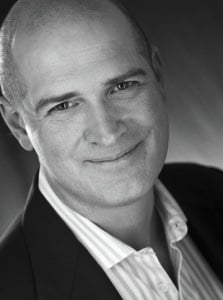 When Blake Robison took the reins at Round House Theatre in 2005, he was only the fourth director to work at the Bethesda company in its 33-year history. Under Robison's lead, Round House has made its mark on the local theater scene by producing adaptations of popular literary works, helping it hold its own against larger Washington theaters. Now, he's headed to the Cincinnati's Playhouse in the Park.
Here, we take a look back at some of the director's greatest hits—as well as a few that made a stir for all the wrong reasons. And don't forget, Robison will be at Round House till the end of the season, so you can still catch his production of Jane Austen's Pride and Prejudice in November.
The Talented Mr. Ripley
Robison directed this world premiere adaptation of the Patricia Highsmith novel in 2010, and critics raved about his "exemplary" production of the popular thriller. " The Talented Mr. Ripley is a high-end spine tingler, and Robison lavishes on it the tasteful attention the story deserves," said the Washington Post's Peter Marks. "[Robison] has staged a nicely nuanced production that emphasizes the many shades of gray depicted in Nagy's thought-provoking script," wrote Variety's Paul Harris.
Verdict? Critics and audiences were wowed by the talented Mr. Robison.
Charming Billy
Robison served double duty on this February 2011 production, adapting and directing Alice McDermott's National Book Award–winning novel about a lovable Irish drunk. "Robison and his crew are true to the ambiance of McDermott's book," wrote The Washingtonian's Leslie Milk. "The play is a clever construct . . . with the perfect mix of humor, pathos, and poetry." Over at the Post, Celia Wren was equally impressed: "Blake Robison, who has introduced a new emphasis on dramatizing literature since joining the company in 2005, has adapted Charming Billy with remarkable skill and faithfulness, pruning characters and subplots and ingeniously reinventing transitions, while preserving much of the book's texture and many of its most affecting scenes."
Verdict? Billy wasn't the only one charming people in Bethesda.
How the Garcia Girls Lost Their Accent s
In 2008, Robison turned his sights toward How the Garcia Girls Lost their Accents, the 1991 Julia Alvarez novel about cultural heritage and the complications of assimilation. Local playwright Karen Zacarias adapted the novel in a world premiere production at Round House, resulting in a production that was praised as having "an abundance of charm and perception" by Variety's Paul Harris. The Post's Peter Marks was more measured, calling the show "admirably vigorous, if, as yet, a bit wobbly." But he did acknowledge Robison's strengths, writing that "the aromas of Alvarez's novel of cultural metamorphosis do at times reach us at Round House."
Verdict? Three years after he arrived at Round House, Robison hadn't lost his touch.
A Prayer for Owen Meany
John Irving's novel A Prayer for Owen Meany might have been a tricky choice for Robison, with its multiple narratives and 40-year time span. But the 2006 show was an undeniable success, praised for its "epic flair" by the Washington Post's Nelson Pressley. "The novelistic business of shifting time and space is handled in spare, painterly fashion," Pressley wrote. MetroWeekly's Jolene Munch was also impressed, writing, "Director Blake Robison's cogent three-hour spectacle is a satisfying venture . . . a finely detailed, colorful adventure."
Verdict? It may have been long, but this Prayer before bedtime still satisfied.
Crime and Punishment
In 2007, Robison directed an adaptation of Dostoyevsky's Crime and Punishment, trimming the epic Russian novel to a more audience-friendly 90 minutes. And the pared-down production worked, despite using just three actors and a minimalist set. "It's a lean, effective production. . . Robison has figured out how to keep this distilled Dostoyevsky taut," wrote the Post's Pressley. "Ideas are seized, and actions unfold quick as dreams . . . as the acting ripples with cruelty and hope." Tragically, the play's run coincided with the mass shootings at Virginia Tech, prompting MetroWeekly's Tim Plant to call the show "a reminder why we employ the arts to examine life's great mysteries."
Verdict? Russian drama's delightful (in small doses).
AND A COUPLE OF MISSES:
The Winter's Tale
Robison took a break from Round House in 2009 to direct Shakespeare's The Winter's Tale over at the Folger—unluckily, at the same time that Sam Mendes was directing the same show in New York. The Economist compared the two productions and called Robison's show, which framed the story inside a fairy-tale plot device, "inconsequential and unmoving." The City Paper's Glen Weldone was similarly unmoved, writing, "Given such abrupt changes in mood, the production suffers from a chronic case of tonal whiplash." Luckily, DC Theatre Scene had much kinder words for the director. "Can Blake Robison, with imaginative staging and a vigorous and powerful cast, breathe sweetness and light into this tired old warhorse of a play?" asked Tim Treanor. "Of course he can! And he does!"
Verdict? This Winter left most critics frosty.
The Picture of Dorian Gray
Another of Robison's 2009 efforts: a modernized adaptation of Oscar Wilde's treatise on vanity, The Picture of Dorian Gray. Relocated to the hedonistic '80s art scene in New York, the show didn't exactly cause audiences to fall in love with it; the Post's review bore the headline "Four Words: Don't Waste Your Time." Wrote Peter Marks: "Burdened, though, with cartoonish manifestations of violence and a plot that ricochets wildly in tone, this very strange world premiere adaptation comes across as a dispiriting hybrid, with some scenes out of a plummy satire of the contemporary art world and others out of Bride of Chucky."
Verdict? Four words: They didn't like it.