In The Book of Man, radio host William Bennett serves up a stirring collection of epigrammatic profiles of men, from Packers quarterback Aaron Rodgers and Washington rapper Incwell to a sanitation worker. "[L]ike so many of the veterans coming home from wars in the last few years," reads one about a Marine who served in Iraq, "Joshua returned changed. In some it comes in violent fits, sleeplessness, and other neurological disorders, but in Joshua, the lurking effects of combat stress came in what he calls 'a fog,' one that made living and interacting on a college campus anything but easy."
As that snippet suggests, the book offers a nuanced picture, coming as it does from a man who has run both the Department of Education and the National Endowment for the Humanities, of the struggles facing American men—statistics showing that women make up a majority of the US workforce, movies such as The Hangover portraying men as inept and immature—but calls on future generations not to cast off virtues such as bravery, hard work, and service even as their place in society shifts. Several years ago, Maureen Dowd wrote a book called Are Men Necessary? Not only necessary, Bennett argues, but needed, and more than ever.
Subscribe to Washingtonian
Follow Washingtonian on Twitter

This article appears in the November 2011 issue of The Washingtonian.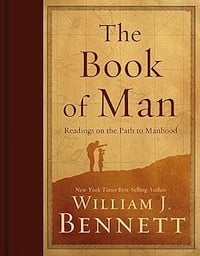 Author:
William J. Bennett
Publisher:
Thomas Nelson
Price:
$34.99