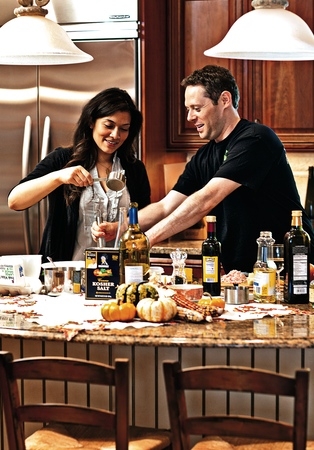 Buffalo Wellington (see full recipe)
"Take a buffalo tenderloin, fill it with roasted asparagus, mushroom duxelles, and a cheesy Israeli couscous. I serve a bowl of roasted garlic on the side so you can pop a clove out and spread it over the Wellington." —Dennis Friedman, Chef at Newton's Table
Steak
"I hate turkey, so when I was a kid we used to do a steakhouse-themed Thanksgiving. We would do strips and filet, creamed spinach, creamed corn, fresh-cut onion rings, and mashed potatoes. My grandmother used to make mashed potatoes with roasted garlic, sour cream, a nice amount of butter, and a ton of Pecorino Romano. She put them in a baking dish and put butter and more Pecorino on top, and they got a killer crust. It fit both steakhouse and Thanksgiving."
—Casey Patten, Owner of Taylor Gourmet
Chocolate cake made with leftover mashed potatoes (see full recipe)
"No joke—it's delicious and moist. The family recipe is made just as you would a regular cake, just less flour since potatoes act as the starch. We love it because you can leave it unwrapped long after the holiday and it stays moist."
—Steve Mannino, Chef at Rustico
Pumpkin-pie-flavored moonshine
"You get two cans of Libby's pumpkin filling, a bag of marshmallows, a cinnamon stick, a couple of cloves, a vanilla bean, two cups of sugar, and a liter of Everclear. Toast the marshmallows in the oven, then put everything together over medium heat (not over gas!). Bring to a simmer and place it in a fine-mesh sieve lined with cheesecloth and set over a bowl. Let the alcohol drain out. You can let it sit for a day for fuller flavor. You can also mix it with warm cider or make pumpkin buttered rum."
—Jonathan Seningen, Chef at Sax
Deep-fried turtles
"I spend every Thanksgiving at my uncle's house just outside Three Rivers, Michigan. My uncle went out and caught turtles in a lake on Thanksgiving when I was young and deep-fried them. The tradition stuck, and we have them every year, cut up into small bites as a side dish. We have really bad Michigan fruit wine and a euchre tournament."
—Amy Troutmiller, General Manager at Westend Bistro
Spiced Ham (see full recipe)
"I grew up in San Antonio, and all of our relatives from Mexico used to come and join us. They always brought a spiced ham glazed with piloncillo—Mexican brown sugar—pineapple, and chilis. Eventually I grew up and realized no one else ate ham and Mexicans don't celebrate Thanksgiving. But all my cousins did!"
—Rob Valencia, Pastry Chef at Northside Social

This article appears in the November 2011 issue of The Washingtonian.