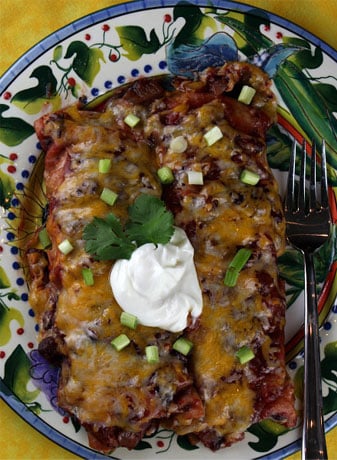 Let's face it—a microwaved plate of Thanksgiving leftovers is not the same as that first meal straight out of the oven. For a more creative take, we turned to local nutritionist Danielle Omar—who first provided us some vegetarian recipes for Thanksgiving side dishes. She gave us three unique twists on favorite dishes using Turkey Day leftovers.
Omar recommends using up all your leftovers within a week of Thursday's meal—especially the turkey.
BREAKFAST
Stuffing Frittata from Robin Miller
What's good about it: "It's a clever way to use your stuffing instead of having a big bowl of it. Any Robin Miller recipe is super healthy, plus this one calls for egg whites and low-fat cheese"—good sources of protein.
Ingredients
Cooking spray
2 to 3 cups leftover stuffing
1 cup shredded cheddar (regular or reduced fat)
6 large eggs
2 large egg whites
¾ cup milk
½ teaspoon mustard powder
¼ teaspoon ground nutmeg
2 tablespoons grated Parmesan
Salt and pepper
1 tablespoon chopped fresh parsley
Directions
Preheat broiler. Coat an ovenproof nonstick skillet with cooking spray and place over medium heat. Put stuffing in the bottom of the pan to warm, and stir to break up a little. Sprinkle cheese over top. In a medium bowl, whisk together eggs, egg whites, milk, mustard powder, and nutmeg. Pour mixture over stuffing and cheese to cover. Sprinkle Parmesan over top. Cook on stovetop over low heat for 5 to 7 minutes. Transfer to the broiler and broil for about 2 minutes, until egg is cooked through and cheese is golden and bubbly. Sprinkle with salt, pepper, and fresh parsley. Serve with sliced tomatoes. Serves 4.
LUNCH
Turkey Noodle Soup from Simple Bites
What's good about it: "I wouldn't say this is any healthier than your typical chicken noodle soup, but it's still a great way to use your leftover turkey. It's pretty low-fat, and you can use whole wheat noodles to add some fiber."
Ingredients
2 tablespoons olive oil
1 cup chopped leeks, white parts only, washed well
1 to 2 cups leftover turkey breast, cut into small chunks
½ cup chopped carrots
2 ribs celery, chopped
1 teaspoon finely chopped fresh rosemary
3 cloves garlic, chopped
8 cups turkey or chicken stock
2 cups noodles, cooked (I use whatever I have on hand)
Salt and pepper
Grated Parmesan to garnish
Chopped fresh parsley to garnish
Directions
In a medium Dutch oven, heat olive oil and sauté leeks, carrots, and celery for 2 to 3 minutes over medium heat. Add garlic and rosemary and sauté for another minute. Add turkey stock and turkey to the pot. Partially cover the soup, reduce heat to medium-low, and simmer for 10 minutes or until vegetables are tender. Add cooked noodles and season the soup with salt and pepper. Serve at once with a sprinkling of chopped parsley and Parmesan cheese. Yields 2 quarts.
DINNER
Cranberry Turkey Enchiladas from RecipeGirl.com
What's good about it: "This is a unique way to use both turkey and cranberry sauce leftovers, even though the recipe calls for an entire can of cranberry sauce. I like it because it's high in fiber and you can use whole wheat tortillas."
Ingredients:
2 to 2½ cups shredded cooked turkey
1 (16 ounce) can whole berry cranberry sauce
1 (15 ounce) can black beans, rinsed and drained
1 ½ cups bottled salsa
1 cup shredded Colby and Monterey Jack cheese (reduced fat, if possible)
½ cup sour cream
3 green onions, sliced
¼ cup snipped fresh cilantro
1 teaspoon ground cumin
½ teaspoon salt
½ teaspoon ground black pepper
8 (7- to 8-inch) whole-wheat or regular flour tortillas
1 teaspoon bottled hot pepper sauce
cilantro, green onions, and sour cream for garnish, optional
Directions
Preheat oven to 350 degrees. Lightly coat a 13×9-inch baking dish with cooking spray; set aside.
For filling: In a large bowl stir together turkey, half of the cranberry sauce, beans, ½ cup salsa, ¾ cup cheese, sour cream, green onions, cilantro, cumin, salt, and pepper. Spoon about ⅔ cup filling on each tortilla. Roll tortillas around filling. Place in prepared dish, seam side down; set aside.
For sauce: In a bowl, stir together remaining cranberry sauce, remaining salsa, and hot pepper sauce. Spoon over filled tortillas. Cover with foil. Bake for 45 minutes. Uncover; top with remaining cheese. Bake 5 to 10 minutes more or until heated through and cheese is melted.
Sprinkle with additional cilantro and green onions. Yields 6 to 8 enchiladas.