After signing a $27.5-million deal with the Redskins, Stephen Bowen spent $1.8 million on this house in Leesburg.
Photographs by David Pipkin
IN VIRGINIA

New Redskins defensive end Stephen Bowen and his wife, Tiffany, bought a five-bedroom, six-bath house in Leesburg for $1.8 million. On three acres, it has an exercise room, wine cellar, theater, and five-car garage. A former Dallas Cowboy, Bowen signed a $27.5-million deal with the Redskins in July.
Former Redskins center Casey Rabach and his wife, Nicole, sold a five-bedroom, five-bath Colonial on Winning Colors Place in Leesburg for $1.2 million. The house has a bar, exercise room, pool, and hot tub. Rabach played for the Skins from 2005 to 2010.
IN MARYLAND

Political heavyweight Bill Cohen and his wife, journalist Janet Langhart Cohen, bought a two-bedroom, three-bath condominium in the Parc Somerset building in Chevy Chase for $2.2 million. The couple also owns another condo in the building, which they bought in 2003 for $4.3 million. Bill Cohen is a former US senator from Maine and was Secretary of Defense under President Bill Clinton from 1997 to 2001. A former model, Janet Langhart Cohen has worked for BET and the Boston Herald.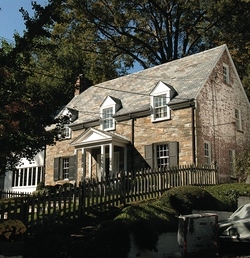 Media mogul John Hendricks and wife Maureen sold a home in Chevy Chase for just over $2 million. Hendricks is founder and chair of Silver Spring–based Discovery Communications.
Lawyer Sidney Dickstein and his wife, Barbara, bought a condo at Fox Hill, a senior-living community in Bethesda, for $1.3 million. He is founding partner of the law firm Dickstein Shapiro.
IN DC
Journalist Peter Beinart and wife Diana, a lawyer, sold a four-bedroom, five-bath Federal-style rowhouse in Georgetown for $2 million. Built in 1900, the house has five fireplaces. Former editor of the New Republic, Peter Beinart is a political writer for the Daily Beast and a professor of journalism and political science at the City University of New York.
John W. Warner IV, son of the former Virginia senator, sold a four-bedroom, five-bath Federal-style house on Olive Street in Georgetown for $2 million. Built in 2003, it has a rooftop deck; the list price was reduced $300,000. A former racecar driver, Warner has directed several documentaries, including The Wendell Scott Story, about the first African-American driver to reach the top level of stock-car racing.
Longtime local TV news anchor Gordon Peterson and his wife, Anne Flemming, bought a four-bedroom, five-bath Colonial in Kent for $1.6 million. Peterson now is an anchor for Channel 7 as well as moderator and producer of the talk show Inside Washington.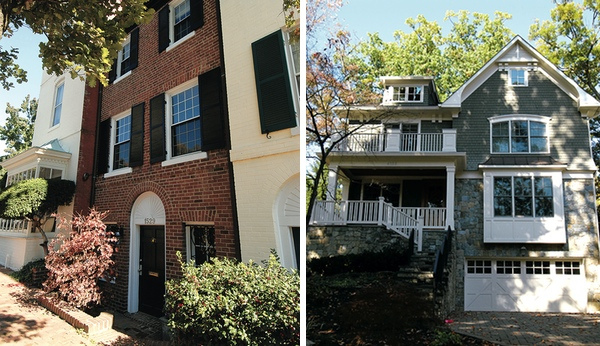 Left: Journalist Peter Beinart sold a Georgetown rowhouse for $2 million. Right: John Hendricks of Discovery Communications collected just over $2 million for this Chevy Chase house.
Sanford Ungar, president of Baltimore's Goucher College, and his wife, Beth, a physician, sold a Colonial on Jenifer Street in Chevy Chase DC for $1.4 million. Built in 1923, the house has five bedrooms and five baths. Former dean of American University's School of Communication, Ungar has worked for the Atlantic, Foreign Policy, and the Washington Post.
CFO of the District of Columbia Natwar Gandhi bought a two-bedroom, two-bath condominium in Chevy Chase DC's Chase Point building for $1.3 million. The condo has floor-to-ceiling windows and a balcony overlooking a park. Gandhi, who has been CFO since 2000, is largely credited with fixing the District's finances.
Former Washington Nationals president Stan Kasten and his wife, Helen, sold a two-bedroom, two-bath condo on L Street in the West End for $975,000. Listed for $1.2 million, the condo has a balcony as well as access to an outdoor rooftop pool. Former general manager of the Atlanta Hawks and president of the Atlanta Braves, Kasten was with the Nationals from 2006 to 2010.W
Some sales information provided by American City Business Leads and Diana Hart of TTR Sotheby's International Realty.
This article appears in the December 2011 issue of The Washingtonian.