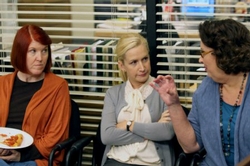 Ann Limpert, food and wine editor
• Most useful service story of the season? Grub Street breaks down—complete with chart—exactly how drunk you're allowed to get at your holiday party, whether you're an intern, the big boss, or a "plateaued cog in the machine" (It's Cuervo time!). Sloshed: How Drunk Can You Get at Your Office Christmas Party?
• Everyone has their food-writing pet peeves, and I have always prayed the terms "drool" and "drool-worthy" would die, die, die. Now, I've got science to back me up. We Don't Actually Salivate at the Thought of Food
• A gallery of Jennifer Rubell's wacky-cool food-as-art, including a Jacques Torres chocolate reproduction of Jeff Koons's "Rabbit" (best part: guests were given hammers to demolish it), a pile of 150 real rabbits carved up by Mario Batali, and the wedding food of my dreams. Eat the Art
Jessica Voelker, online dining editor
• Craving soup? Making it from scratch might not be a bad idea. BPA is back in food news, thanks to a new Harvard study. One serving of canned food a day gives people significantly elevated levels of the endocrine disruptor. BPA Lurks in Canned Soups and Drinks
• If you missed the Best Bites blog post about it earlier this week, be sure to check out David Wondrich's article on Gourmet Live analyzing various cocktail orders. What this article says about David Wondrich is that he's genius and hilarious. But we knew that already, right? What Your Drink Says About You
• An officemate pointed out this fascinating piece in the Wall Street Journal that explores how New York become the world's greatest pizza city. (Hush up, Naples, Italy. No one's talking to you.) Fun fact to whip out at cocktail parties: The NYC Yellow Pages lists 1,866 pizzerias. Hmm. I wonder how many Naples has. How New York Became a Pizza Capital
Anna Spiegel, assistant food and wine editor
• Holy frying pans! Once considered harmless kitchen tools handy for making eggs, skillets are actually dangerous weapons, as Jezebel discovers. It's Only A Matter Of Time Before You're Involved In A Frying Pan Attack
• It has been an amazing year, but it's time to say goodbye to the Lawrence/Julie & Julia project—an incredibly funny blog from a college student who watched the film Julie & Julia every day for 365 days. If you've never heard of it, browse through the archives for still-shot roundups of the characters chewing, "random actor Tuesdays," and loads of delightful Julie Powell bashing. Day 365—The End
• Thinking of buying a chef-written cookbook this season? The New York Times takes an insightful look at what makes the good ones work well. When the Chefs Come Home
• So, Solomon W., if the writer is a dog and the restaurant is the tree, the makes Yelp reviews . . . dog urine? Small town diners!