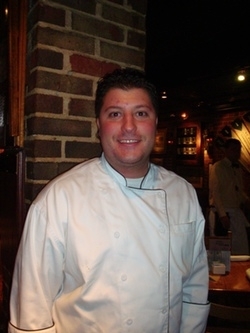 DINING
For Traditionalists
Though some find this 50-year-old restaurant a bit stuffy (jackets are required, and the waiters sport bow ties) Georgetown's 1789 is a go-to for a quietly refined, old-guard atmosphere with food that's more interesting than meat and potatoes. New chef Anthony Lombardo, who comes from Casa Nonna, has been subtly slipping Italian notes—Alba truffles, tagliatelle—onto the oft-changing menu.
Obama took the winners of his "Dinner with Barack" contest to Liberty Tavern, a Clarendon restaurant with a lively bar downstairs and a more civilized dining room on the second floor. The menu focuses on robust American comfort cooking (try the apple-and-cheddar-topped Vermont pizza) with Italian accents. If you're looking for a place that's on the easygoing side, this is a good option.
For Meat-and-Potato Folks
Hearty portions of modern Belgian cuisine await at Robert Wiedmaier's buzzing Brasserie Beck, where large groups are welcome and the beer list is as thick as a book. Lighter appetites can dine on mussels while hungrier eaters dig into beef stew, lamb sausage, or roasted rabbit.
At Ray's the Classics in Silver Spring, Michael Landrum strips the traditional steakhouse to its bare bones and gives diners a break on prices. Steaks and chops are extra-large and high-quality, and the Key lime pie is terrific.
For Drinkers
The wine list at Penn Quarter hotspot Proof, a slick leather-and-brick room restaurant steps away from the Verizon Center, is eclectic and extensive, and the craft cocktails are potent. Enjoy your libations with some cheese and charcuterie, or try the shrimp burger at lunch.
At Bethesda's Grapeseed, a wine bar and bistro, friendly servers offer helpful ordering tips and will let you sample wines. Appetizers big enough for two and boozy desserts complete a menu that thinks globally but is ultimately American at heart.
For Jet-Setters
Penn Quarter mezzeteria Zaytinya may be as well known for its innovative Greek, Turkish, and Lebanese small plates as it is for its soaring, sharp-angled dining room and celebrity chef-owner, José Andrés. Sky-high glass walls, a buzzing atmosphere, and a dressed-to-kill crowd are guaranteed to impress the mom or dad used to business-expensing every meal.
At the tiny Japanese restaurant Makoto in the Palisades, diners don slippers and switch off their cell phones—nothing will interfere with this serene meal. And what a meal it is. Though the eight- to ten-course menus are expensive, this is one of the area's most transportive dining experiences.
For Big Family Groups
Everyone is guaranteed to find something they like on the 149-item menu at Four Sisters, the reigning monarch of Vietnamese restaurants in Northern Virginia. Generous plates are meant for passing around family-style, so the more people at the table you have, the more flavors you'll get to try.
If it's a Sunday night, head to the Majestic, Cathal and Meshelle Armstrong's laid-back, eclectic American dining room in Old Town. That's when you'll find Nana's Sunday Dinner, a family-style feast that includes a main course, sides, salad, and dessert (usually a whole pie). The offerings change each month. In January, the centerpiece of the meal is red-wine-braised pot roast, which is served with roasted vegetables, polenta, a radicchio-and-pear salad, and coconut-cream pie.
For the Loud Crowd
Does a glass of wine make Mom and Dad think they're holding court over . . . the entire restaurant? Nobody will notice corny jokes, raucous voices, or bicker-fests at Central, Michel Richard's always-packed bistro. The menu is part French bistro (onion soup, bacon-onion tart), part haute fast food (KFC-inspired fried chicken, a TV-dinner-like banana split).
If your brood includes a few little ones with a propensity for sugar highs, they'll be in good company at 2 Amys. The Cleveland Park pizzeria, which tends to always overflow with fans big and small, is used to catering to the apple-juice set. Desserts here are wonderful (especially the ice creams), but the cupcakes across the street at Something Sweet are an even more kid-friendly treat.
THEATER
For Some Feel-Good Fun
Mom, Dad, and anyone else lucky enough to score tickets should thoroughly enjoy Billy Elliot, which is at the Kennedy Center through January 15. The musical, which scooped Tonys during its three-year Broadway run, tells the story of a working-class boy in 1980s England who discovers an affinity for ballet, and features music by Elton John.
For Romantics (Squabbling or Otherwise)
It's hard not to be charmed by the realistic dynamic between dueling lovers Beatrice and Benedick in Shakespeare's Much Ado About Nothing, especially in this gorgeous adaptation at Shakespeare Theatre Company (set in 1930s Cuba). Read our review here.
For Classics Fans
Round House Theatre's charming adaptation of Jane Austen's Pride and Prejudice will appeal to classics fans and book-phobes alike (see our review here). Who couldn't fall in love with Mr. Darcy, after all?
ART
For Sports Buffs
Dads will undoubtedly get a kick out of two exhibitions on the Mall this month: "Photo Finish: The Sports Photography of Neil Leifer" at the Newseum, and "AirCraft: The Jet as Art" at the Air and Space Museum. The first is an anthology of iconic images by the longtime Time photographer; the second compiles astonishing high-res photos of jets about to land.
For Nostalgics
Remember when Dr. Seuss was a bedtime tradition? Reminisce with the people who introduced you to The Cat in the Hat at the P&C Art galleries in Georgetown and Alexandria this month. "Dr. Seuss's Secrets of the Deep: The Lost, Forgotten, and Hidden Works of Theodor Seuss Geisel" runs through December 24, with limited-edition reproductions of never-seen Dr. Seuss paintings.
For Art Buffs
"Multiplicity," which runs at the American Art Museum through March 11, has enough contemporary prints to satisfy any art lover, including dramatic works by Chuck Close, David Hockney, and Kara Walker. Across the Kogod courtyard, the National Portrait Gallery has "The Black List," a thought-provoking exhibition of photographs of famous faces by Vanity Fair photographer Timothy Greenfield-Sanders.