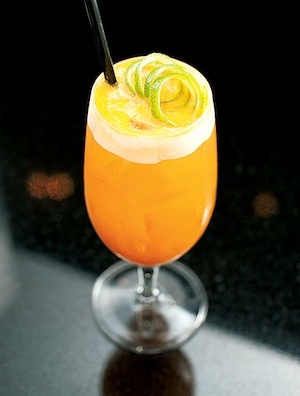 Tale of Old Mexico at the Passenger
1021 Seventh St., NW; 202-393-0220
Co-owner Tom Brown blends Oaxacan Sombra mescal, an earthier cousin of tequila, with allspice liqueur, lime, and sugar for a straight-up drink that's heady with spice and smoke. If it's not listed on the frequently changing menu, just ask.
Pear Jelly Jar at PS 7's
777 I St., NW; 202-742-8550
Mixologist Gina Chersevani fills jelly jars with Kentucky rye and bourbon, raw honey, cinnamon, and fresh-sliced pear. This ode to the South is big enough for two, and the soaked fruit at the bottom makes for potent eating.
Mother's Warmth at Poste
555 Eighth St., NW; 202-783-6060
Fire pits and blankets aren't the only things keeping drinkers warm on Poste's patio. A hot-cocktail bar provides steaming sips such as this standout made with mulled cider, aged rum, and brandied cranberries.
Stormy Autumn at Rasika
633 D St., NW; 202-637-1222
In this Indian take on a Dark and Stormy, butternut-squash juice is cooked with cinnamon, ginger, cardamom, and cloves and then carbonated to create an effervescent soda. The addition of Chairman's Reserve rum makes for an aromatic quencher on the rocks.
Mulled wine at Ceiba
701 14th St., NW; 202-393-3983
We like this fruity twist on traditional hot mulled wine, steeped with ginger-peach tea bags, citrus liqueur, and Spanish brandy. Those who prefer their cocktails chilled can order the same concoction on the rocks.
Hot Butter Plum Rum at Kushi
465 K St., NW; 202-682-3123
The rum-based winter warmer goes Japanese with the addition of Choya brown-sugar plum liqueur and zesty ginger in two forms: a light liqueur and a fresh garnish. A touch of butter makes for a warm, velvety cocktail.
Andrea at Bibiana
1100 New York Ave, NW; 202-216-9550
Wine director and general manager Francesco Amodeo concocts 25 special wintry cocktails for the holidays, many with house-made liquors. We can't get enough of this sweet-tart drink, made with a citrusy aperitif and fresh grapefruit juice.
This article appears in the December 2011 issue of The Washingtonian.