Irene Pollin, standing next to New Jersey Nets owner Mikhail Prokhorov, reacts to winning the number-one NBA draft pick. Photograph by Michael Karas/the Record/MCT/Newsco.
Two images of Irene Pollin linger. The most recent is of Pollin, dressed in mustard yellow, her eyes wide and mouth agape: She'd just won the NBA's 2010 number-one draft lottery pick for the Washington Wizards. Photos of her classic double-take flashed around the world.
The other image is a composite drawn from decades of photos—and, if you're a sports fan—from gazing toward the owner's box at the old Capital Centre and then the Verizon Center. It's of a perfectly groomed woman, dressed attractively but without flash, always at the side of her husband, Abe Pollin, to whom she was married for 64 years until his death in November 2009. Together they co-owned the Washington Wizards, the Capitals, and for a time, the Mystics. They also were major developers and philanthropists.
Abe Pollin was an astute businessman whose development projects revitalized downtown DC. When he died of a rare, progressive illness—supranuclear palsy—at age 85, obituaries mentioned the many buildings he had constructed and the charity projects he had underwritten.
Her name is on a Chevy Chase apartment building, the Irene, but beyond the image of the smiling woman in the owner's box, we've never known much about Irene Pollin. She was co-owner of Abe Pollin's enterprises. Because she didn't sit at a desk beside Abe every day, people assumed the "co-" wasn't a true business partnership. But it was.
"Abe used to bring rolls of building plans home at night," Pollin says. "We'd spread them out on the bed. I did design work on every project. With the teams, we talked over players, coaches. There was nothing we didn't talk about."
Irene Pollin also has had a life out of the public eye. She's the mother of two now-adult sons—Robert, an economist, author, and professor at the University of Massachusetts, and James, who runs a travel business here in Washington. The Pollins also had a son and daughter who both died of congenital heart disease—Kenneth at 15 months, Linda at age 16.
After Linda's death, Irene Pollin went back to school at 40. She completed her unfinished college degree, then became a social worker specializing in living with chronic disease. Pollin founded and for years ran what today is Washington Hospital Center's Outpatient Medical Counseling Center. She has written two books, both centered on living with chronic illness, one for health-care professionals and one for everyone. She was a lecturer at Harvard Medical School and has been active on a long list of civic and health-related boards, including ones at Harvard and the Department of Health and Human Services.
Of these, Pollin is most involved with Sister to Sister, the foundation she began in 1999 to teach women about heart-disease risk. Now affiliated with Brigham and Women's Hospital/Harvard Medical School, Sister to Sister has screened tens of thousands of women. Pollin, 87, is pushing Sister to Sister to expand its teaching and screening programs into Africa. It already has a foothold in China.
Irene Pollin lives in the Bethesda house she and Abe built in 1960. In the sunroom, amid blooming orchids, we talked about what she's learned.

For nearly five decades, you were around athletes. What did you learn?
That you can pick yourself back up when you get knocked down. You see an athlete at the top of his or her game get injured and then have to work back. Sometimes it takes months. It's very impressive, the discipline it requires.
I learned about winning and losing. When we bought the Wizards—then called the Bullets—I was so emotionally involved that I carried Valium in my handbag. I remember throwing myself down and sobbing after a close game that we lost, then thinking, "Wait a minute—you're not even a crier. You can't let yourself get so upset." So I began to study the athletes. They want to win, but if they don't win, after a very short time they let it go.
Abe and I learned to do that. If we won, we'd celebrate on the way home by stopping for chocolate frozen yogurt. Sometimes we did that if we lost, too.
Something else: I learned that athletes at the top levels are pretty darn bright. I used to think that athletic ability was mostly physical prowess. I was wrong—it's the brain, too.
You've experienced loss and grief, most recently when your husband died. What have you learned about going on with life?
When things are bad, I don't say to myself, "I'm not going to make it" or "I can't bear this." What I say is "How do I get through this?" I hear that in my head all the time. I'm always searching for ways to get through a problem, no matter how low I am. It might be talking to a friend, getting some exercise.
You've said that finishing your college degree, then going on for your social-work degree, was the best thing you ever did for yourself. Why?
After my daughter died, there was such a gaping hole in my life. Besides the normal, loving relationship you have with your child, she had a congenital heart ailment, so I was always thinking about her, keeping an eye on her. Constantly, for 16 years.
At first, going to American University filled my time and my mind. Then when I found my profession at Catholic University, I could throw myself into something, be creative, and use what I'd learned to help others.
You and Abe were team owners as well as developers and philanthropists. But you didn't always have a lot of money. What can money do for you versus the stereotypes about wealth?
I think of money as a resource. Abe did, too. When we talked about what we wanted our life together to be, when we were teenagers, we hoped we'd be comfortable. We never thought of money as a goal, as something we wanted for its own sake. That's why we could give it away: Money is to do things with.
When I was a child in St. Louis, my parents had a small business. It was the Depression; money was limited. There was a time when I had one dress. My mother washed it every night so I could go to school in it the next day. But really, money was never an issue—it wasn't central in our lives.
I'm grateful for what Abe and I were able to do locally using our money. I'm grateful we could pay for nurses during his last years. We've taken some incredible trips. But money couldn't cure my children's illnesses. Or my husband's.
Next: How the Death of Pollin's Two Children Strenthened Her Marriage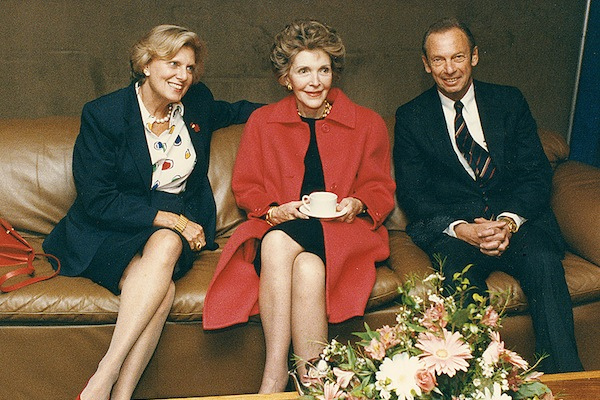 Pollin with husband Abe and Nancy Reagan in 1988 and celebrating the Bullets' NBA championship in 1978 with player Wes Unseld. Photograph courtesy of Irene Pollin.
The death of a child often breaks up marriages. You lost two children, yet your marriage seemed to grow stronger. Why?
We were a very strong partnership from the beginning. So much so that with the routine decisions about all our children, we didn't have to discuss what needed to be done. We just did it.
But when the bad times came, we discussed every detail. We always made decisions together, and we wouldn't move until we agreed. When our daughter needed an operation, we talked over the risks for days, the three of us. Linda was included.
Above all, through everything, we respected each other deeply. Even if you don't agree, if there is respect you will make an effort to see things from the other's standpoint.
Over the years, I came to see this about our children's deaths: that they were part of nature. They were born with these conditions. Nature isn't perfect—look at the trees: Some are strong, some are not. That perspective has helped me a great deal.
Your professional work centered on counseling people living with chronic illness. Was that because of your family?
Of course. I started and ran two counseling centers, and I developed the first clinical model that recognized that dealing with a chronic illness is different from getting through a medical emergency. When a person in the family is living with illness, it affects everyone.
The first center was freestanding, with 15 therapists and a board. Then I took the same model to Washington Hospital Center and started an outpatient clinic there. I worked with individual patients and also did a lot of family and group counseling. For a while, a lot of multiple-sclerosis patients. Men, women, adolescents. Eight hours a day, five days a week for more than 25 years. Then I'd be in the owner's box at the Capital Centre. Long days.
Most people didn't know you were a working therapist, on the job every day. They saw you in the owner's box and assumed that was your life.
And that's okay. I didn't mind being thought of as "Abe's wife." I loved him very much. Well, I didn't mind so long as they didn't assume that I was a trophy wife! Hey, I married the guy when he was a skinny kid, 135 pounds. Then we built our lives together.
Were there times when people would hear your last name and not be able to get past it?
Many times. I deal with that all the time. Going back to school was really tough that way. Some students and professors had a hard time with me being there and let me know it.
When I was working it happened, but not often after people knew me. Once, though, I was putting together a therapy group of patients with cystic fibrosis, and a fellow in it asked me, "Can we meet in the Capital Centre?" No. And that was the end of the group. They lost interest.
There was a nurse who snapped at me, "Why don't you go back to where you belong?" I immediately thought: But I am where I belong—I'm a trained therapist. I'm using my skills to help people.
You must have been hurt by that.
When somebody makes a remark, it's less an insult than just . . . they don't know me. It's all perception. Fortunately, not everybody is locked into it.
That time, though, I was upset. Not hurt, not angry, just concerned about the awkwardness of working day after day with somebody who can't see you, who would say that. Abe said, "Just keep on doing what you're doing."
Women have more career opportunities now. Has anything changed about the way men and women relate?
What has changed, I think, is that men have become more respectful of women. Recently I was talking with a man who said, "Women are smarter than men." It was a joking remark, but you never used to hear anything like that.

Do you think that's because men are encountering women more in the workplace than they were, say, when you married in the '40s?
Yes. Because of that, men now seem to be less threatened by women who are smart. Another thing: Our emotional acuity was not always valued before, and it is now. I recall a member of the American University board saying to me, "Come sit next to me, Irene. You pick up on things that I don't. Just like my wife does." The implication: That's valuable.
Do you regret not starting your career as a therapist sooner?
Before my daughter died, I had no ambition whatsoever to be in the workplace every day. I was really happy being a wife and mother—maybe because I also was so actively involved in the business with my husband.
I remember being really content. I remember walking up the stairs one day, thinking, "I love being a mom." If I hadn't had a business outlet, maybe I wouldn't have felt that way.
For years you went to Wizards games. Did you keep going after Abe died?
I tried, but it felt so different that I said to myself, "Well, it's over." I stopped going. For a year and a half I didn't see any games, but I watched a playoff on TV—and once again realized how much Abe and I had talked about every aspect. What the players were doing, the strategy. Ted Leonsis, the current owner, has been very gracious. He's said, "Any time you want to come, Irene . . . ." I went once, and that was enough.
You know, it wasn't our owner's box—it was my living room. Those who were there were my guests. Yes, I miss that life. It was fun. That time is over now. It's okay.
Was it hard for you to sell the teams and the Verizon Center?
No. It's all still there. I know every inch of that building—I helped plan it. In fact, I changed the look of a great deal of it from the original plans. And I'm very proud of it.
I miss the constant excitement, but my sons didn't want to run it and I wasn't going to do it by myself. The past is still there and always will be. So I feel good about the sale.
In all the years you and Abe had the Wizards, there was only one championship. Was that a disappointment?
Of course you want to win every game. As for the championship, of all the teams in the league, there aren't all that many who have ever won one. Abe used to say that we were among the lucky ones.
Is it hard to be a sports-team owner here, where loyalties often are divided?
Oh, yes! It's one of the things you really notice—the busloads of fans from Pittsburgh or Philly and the people in the stands screaming for the other team. It's hard to see. Jimmy Carter was a big Atlanta fan, and he was with us in the owner's box for one game. Hillary and Bill Clinton came to one Chicago Bulls game. It gets to you, to have guests rooting for the other side.
What have you learned about life?
That it's harder than I ever thought it would be, or that my parents led me to believe it would be. I thought my life was going to be wonderful, and it has been in many ways. But I had a lot of knocks. You get both sides of life. So celebrate every happy occasion, every birthday, every anniversary, every beginning and ending. Notice it. When good times come, make the most of every moment and be grateful. I think we did that. I still do it.
This article appears in the December 2011 issue of The Washingtonian.