Take 20 percent off all services at the Park Hyatt Washington's Spa Room in January and February. Photograph courtesy of Park Hyatt Washington.
Whether your New Year's resolution is to get in shape, hone your style, or travel more, we've got a deal for you.
Unless otherwise noted, these exclusive reader deals are available for the month of January. Just mention The Washingtonian at checkout or at booking.
Personal Shopping
Stylist and personal shopper Toni Leinhardt knows the ways of Washington—her mother is a corporate and life coach, and Toni has helped everyone from politicos to the cast of The Real Housewives of D.C. Readers can take 15 percent off any four-hour personal-shopping and styling package, normally $600.
Toni Leinhardt, 202-679-7777; tonileinhardt.com.
Spa Hideaway
After a holiday season of shopping and visiting with family, you may need a little "me" time. Take 20 percent off all services at the Park Hyatt's intimate Spa Room in January and February. You can save on facials, massages, pedicures, and more at this West End haven.
Park Hyatt Washington, 1201 24th St. NW; 202-789-1234; parkwashington.hyatt.com.
Fresh-Faced
Put your best face forward with the luxe Swiss line Alchimie Forever. This month, get 20 percent off all products in its Georgetown store and online, using the code "Washingtonian."
Alchimie Forever, 1010 Wisconsin Ave., NW, Suite 201; 202-530-3930; alchimie-forever.com.
No Sweat
There's nothing like a spa treatment to help you ease back into work. But after the holidays, maybe you need the gym more than you need pampering? You can enjoy both at the Sports Club/LA, where you can get a free one-day club pass—a $35 value—with the purchase of a 50-minute facial or body-scrub/wrap treatment for $99 (normally $150).
The Sports Club/LA, 1170 22nd St., NW; 202-974-6600; thesportsclubla.com.

Shop in Style

Find a chic accessory for your wardrobe or home or pick up a belated holiday gift at M29 Lifestyle. This month, receive 20 percent off your total purchase and get a voucher for 10 percent off your next purchase (excluding sale items), good through February 15.
M29 Lifestyle, 2800 Pennsylvania Ave., NW; 202-295-2829.

Natural Beauty

Vowed to start buying only skin-care products with natural ingredients? This month, take 25 percent off Skincando's natural beauty products, including its new baby line. To get the discount, place your order by phone.
Skincando, 1900 Lyttonsville Rd., Suite 1210, Silver Spring; 888-903-7766; skincando.com.

Find Your Groove

Fans of pole dancing say it's a great way to work on confidence and fitness—and get your sexy back. Pretty Lady Pole Fit offers readers 20 percent off a five-class card (normally $60; use the code "washingtonian20") or $40 off an eight-week boot camp (normally $240; use the code "newyearbootcamp"). Class cards should be purchased online, and online registration for classes is required. The card expires six months from the date of purchase. Boot-camp classes must be taken in sequence.
Pretty Lady Pole Fit, 7702-E Richmond Hwy., Alexandria; 703-360-7653; prettyladypoleparties.com.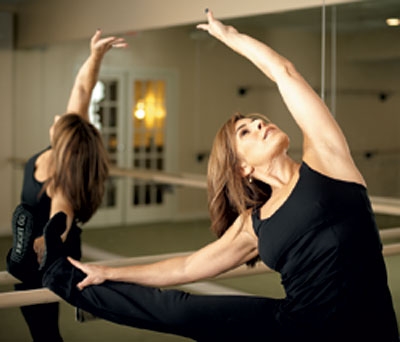 Belly Up to the Barre
Admire the graceful bodies of dancers? Always wanted to try ballet? Go Figure—an East Coast franchise—has opened a new studio in Potomac to offer its Figure Method, an hourlong class incorporating Pilates, yoga, and classical ballet. To celebrate the company's tenth anniversary, between January 1 and 15 first-time clients can take 20 percent off: Instead of $28 a class, mention the magazine to pay $23.
Go Figure, 12500-C Park Potomac Ave., Potomac; 301-838-5569; gofigurestudio.com.
Luxe Fit
If you're going to exercise, look good doing it. The Four Seasons spa is offering 15 percent off its Omgirl Yoga clothing collection. You can also get 15 percent off the spa's Carita Body Treatments, meant to slim, tone, and sculpt. Treatments start at $225. The spa is offering three hours of free valet parking, too.
Four Seasons Hotel, 2800 Pennsylvania Ave., NW; 202-944-2022; fourseasons.com/washington/spa.
Wardrobe Help
Get ready for 2012 with a new look. Closet Caucus is offering readers its half-day shopping trip at 20 percent off. The normally $375 session includes four hours of shopping with owner Kaarin Moore, during which you'll talk about items that flatter your body and fit your budget as well as get a game plan for future excursions. You can choose from five area shopping districts. Use the code "washingtonian12" when booking your appointment; sessions must be purchased before January 31.
Closet Caucus, closetcaucus.com.
Winter Break
After the holidays, you may want to take time to breathe in some fresh air at Mohonk Mountain House, a resort 90 minutes outside New York City. Washingtonian readers can take up to 40 percent off regular rates Sunday through Thursday. For $170 per person per night, based on double occupancy, each guest receives a four-course dinner; a breakfast buffet; afternoon tea and cookies; access to the fitness center, yoga and exercise classes, and the indoor pool; free winter activities such as ice skating, cross-country skiing, and snowshoeing; and a free gift that includes a stress ball, Eminence hand cream, and plush spa socks. New York state tax and 12-percent gratuity are additional.
To book, call 800-772-6646 and ask for the Washingtonian package, available January 2 through March 29. This offer is good for no more than three rooms, can't be combined with another discount, isn't available for groups, and applies to new bookings only. Blackout dates include January 15 and February 19 through 23.
Mohonk Mountain House, 1000 Mountain Rest Rd., New Paltz, N.Y.; 800-772-6646; mohonk.com.
Face the New Year
No matter your skin-care resolutions, Amy Boyce of Pureskin can try to help you achieve them. In January, take 20 percent off the spa's organic ultrasonic facial, designed to ease redness, fine lines, and dry patches.
Pureskin, 4609 Willow La., Chevy Chase; 301-907-6662; pureskinbethesda.com.
For Full Figures
The clothing line Presenza is geared toward women "blessed with a full chest." Readers can take 20 percent off the brand's stylish wrap tops this month with the code "newyou."
Presenza, shoppresenza.com.
Makeup Makeover
Update your look with makeup artist Laura Bateman. Take 20 percent off all general makeup consultations, normally $150. Bateman can show you how to choose flattering colors and apply makeup that works for day or night, and she can suggest products.
Laura Bateman, 240-507-3507; laurabateman.com.
Youthful You
You can take years off your face with a little help from plastic surgeon Ayman Hakki and his team at Luxxery medical spa. Get 20 percent off all services, including Botox, Juvéderm, Radiesse, and anti-aging facials. This offer is valid for new clients only.
Luxxery Express Cosmetic Medical Boutique, 2141 Wisconsin Ave., NW, Suite E1; 202-333-9294; luxxery.com.
This article appears in the January 2012 issue of The Washingtonian.