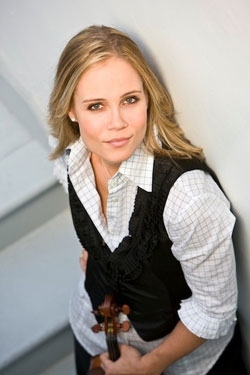 For his three National Symphony Orchestra concerts this week, Finnish conductor Hannu Lintu has lined up two substantial pieces: Jean Sibelius's Symphony No. 5 and a recent violin concerto by Steven Mackey called Beautiful Passing, both to be performed by American/Canadian violinist (and MacArthur "genius grant" winner) Leila Josefowicz. The Sibelius is a magnificent work, more austere than his earlier, more romantic symphonies, yet ending with a hauntingly beautiful final movement that depicts the flight of swans. Mackey's piece, written in response to his mother's death, has been a great success since its first performances in 2008. And yet, the works I think I'm most excited to hear are the short pieces that will open the concert: five of Claude Debussy's Préludes, orchestrated by the English composer Colin Matthews.
Debussy's 24 Préludes—composed for the piano and published in two sets of 12 in 1910 and 1912—are miniature works that encapsulate, in a space of three or four minutes, entire worlds of feeling and color. Atmospheric, moody, and impressionistic, the Préludes bear evocative titles: "Brouillards" ("Mists"), "Les sons et les parfums tournent dans l'air du soir" ("The sounds and the scents dance in the evening air"), "Le vent dans la plaine" ("The wind on the plain"), and "Feux d'artifice" ("Fireworks"), for example. The Préludes are also, as musicians say, "pianistic"—well suited to the piano, lying comfortably under the fingers, taking full advantage of the instrument's sonorities and percussive qualities.
So what happens when you score these idiomatically pianistic pieces for an orchestra? That's exactly what Colin Matthews has done, and the results—judging by a recording I've been listening to a lot lately (with Mark Elder conducting the Hallé Orchestra of Manchester, England)—are revelatory. Matthews's transcriptions aren't note for note. He has reimagined the pieces, using the full palette of orchestral colors to convey aroma, texture, mystery, and enchantment. He changes tempos, alters moods. You sense, while listening, that the music is still Debussy's, and yet it's not—a strange, and pleasantly disorienting effect. In "La cathédral engloutie" ("The sunken cathedral"), for example, the almost minimalist succession of bell-like chords can still be heard in Matthews's arrangement. But the orchestral piece awakens other senses, too, heightening various effects. When rendered by the strings, the mist enshrouding the "sunken" Breton church practically shimmers, in a far more visceral way than in the piano version.
That Debussy added his titles as afterthoughts, in parentheses, would suggest a certain freedom in interpreting these pieces. Take "La fille aux cheveux de lin," or "The girl with the flaxen hair." Debussy's original is a portrait of simplicity: quiet, earnest, straightforward, yet beguiling. Matthews takes this famous piece and brazenly slows down its tempo by half. Now, Debussy's simple girl is transformed into a creature of depth and nuance—timeless and eternal. Elongated in this way, the piece acquires a nearly unearthly beauty. It also becomes, I think, elegiac, a kind of adagio for strings, with the richness and intensity of the violins, violas, and cellos hinting at Samuel Barber's famous work. Is Matthews's piece still Debussy? Perhaps. A far more compelling question, and one you could ask about any of the 24 transcriptions: Is it any less a masterpiece in its reimagined guise?
The National Symphony Orchestra, led by Hannu Lintu, performs Mackey, Sibelius, and Debussy in the Kennedy Center Concert Hall, January 12 through 14. Tickets ($20 to $85) are available through the Kennedy Center's Web site.