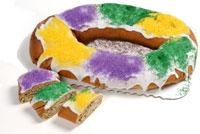 Best Bites blog received a request last week: "Can you tell me where I can get a king cake in Washington?" Of course we can, but first a clarification: All king cakes are not created equal. Associated across various cultures with the celebration of both the birth of Jesus and of Mardi Gras, the cakes vary from region to region. There's the French version—an almond-paste-filled puff pastry known as galette des rois (usually available only through the end of January). Then there's the ring-shaped king cake eaten down in Louisiana around Mardi Gras time, a cinnamon-laced, brioche-style iced confection decorated in green, purple, and yellow sugar. Traditionally a porcelain or plastic baby was baked into the king cake; it was considered lucky to find it in one's slice. These days, this is rarely done at commercial bakeries due to choking hazards, but many cakes do come with a baby on the side.
Here's where you can currently find king cakes around Washington.
Louisiana-Style King Cakes
Bayou Bakery
Order your king cake 48 hours in advance from David Guas's beloved Southern-style bakery in Courthouse. A 12- to 14-inch cake is $43 after tax.
Best Buns Bread Company
King cakes will be available at Best Buns in Arlington by special order around Mardi Gras and the Super Bowl. Call the bakery 24 hours in advance. It's $13.75 for a 10-inch ring cake.
Heidelberg Pastry Shoppe
This old-world Arlington restaurant recommends preordering your Lousiana-style king cake 24 hours in advance. The 8-inch cakes cost $8.95.
Galettes des Rois
Patisserie Poupon
Throughout January, the Georgetown bakery has the traditional French galette des rois in three sizes, with prices ranging from $19.50 to $37. Poupon recommends ordering your cake a day or two in advance.
LeCaprice DC
Individual-size galettes des rois will be on display at this brand new Columbia Heights bakery all month. Those are $4.50. A cake large enough to feed eight people costs $29.95; call the bakery 24 hours in advance to order.
Both
Praline Bakery & Bistro
The Bethesda bakery is doing a French-style king cake through January. The cost is $30 per 9-inch cake. Come February, Praline will begin baking the Louisiana cakes. It's $25 for a 10-inch cake; order a couple of days in advance.