Mini poses with his friend Ella Day, who was diagnosed with brain cancer in 2010. Photographs courtesy of Tina Tyrrell.
At first glance, Timmy "Mini" Tyrrell of Manassas is no different from your average seven-year-old. His parents are his heroes, and the family dog is like a brother to him. He loves running around outside, and anything with wheels that lets him go fast; he dreams of one day becoming a doctor. But spend just a few minutes with Mini, a nickname derived from the fact that he is his father's "mini me," and he will tell you all about his greatest passion: raising money for children with cancer through go-kart racing.
Mini—who, upon meeting me shook my hand, looked me in the eye, and welcomed me by name to his home—has raised more than $28,000 to date for the Jeffrey Virostek Fund, and has no plans of stopping there. The pint-size driver is racing toward his goal of raising $50,000 for pediatric cancer patients and their families before May 13, 2012.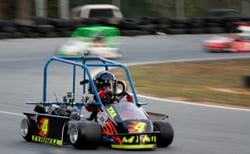 His fundraising efforts began in 2010, when a family friend, Ella Day, was diagnosed with brain cancer. Mini couldn't stand seeing his friend and her family suffer. He promptly told his parents he needed to find a way to make things better for her.
"When I heard Ella had brain cancer, I felt really bad for her, and I wanted to help," says Mini. "Kids with cancer can't go play in their backyard, and Ella was struggling. That's the reason I wanted to stop brain cancer—for Ella."
Raising funds through racing was a natural fit for Mini, as he had developed a love of the track at the early age of four. His parents, Tina and Timmy Tyrrell, helped develop "Mini's Mission" as a way for Mini to fundraise for cancer. The Tyrrells shared what their son wanted to accomplish with friends, family, and the community. Donors can sponsor each lap Mini races around a track, or make a flat donation to the cause. One local executive even asked his employees to consider contributing to the cause instead of giving their boss a gift for the holidays.
The perfect storm seemed to be brewing when a family friend who had started a nonprofit, Inspired Athletes, approached the Tyrrells about partnering with Mini. They offered to mentor Mini as a featured athlete and promote his work on their website. Together, in 2011 they created Mini's slogan: "Burn Rubber to Help Another." One-hundred percent of Mini's fundraising goes to the Virostek Fund, which helps families of pediatric cancer patients to off-set the unforeseen costs of caring for a sick child.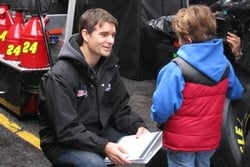 After NBC Nightly News with Brian Williams aired a segment featuring the precocious racer, Mini's Mission began to receive national attention. More interviews, including a feature on CNN, and a chance for Mini to meet his hero, Jeff Gordon, followed. Gordon took the time to meet with Mini to discuss their shared goal of eradicating childhood cancers, and matched the $7,000 Mini had raised at the time.
Despite the publicity, Mini remains humble and steadfastly devoted to his fundraising efforts.
"None of the exposure has fazed him," says Tina, his mom. "Throughout the whole experience, he has been sincere and dedicated to his mission. He sees it as his job. I am in complete awe of him and I can't believe God chose me to be his mother."
Though Ella is thankfully now cancer-free, Mini recognizes that his mission is far from over.
"Ella is doing really well now, and that is great, but not everyone is as lucky. I just want to make cancer go away, because it feels good to help people," he says.
For Mini, racing is just the first step. He plans to one day, with the help of new friend Jeff Gordon, build a hospital for kids with cancer, which he says will make him "over the moon, over the world, happy."
"The greatest aspect of this whole journey is knowing that my son is earning his worth and reputation," says Mini's father and namesake, Timmy. "A lot of people have good intentions and want to help people, but when they see a seven-year-old actually doing something, they want to get involved, too. We have adults asking us what they can do to help."
To learn more about donating to Mini's Mission, visit Mini's page on Inspired Athletes.