DC has one of the highest concentrations of triathletes in the country. And every year, thousands of athletes from all over the world descend upon the District for two popular triathlons: The DC Tri and the Nation's Tri. These five female local women live and breathe the Washington triathlete culture, and you can read all about their training, competitions, successes, and failures on their personal blogs.
• • •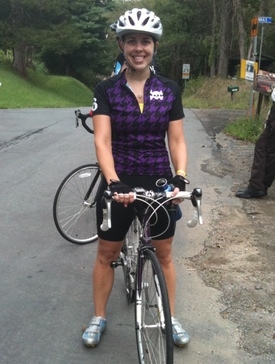 Katie Ingram
Run This Amazing Day

Why you should read her blog: This triathlon newbie is a firecracker. You'd never guess from her hilarious posts and tweets that during her 9-to-5 she's the director of information of technology for a law firm. Warning: You're likely to stifle a snort at your desk while reading her updates on everything from training and races to her adorable pups, Graham and Molly.
Where she trains: "I love cycling at Hains Point for short workouts, but for longer workouts I'll head out to Reston, Virginia, or Potomac, Maryland, or even Skyline Drive for some gorgeous and hilly rides. I mostly run on the Mount Vernon trail, the Four-Mile Run trail, the Capital Crescent trail, or in the city itself. I swim at my local gym pool."
Favorite post-workout food: "I'm usually not very hungry immediately after a triathlon, but I love a burrito after a good, hard workout!"
How many hours a day she trains: "Two to three hours a day, but weekend workouts can last up to seven or eight hours."
• • •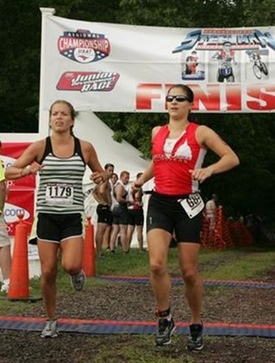 Beth Gilbert
Swim Bike Run DC

Why you should read her blog: As fellow triathlete and blogger Victoria Anderson puts it, Beth keeps "a healthy balance of intense training and is also honest about weeks where she finds it difficult to find motivation to train." Plus every once in awhile she'll post some delicious recipes. Oatmeal raisin cookie dough balls, anyone?
Her first triathlon: The Key West Sprint Triathlon in December 2010. "I signed up on a whim as something fun to do once marathon season was over. It ended up being a blast, and I even scored a podium spot by coming in second in my age group."
Favorite pre-race food: "The night before any big race I always have pizza. It works perfectly as comfort food and carbs."
Favorite post-race food: "After a race I sometimes have trouble eating, but if I can stomach it, all I want is a big cheeseburger and fries."
• • •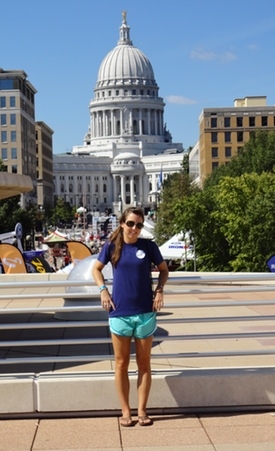 Emily Long
Speed Laces, Amazing Races

Why you should read her blog: This marathon runner turned triathlete is sure to inspire you. At just 25 years old, she's already completed an Ironman. Reading her posts will convince you that somehow juggling training, competitions, a full-time job, and a social life is actually possible.
Where she trains: "I usually swim at Wilson, but it's nice to get outside at the East Potomac pool in the summer. Skyline Drive is worthy the trip for a long, climb-filled ride, as is Warrenton. I like to run pretty much anywhere in the city, but Embassy Row and the Mall when it's silent at sunrise/sunset are at the top of the list."
Her favorite triathlon: "The 2010 DC Tri was my first race and probably the most fun I've ever had competing, but I'll have a hard time topping Ironman Wisconsin as my favorite overall experience."
Favorite post-triathlon meal: "It usually takes a few hours for my stomach to calm down after a race, but then that's the rare time that I'll want a really good hamburger and anything with a lot of salt. In training, I crave things like smoothies and fro-yo and Jetties sandwiches."
• • •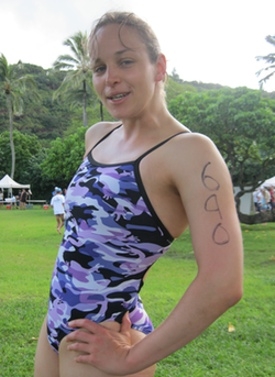 Victoria Anderson
Obligatory Tri Blog

Why you should read her blog: You may know Victoria as the District Chocoholic, but her new effort, Obligatory Tri Blog, honestly tracks her training for every leg of the triathlon. "I started it because so many of my running, swimming, and triathlon friends have blogs about their training and races, and they wanted to be able to read about what I was up to—hence 'obligatory.'"
Her daytime job: Nuclear engineer. ("No, this is not a lie.")
Favorite post-race meal: "I'll eat some fruit within the first hour, and then later in the day I'll go for something salty. After I ran the Richmond Marathon this fall, I nearly emptied a salt shaker and a bottle of ketchup while getting through an order of French fries."
Upcoming race: Her training is sure to pick up and "will probably peak at around 20 hours per week over the summer when I'm getting prepared for Ironman Louisville, which I decided to enter because it happens to be taking place on my birthday this year."
Favorite places to swim: Wilson Aquatic Center for its proximity to where she lives, and the Takoma Aquatic Center "for the wonderful deck space and uncrowded lanes."
• • •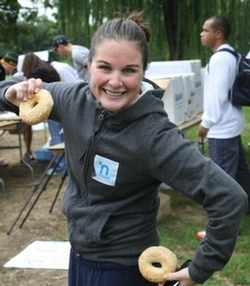 Emily Halnon
Sweat Once a Day

Why you should read her blog: This 26-year-old is on a mission: She wants to run a marathon in all 50 states plus DC. And as her blog name proves, she works up a sweat once a day trying to make it happen. Her posts chronicle every training mishap, goal, and refueling meal along the way.
Her favorite training spots: Mount Vernon Trail, around the monuments and the Capitol Building (especially at night), and Rock Creek Park. "I'm also a sucker for hill training in the [National] Zoo."
Favorite post-triathlon meal: "Carbs smothered in cheese, preferably of the bagel, pasta, or pizza variety. I am also a huge fan of family members and friends who show up at the finish line carrying boxes of chocolate doughnut holes."
Favorite workout songs: "Everything by Eminem, pretty much any Top 40 hit, and a healthy dose of country songs, with a special shout-out to 'All I Do Is Win' by DJ Khaled."
Do you have a favorite female or male local triathlete blogger that's not on our list? Let us know in the comments.
More favorite bloggers:
Top Local Nutrition Blogs
Great Cycling Blogs in Washington