Anthony Shadid–who died in February while reporting from Syria–was a rare talent, a journalist whose background and gifts perfectly aligned with his ambitions and the times. He was born in Oklahoma to a Lebanese-American family. He spoke fluent Arabic, wrote heroic English. From the start he had drive. Interviewing for a job at the Washington Post following 9/11, Shadid didn't ask so much as tell managing editor Steve Coll to let him cover the Middle East. "If we, the Post, would facilitate this ambition, he would be grateful," Coll recalled Shadid saying, "but that was the only job he was interested in or would be for years to come."
While at the Post, Shadid won two Pulitzer Prizes for his reporting from Iraq. He went on to the New York Times, to Kabul, to Cairo, to the political and religious cauldrons in between. Along the way, he amassed a singular body of work and knowledge as well as no shortage of personal scars. He was taken hostage in Libya. A sniper shot him in the shoulder in Ramallah. He returned from one assignment to find that his wife and daughter had left him.
War-weary, going gray, smoking tobacco fields of Marlboro Lights, Shadid took leave from the Post and in 2007 moved to Marjayoun, Lebanon, a dying town of 800 in the shadow of Mount Hermon. The move, he writes in House of Stone–published less than two weeks after his death–was the fulfillment of a promise he made to himself after visiting his great-grandfather Isber's house during Lebanon's 2006 war with Israel.
Once an Ottoman-era showplace, replete with a triple arcade and colorful cemento tiles, the residence had been nearly destroyed by an Israeli rocket. Shadid planted an olive tree in front and vowed to restore the place to its former glory. House of Stone is a memoir of that epic undertaking, a chronicle of one man's attempt to recalibrate his own future by piecing together the rubble of the past.
On display is the ear for dialogue, eye for telling detail, and nose for big ideas expected from Shadid's Middle East dispatches. "I'd rather be king in my country than a beggar in America," says one of Shadid's acquaintances before revising that to "than the president of America." Of Lebanon, Shadid concludes: "Everything in war here becomes personal. Behind today's skirmish or bombing lies an event that happened to a family, yesterday or decades back."
In the final chapters, Shadid recounts his longing to return to Marjayoun following his escape from Libya in March 2011. His great-grandfather's house was finished. Shadid had remarried and had a baby boy. The Arab Spring had renewed in him a sense of hope, or at least wonder, about the Middle East. Four years after leaving Washington, Shadid–for that brief interval between revolt in Benghazi and crackdown in Homs–seems to have found bayt, Arabic for home, an "identity that does not fade."
This article appears in the April 2012 issue of The Washingtonian.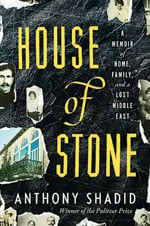 Author:
Anthony Shadid
Publisher:
Houghton Mifflin Harcourt Trade
Price:
$17.16