Frosty temperatures and drizzling rain didn't put a damper
on the festivities at Saturday's sold-out Sweetlife Festival, which
kicked off at noon at Merriweather Post Pavilion. The festival
was bigger than ever, with performances on two stages, activities
including face-painting and a "free compliment" booth, and
possibly the best music-fest food options we've ever experienced
(head over to Best Bites for photos of the grub).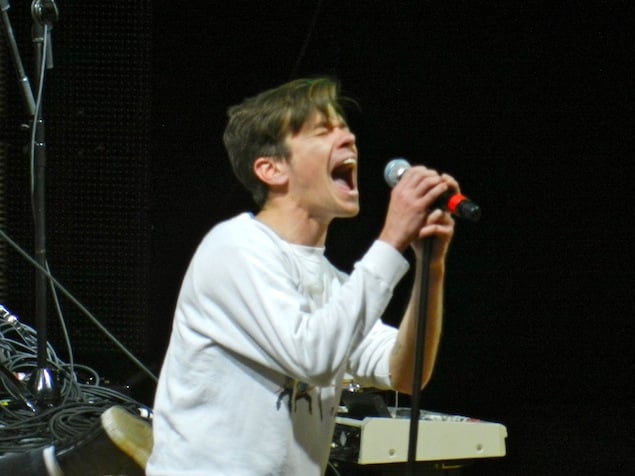 The mainstage kicked off, oddly enough, with New York
indie pop band Fun–they of Chevy Super Bowl ad
fame.
While the area in front of the stage was packed with excited
teenagers and the band performed an energetic set, their early
timeslot meant there were lots of empty seats. The band members
showed impressive range–at one point guitarist
Jack Antonoff pitched in on percussion with the drummer and keyboardist
Andrew Dost pulled out a trumpet–and lead singer
Nate Ruess smartly sidestepped some of the popular songs' Auto-Tuned passages, avoiding any painfully off-key moments.
A$AP Rocky earned even louder cheers, and one
member of his entourage kicked things off by jumping into the audience
for a little crowd-surfing.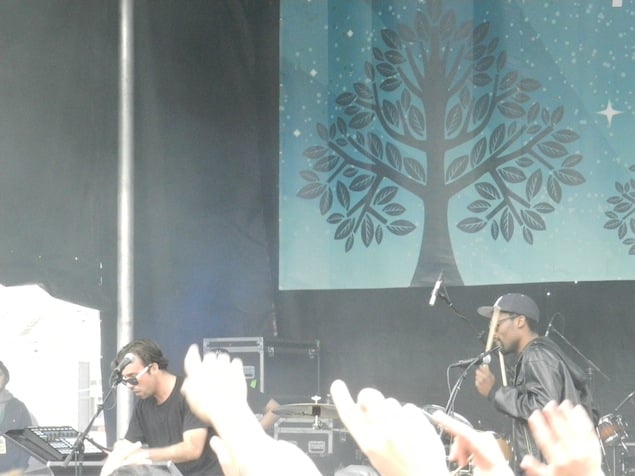 The Treehouse stage, by the Food Forest, at first attracted sparse crowds nodding their heads to the music in between bites
of food. But by the time chick rockers
Haim hit the stage, we were nearly knocked over by a pair of exuberantly dancing teens.
Fitz and the Tantrums pumped up the mainstage crowd with their doo-wop, sax-tinged rock, performing an eargasmic, crowd-involving cover of "Sweet
Dreams." (We were slightly surprised by lead singer
Michael Fitzpatrick's yacht-club-chic ensemble of red pants, striped shirt, and blue blazer, which seemed oddly hipster for the band's sound,
though he made it work.)
The Shins, on the mainstage, drew the largest
crowd of the day to that point; the pavilion area was filled to capacity
(though that
could also have had something to do with the rain, which had
started falling in steady, chilling drips by then). Über-prepared
concertgoers spread tarps on the lawn and huddled under
blankets and umbrellas, soaking in
James Mercer's crystalline voice along with
the raindrops. Surprisingly popular also was the "9:32 nightclub." The
small wooden room to
the side of the mainstage held a rotating cast of deejays and a
couple of bands throughout the day; thanks to a bar inside,
the never-ending beats, and shelter from the rain, the "club"
got packed early on and attracted a huge line by late afternoon.
So despite the weather (and the extremely high number of severely underdressed people), we're going to declare Sweetlife 2012
a sweet success.
Got a favorite moment from the Sweetlife Festival? Let us know in the comments!