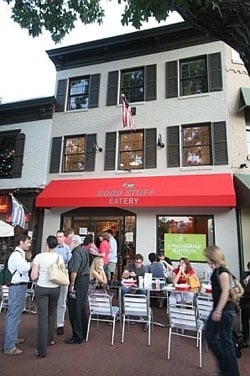 At Good Stuff Eatery, chef
Spike Mendelsohn (Top Chef alum, Acid Reflux meds shill)
famously serves burgers named for
Barack and
Michelle Obama. The edible homage to POTUS–as
heartburn-inducing as a gridlocked Congress–is a beef patty topped
with applewood bacon,
onion marmalade, Roquefort cheese, and horseradish mayo.
Reflecting her ever-controversial aversion to childhood obesity,
Mrs. Obama's sandwich is a free-range turkey burger with
caramelized onions, Swiss cheese, ruby tomato, and lettuce on a whole
wheat bun with "Southlawn herb garden mayo."
But as Washingtonians know well, a change in the White House leads to countless other little changes throughout the town.
If
Mitt Romney manages to grab the presidency,
he'll be needing a Good Stuff burger too, right? We asked chef Spike
what would be on it.
"The Romney Burger would be fried cod, lettuce, tomato, onion,
pickles, Creole mayo, and roasted red peppers," Mendelsohn
revealed to us in an e-mail yesterday. The burger is "an ode to
Massachusetts, and specifically Cape Cod. The roasted peppers
and Creole mayo compliment the cod–a nod to the great seafood
from Massachusetts."
The Good Stuff folks were noncommittal about whether they'd actually put the burger on the menu following a Romney win. "I
think we will cross that bridge if we come to it," said company rep
Jordyn Lazar. Whoever ends up ruling the free world, "The Michelle Melt and the Prez Obama Burger are here to stay." We'll be looking for those at the forthcoming Crystal City Good Stuff, opening May 9.