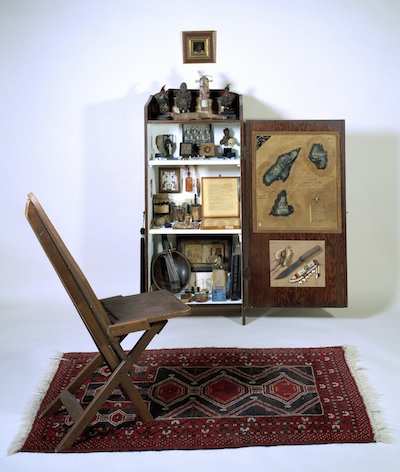 Opening, as it does, on the heels of the Corcoran's "30
Americans" and the National Portrait Gallery's "The Black List," it's
tempting to write off the American Art Museum's new exhibition
of African-American art as a less glitzy, less contemporary
alternative. Don't. Despite its slightly clunky title, "African
American Art: Harlem Renaissance, Civil Rights Era, and Beyond"
proves that not only is the American Art Museum's collection of
African-American art the largest in the world, it's also undoubtedly
one of the richest.
Of the 100 or so works by 41 artists on display in the museum's first-floor gallery, around half have never previously been
shown in Washington, and 10 are new acquisitions. Organized by senior curator
Virginia M. Mecklenburg, the show arranges
items by theme, so a 1966 painting of a sharecropper by Benny Andrews
hangs close to two 1940s oils of
workers by William H. Johnson and a set of black-and-white
photographs of Virginia laborers by Robert McNeill. Other themes
include spirituality, urban life, childhood, and the
experiences of women. Grouping the paintings this way forces the viewer
to think about the subjects more closely: Andrews's
sharecropper is seen only as a pair of legs from behind, as if viewed
from the perspective of a child, while one of McNeill's
subjects sports overalls that have been pristinely patched countless
times by an invisible pair of hands.
The grace and beauty of each of the subjects in the show is
striking. Two photographs by James Van Der Zee, who chronicled
the Harlem Renaissance of the '20s and '30s, capture their
subjects in eveningwear, gazing wistfully into the camera. His
female subject clutches a tatty bouquet; a male grasps a leaf
between two fingers, the other thumb in his vest pocket. Although
their postures are all starchy formality, their faces are both
expressive and enigmatic. In her 1940 self-portrait, Loïs Mailou
Jones wears a similar look, one that's at once both reserved
and telling.
There are some well-known names here (Gordon Parks,
Jacob Lawrence, Richmond Barthé, Sam Gilliam), and the number of artists
with local connections is surprising (and gratifying). But the
less-familiar names in the show deliver some equally striking
works, such as Baltimore photographer Roland Freeman's shot of
laundry outside an apartment on South Capitol Street: white
shirts hung in graduating size from tiny to vast, vaguely
resembling a series of Klan hoods. Renée Stout's "The Colonel's
Cabinet" is one of the most thought-provoking pieces in the
show, consisting of a Persian-style rug, a chair, and a cabinet
of curiosities collected by a fictional colonel on his travels.
Items range from the familiar (a dagger with an ornately beaded
sheath) to the grotesque (jars of what appear to be pickled
body parts). By reflecting on an outsider's understanding of foreign
cultures, Stout's work is a notable counterpoint to the clarity
of the rest of the show, and one of the most explicit expressions
of a feeling of "otherness." Nevertheless, by positioning the
chair towards the cabinet, she invites us to examine it for
ourselves and draw our own conclusions, and with a show of this
thoughtfulness, there's plenty to deduce.
"African American Art: Harlem Renaissance, Civil Rights Era, and Beyond" is at the Smithsonian American Art Museum through
September 3. For details, visit the museum's website.