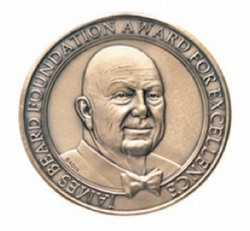 The James Beard Awards were an unqualified disappointment for Washington this year, with our chefs and restaurants losing in the two categories for which they were nominated: Best Chef Mid-Atlantic (toques at Restaurant Eve, Komi, Obelisk, and Rasika were nominated) and Best New Restaurant (Fiola).
The shutout prompted one participant in the Kliman Online dining chat to ask Todd Kliman: "Why does the James Beard Foundation dislike DC?"
"I don't think it's that the Beard Foundation dislikes DC," Kliman replied. "I think that it likes–really likes–New York."
He went on: "Remember that old New Yorker cover, the one where, once you get past Staten Island, it's basically Iowa and Montana? Everything outside New York, to many New Yorkers, is the sticks. It might be good. It might be great. It's still the sticks. Many Beard voters are in New York. Or travel often to New York. That's a big part of this. The other big part of this is that the way the judging is set up. I would venture to guess that a fair number of the judges who voted for Cucharamama–Maricel Presilla's place in Hoboken–have not eaten meals at Komi, Rasika, Restaurant Eve, and Obelisk within the last year. Finally, I have to say it surprises me that a Hoboken restaurant is even in the category of Best Chef: Mid-Atlantic. I consider it a suburb of New York."
We asked other local dining-world people whether they thought the Beard Foundation was anti-Washington. Here's what they said.
RJ Cooper, chef-owner Rogue 24
No.
It's so stupid, come on. It has nothing to do with whether the Beard
Foundation hates people or not. You can't blame the James Beard
Foundation. You have to look at the past winners who vote for the
finals. It's a popularity vote to get on the long list, but anything
past that . . . the vote goes to the media, and then peers who are past
members. It's all pretty legit, unlike some other awards that I've seen
recently, local and national. Think about what goes on in DC. What's the
biggest awards ceremony in DC? I'm not going to say it. The Beard
Foundation Awards are specifically for past winners who vote. It has
nothing to do with anyone from the house.
Haidar Karoum, executive chef at Proof and Estadio
I still haven't read what happened nationally, I just read that DC got shut out, which is obviously disappointing. I don't know what the [Hoboken] restaurant is, and I haven't been there, so I can't really comment. It could kick ass on every level. But it still kind of sucks that it was shut out. I don't think they hate Washington. I realize that it's kind of political, but I don't even really know how that stuff works.
Cedric Maupillier, chef at Mintwood Place
Don't tell me that a large percentage of the voters have been to Eve or Komi. Maybe they tried Fabio [Trabocchi, chef/owner of Fiola] when he was in New York. I feel very disappointed for someone like Cathal Armstrong, who's opened different successful business concepts. Not only for the rich and famous, but for the more urban eaters who can go eat fish and chips [at Eammon's] or go to Virtue. Or a young chef like Johnny Monis–of course he doesn't spend his weekday doing a PR event. He has a small number of employees, and not everyone has the employees and budget that allow them to go and do events in LA and NYC. The people who vote are the people who attend the event.
We need to make more noise. The chefs, the journalists, the authors, the blog people. There's always next year!
Ashok Bajaj, restaurateur (Rasika, Rasika West End, The Oval Room, 701, Ardeo & Bardeo, Bombay Club)
It seems that way, doesn't it? [Laughs] We had a lot of nominations, four chefs from DC, and none of them got any awards. I was hoping Vikram [Sunderam, chef at Rasika] would be the one this year. If I had the vote, I would have given it to him! Even press people came up to me saying that they had all typed up the winner to be Vikram, and they had to change at the last minute. It's okay, there's always next year.
Meshelle Armstrong, co-owner of Restaurant Eve and wife of Cathal–a nominee for Best Chef Mid-Atlantic
I don't think the Beard Foundation hates DC at all, it's just not our season. We can't control the criteria or motives behind the tally or what 'best' really means exactly to whom. Let's be real–to be recognized for excellence will always be an honor.
Stars, medals, ribbons have always been our validations since our first soccer match, tennis game, or spelling bee. Standing on a pitch or podium while your mom and coaches snap your photo gives you an undeniable rush. However, even in those tournaments there was a definitive winner by exact criteria–either you scored or you didn't, you nailed it or you didn't.
Serial winners all have an insatiable appetite. They want to know how they did it so they can be sure to do it again; it's like a very powerful motivating force that acts as a compass pointing you in the right direction and ensuring you stay on track. If it's a matter of pure votes, then okay, simple Simon, you have a choice–keep the faith as you know it, or change to play the games. Personally, I can't conform, (I had a pink mohawk in a land of popped Izod collars), so you wait patiently and hope that someone with a vote affirms for you that you can trust yourself.
Then there's the snarkier side of me, which leaves me scratching my head when President of the United Sates honors a James Beard nominee as a Champion of Change–Americans who do extraordinary things in their community–but my very own beloved industry still can't pronounce his name correctly.
But that's just me, and today is a new day.