Few works of art have kept company with a more notable and
interesting cast of characters than has Joan Miró's iconic painting "The
Farm." The work (at left) is one of the centerpieces of the traveling Miró
retrospective whose only US stop, after stints at Barcelona's Fundació
Joan Miró and London's Tate Modern, is at the National Gallery of Art this
spring and summer. That's in no small part because "The Farm" is part of
the National Gallery's permanent collection.
The stunning painting exerted a strong gravitational tug on
other, widely dispersed works by Miró, but the story of how "The Farm" came
to reside in Washington–and its journey from 1920s Paris to Key West,
Cuba, and New York–is as interesting as the painting itself.
Miró, one of the most vital and long-lived painters of the 20th
century, is identified with his native Catalonia, that linguistically and
historically distinct bastion of good food, innovative architecture, and
passionate belief–whether in paganism, Catholicism, Judaism, Islam, or
anarchism–that has Barcelona as its capital. There the young Joan
(pronounced something like Sho-an) attended art school but didn't
distinguish himself, whereas the slightly older Pablo Picasso had wowed
his teachers in Barcelona. Even Miró's father wanted him to be a
businessman, not a painter.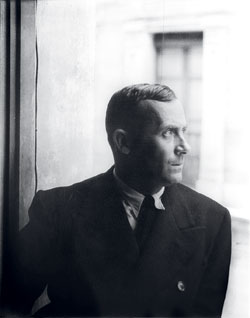 Finally, to overcome illness and depression, Joan retreated to
the family farm near the village of Mont-roig and found some relief by
observing the daily lives of the farmers who worked the land. He took his
memories of Mont-roig to Paris in 1920, joining the diverse collection of
artists and writers there determined to transform a war-broken world
through art and literature.
One of them, Ernest Hemingway, was teaching himself to write
fiction by crafting short stories from his early exploits in Michigan–a
subject, as he later put it, that he knew enough to write well about. Not
far away, in a mean studio on Rue Blomet, the obscure Catalonian was
engaged in a similar pursuit, using oils and canvas instead of pencil and
notebook.
"The Farm" took a long time to finish and is seeded with images
that reappear throughout Miró's later work, known for explosive color and
unfettered line, in which his imagination leaps off the canvases. But
there would be no other Miró painting quite like "The Farm," a somewhat
surrealistic reflection of affection and longing that he considered one of
his best works.
Despite his own opinion, as Miró later told an interviewer for
La Publicitat, no art dealer "even wanted to look at" the
painting, much less exhibit it. One, the owner of the Galerie de l'Effort
Moderne, agreed to hang the painting in the basement on consignment. (Miró
later speculated that this was probably done as a favor to Miró's friend
Picasso.) When it didn't sell, the dealer suggested cutting it up into
eight pieces. Miró refused and took it back to the "utter misery" of his
studio.
Miró and Hemingway–both connected to Gertrude Stein, the
American writer and arts patron whose Paris salon included many painters
and writers–met in the early 1920s when the poet Ezra Pound saw Miró's
work and introduced Hemingway to it. Hemingway fell in love with "The
Farm." According to Miró, he "became so crazy about it that he wanted to
buy it . . . even though he didn't have a cent in his pocket."
Hemingway would embellish what happened next in an article in
Cahiers d'Art a decade later. Miró's painting, Hemingway said,
"has in it all that you feel about Spain when you are there and all that
you feel when you are away and cannot go there."
Hemingway wrote: "No one could look at it and not know it had
been painted by a great painter."
Miró managed to get a show at the Galerie Pierre in 1925,
assisted by Evan Shipman, an exchange student and Hemingway's chum.
Shipman had taken the gallery's assistant to Miró's studio to view his
work, and the assistant had offered Shipman the chance to buy any painting
of Miró's at a good price before the show was hung. Shipman chose "The
Farm," a move that couldn't have gone down well with Papa Hemingway.
Shipman decided to offer the writer the chance to buy it
instead.
"Hem, you should have 'The Farm,' " Hemingway said Shipman told
him. "I do not love anything as much as you care for that picture." They
either flipped a coin (Shipman's recollection) or rolled dice (Hem's), and
Hemingway lost. But Shipman still let him buy it. Hem made the down
payment on what he remembered as 5,000 francs, Miró recalled as "2,000 or
3,000 francs," and the gallery's records say was 3,500 francs–about
$175.
Hemingway paid for it in part with money he earned delivering
produce, and when the final bill came due, he scrounged around for funds
in "various bars and restaurants" with the help of Shipman and the
novelist John Dos Passos.
"The dealer felt very bad because he had already been offered
four times what we were paying," recalled Hemingway, who took the painting
home in a taxi, first telling the cabby to drive slowly so as not to
damage it.
Hemingway gave "The Farm" to his wife, the ever-supportive
Hadley, mother of his first son, for her 34th birthday. It hung on their
wall in Paris's poor and noisy Rue Notre-Dame-des-Champs, above a sawmill,
and would have witnessed the romantic poverty Hemingway evocatively
described in A Moveable Feast.
Hadley, replaced in Hemingway's life by Pauline Pfeiffer,
remarried in 1933 and took "The Farm" back to America. In 1936,
Hemingway–by then living in Key West–asked if he could "borrow" the
painting, and Hadley, ever generous, consented. It was never
returned.
The writer's eye was already on Cuba, and he moved there in
1939, acquiring a third wife–the peripatetic and talented war
correspondent Martha Gellhorn–and taking "The Farm"with him.
Hanging in Hemingway's finca outside Havana, the painting was
as close as it would ever be to the sort of rural life it so vividly
depicted. Its neighbors on the walls were stuffed heads shot in Africa,
and they, too, witnessed a constant stream of visitors from Havana's
demimonde, visiting celebrities, literary lights, friends, and
hangers-on.
Miró, meanwhile, had developed a different style of painting
and a passion. Profoundly affected by the Spanish Civil War of 1936-39, he
didn't go to the front to fight, but he actively criticized the Spanish
dictator, Francisco Franco; produced propagandistic art for the
opposition; and spoke out often against the fascists.
Did "The Farm" provide inspiration for Hemingway while he wrote
For Whom the Bell Tolls, his romantic gloss on the Spanish Civil
War, a bestseller written mostly at the finca? Presumably it also
witnessed the writing of parts of The Old Man and the Sea,
Hemingway's bullfighting oeuvre, as well as many letters, often abusive,
to editor Maxwell Perkins and others. By some accounts, the writer was
jealous of "The Farm" and kept it from view at least some of those
years.
Alcohol–and his own vituperation–was catching up to Hemingway
by 1959, when, then on his fourth and final wife, Mary, he agreed to loan
"The Farm" to the Museum of Modern Art. Hemingway was nervous about
exposing the painting to the hostilities stirred by Fidel Castro's
revolution while trying to get it out of the country. He insisted that the
museum insure "The Farm" and send an emissary to squire it back to New
York, but no company would issue such a policy.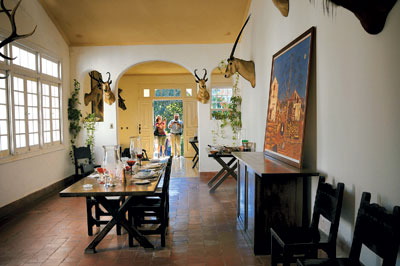 Hemingway finally agreed let the museum's emissary, David
Vance, take the painting, but he ran into roadblocks: The original crate
sent by MoMA wouldn't fit in the hold of the DC-7B that was to fly it out.
Vance left with the promise that the crate would follow the next day–but
it was delivered to the wrong airport. Meanwhile, Vance learned that he
needed a permit, but the newly installed officials at the Cuban National
Museum didn't know how to get one.
Eventually, another plane reservation was made for Vance and
"The Farm," for 3 in the afternoon of February 7, 1959.
When Vance got to the airport, more officials wanted a look at
what was inside the crate. They unloaded it, opened it, and inspected the
painting but were unable to reclose it properly because they had no tools.
A near-desperate Vance took "The Farm" into the cabin with him, in full
view of passengers, then missed his connecting flight. He finally landed
safely with his charge in New York early on a Sunday morning, and the
painting eventually went on display at MoMA.
Two and a half years later, Hemingway was dead of a
self-inflicted shotgun blast in his new home in Ketchum, Idaho. "The Farm"
was still at MoMA and, even there, continuing to tug at old, somewhat worn
heartstrings.
Hadley wanted the painting, which had been borrowed from her
nearly 30 years before, returned to her. But Mary Hemingway, heir to the
writer's estate, refused. The two former wives ended up in court, with
Hadley finally agreeing to a titular settlement of $20,000 in
1964.
Mary Hemingway, living in New York, took possession of "The
Farm" from MoMA.
It wasn't until a dozen years later that the painting finally
began its journey to Washington. In early 1976, the charming director of
the National Gallery of Art, J. Carter Brown, contacted Mary to tell her
about the much-anticipated construction of the East Building and ask her
to donate "The Farm" to the museum's collection.
Mary replied that several museums had made the same request,
and though she hadn't made a decision, she was "aware that I must do so
soon," in part because she was concerned about the painting's
condition.
Brown asked if he and Vic Covey, head of the National Gallery's
conservation department, could pay her a visit. The request proved
fortuitous. Brown's memo of June 14, 1976, states that Mrs. Hemingway was
"cordial and warm" and obviously impressed with the gallery's annual
report.
Before Brown left, "Mrs. Hemingway indicated that that
afternoon she would be signing a new will in which the picture would be
left to the National Gallery."
The painting was loaned to the museum by Mary Hemingway for the
1978 exhibit "Aspects of Twentieth Century Art," in the East Building. It
was returned, then came back in 1981 and was again on view. "The Farm"
formally entered the National Gallery's collection in 1987 but has
continued to travel to art institutions around the world.
Joan Miró continued working until his death in 1983 at his home
in Palma, Majorca, outliving his enemy Francisco Franco by several years.
By that time, Miró's work had come to embody an aesthetic that was at once
earthy and poetic–and utterly Spanish.
The diversity of Miró's creative output is staggering, and the
sheer number of works makes a traveling retrospective like this spring's a
major challenge. Yet "The Farm" remains a touchstone, a youthful codicil
of Miró's deepest associations, what National Gallery curator and head of
modern and contemporary art Harry Cooper calls "a résumé of his entire
life in the country."
Miró said more than once that he was happy that Hemingway
bought his painting. No one wants to say what "The Farm" might be worth
today–Miró's "Painting-Poem," from 1925, sold earlier this year for $26
million–but the dollar value is largely irrelevant. Hem was right about
its primal power, and he concluded his 1934 article in Cahiers
d'Art with a tribute to Miró that even elevated image over words:
"[T]he thing to do is look at the picture, not write about
it."
James Conaway writes often about travel and culture and is the author of "Vanishing America" and other books. His new novel is due early next year. He writes a blog at cjonwine.blogspot.com.
Related:
Art Preview: "Joan Miró: The Ladder of Escape" at the National Gallery