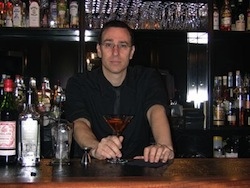 Tales of the Cocktail–the spirits bacchanal held each July in New Orleans–announced the finalists for its Spirited Awards last night. The awards honor bartenders, bars, and cocktail writing around the country and the world.
American Bartender of the Year is always among the most anticipated honors, so it's very exciting Washington's Derek Brown–owner of the Passenger and the Columbia Room–is a contender. He's up against some heavy hitters: Portland's Jeffrey Morgenthaler, Jamie Boudreau from Seattle, and LA's Vincenzo Marianella are all well-known names among the cocktail-erati.
Brown's Columbia Room, often overseen by talented 'tendress Katie Nelson, is a contender for Best American Cocktail Bar. The 7th Street lounge also made it to the James Beard semifinals this year, and again finds itself up against some stiff New York and LA competition. San Francisco's beloved Bourbon & Branch is in the running, as is the much-lauded Anvil in Houston. In the Best Cocktail Writing–Author category, the Washington Post's Jason Wilson will take on libation luminary David Wondrich along with the Atlantic's Wayne Curtis, who happens to live in New Orleans.
Winners of the Spirited Awards will be announced during a ceremony on Saturday, July 28. Don't forget to cheer on your local sons.