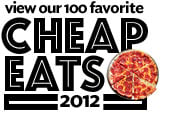 You can run up quite a tab at this pool hall/small-plates lounge if you're not careful. Trouble is, the food is so good it's tempting not to be. Another problem: If you order one of Gordon Banks's excellent craft cocktails, staying within the Cheap Eats budget becomes even harder.
Harder but not impossible. Diana Davila-Boldin, who runs the kitchen next door at Jackie's, is a fine miniaturist—packing lots of satisfaction into small packages. She improves on the Chicago hot dog with a grilled dog and griddle bun and makes a convincing case that falafel—tiny and blitzed with tangy cabbage—is a legitimate cocktail snack. Her cochinita (baby pig) tacos offer a dazzling preview of owner Jackie Greenbaum's forthcoming taqueria in DC's Columbia Heights, El Chucho's-Cocina Superior.
Also good: Mini-burgers; jarred bone marrow; house-made sausages.