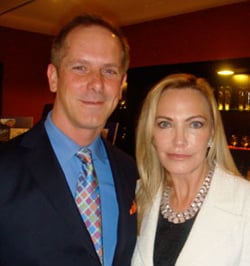 One of Washington's better-known philanthropic couples, Sam and Susan Lehrman, are divorcing after more than a dozen years of marriage. As a couple they were active in the Washington social scene and were also involved in several philanthropic pursuits, including, in particular, the Washington National Opera (whose glitzy benefit happens this weekend). This comes exactly one month after another well-known DC couple, Real Housewives of DC's Rich and Mary Amons, announced their impending divorce.
According to friends of the Lehrmans, Sam wanted the divorce and Susan moved into her own apartment. "It's done, or very nearly done," said a friend of the couple. They have a prenuptial agreement that is reportedly clean and concise. "They both have means," said the friend.
Susan Lehrman was recently awarded the insignia Chevalier of the French Legion of Honor. In presenting her with the award, French ambassador François Delattre praised her charitable contributions and her "impeccable taste."
Sam Lehrman is a native of Washington, where his grandfather was one of the founders of Giant Foods. Sam is founder and president of Lehrco Corporation, a retail development and management company.
We called both Sam and Susan Lehrman for comment. Susan's spokesperson, Shelley Hymes, called back to say that Susan was traveling and had no comment.