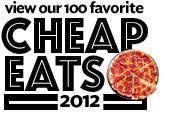 Given that most regard his restaurant as a takeout joint and
that the "dining room" consists only of a table and four stools, owner
Gary McNaughton is surprisingly fastidious about details. One afternoon,
he was seen hauling in boxes of wild salmon, and his soups are often
brimming with touches such as sprigs of thyme.
Jamaican cooking is rife in this area, but seldom is it done
with such knowledge and care. The goat curry is a rich brew redolent of
allspice and clove, with hunks of meat that shred easily with a plastic
fork. McNaughton's house-made drinks are superior to the competition's
treacly concoctions—our pick is the cucumber, zingy with ginger and a fine
foil for all that spice.
Also good: Brown stew fish;
escoveiche, a grilled whole fish topped with pickled peppers and
onions.