Dad's Hallmark holiday does not inspire the bonanza of brunches we see on Mother's Day, but there are still a number of specials and such for feting your pops. Here are nine.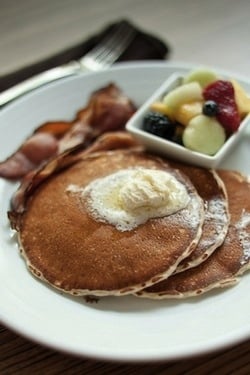 Availability: 10:30 AM to 3:30 PM
Price: $45 per adult, $27.50 per child
Chef Wes Morton shows off his Southern roots with a down-home brunch featuring carving stations of slow-smoked pork shoulder and beef brisket, smoked pork back ribs, breakfast and side options, and sweet pies like blackberry-lemon to top it off.
Availability: Assaggi will be open from 11:30 AM to 10 PM
Price: $14 for a two-course lunch special
The restaurant is offering à-la-carte specials such as seared duck breast with a cherry sauce and sautéed spinach; roasted king salmon with orange-braised Belgian endive and lemon-tarragon sauce; and rhubarb tart with vanilla ice cream. Opt for the two-course, $14 lunch special (available every day), and you and Dad can choose a soup, salad, or dessert plus an entrée. Pretty good deal.
Availability: 11 AM to 11 PM
Price: À la carte
The Arlington eatery is dedicating the whole day to your old man, beginning with an à-la-carte brunch of baked eggs, frittata, roasted artichokes, and tons of other options, and continuing through lunch, happy hour, and dinner with yet-to-be-determined specials. Oh, and there's live jazz—which dads tend to like.
Availability: June 16 and 17, beginning at 11 AM
Price: À la carte
Reserve a seat on this Columbia Heights eatery's 80-seat patio to enjoy an all-day porkfest with your pops. The Heights will be cooking locally raised pigs over a wood-fired grill, then presenting the results to you in the form of barbecued pulled-pork sandwiches and such—the menu includes plenty off piggy one-offs, plus sides and starters like local corn and arugula salad with bacon vinaigrette.
Availability: 10 AM to 3 PM
Price: $55 for an engraved growler
The Falls Church brewery will offer its standard à-la-carte Sunday brunch, which includes house-made doughnuts, breakfast pizza, and banana bread French toast alongside boozy Irish coffee and micheladas. Surprise Dad with a specially engraved Mad Fox growler for $55, available for preorder on Mad Fox's website. It comes with a $25 gift card so he can fill up his beer jug before heading home.
Odyssey Cruises and Spirit of Washington
Availability: First cruise ships out at 10:15 AM
Price: From $59.90 per adult and $35.95 per child
Head to the Southwest waterfront for a brunch, lunch, or dinner cruise. We can't vouch for the quality of the food, but we can say with confidence that most dads like a good boat ride.
Availability: Ongoing
Price: Varies
This Warrenton bakery is always a good option when you're celebrating a family member with a sweet tooth. Dad will dig boozy dessert options such as bourbon and rum cakes. Call to reserve, or, better yet, drive out there with him for some quality bonding, road-trip-style, and fuel up on caffeine and sweets before heading home—Red Truck has great coffee, too.
Availability: June 15 through 17
Price: $39
If your dad is into pretty cupcakes, indulge him with a DAD Box from this LA-based bakery chain. It includes 12 cupcakes (peanut butter chip, red velvet, black and white, and vanilla milk chocolate) and can be ordered online or by phone for pickup in the store.
Availability: From 4 PM
Price: $49 per person
For old-school dads, a chophouse always works. Timpano in Rockville is doing a prix-fixe dinner on the 17th that includes a Caesar or wedge salad; veal Oscar—veal chop topped with sweet lump crab meat, choron sauce, and asparagus; dessert; and a glass of house wine or beer.