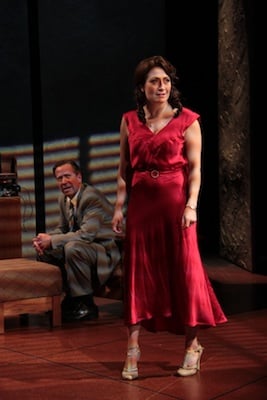 In theater, as in film noir, a little atmosphere goes a long way. In director
Eleanor Holdridge's sleek production of
Double Indemnity, now playing at Round House Theatre,
smoke and shadows cloak everything in mystery, a brass-heavy soundtrack
sets the mood,
and actors deliver snappy dialogue in the cool, smooth cadence
of old Hollywood movie stars. In other words, the feel of James
M. Cain's classic 1930s crime story is just right.
What's not so fitting in this new interpretation (adapted for the stage by
David Pichette and
R. Hamilton Wright) is the flimsy premise and motivation upon which the central action seems to rest. Known for other popular novels turned
movies
The Postman Always Rings Twice and
Mildred Pierce (a work that's had something of a renaissance in the past year following its 2011 HBO remake), Cain originally penned
Indemnity in 1936. Billy Wilder's 1944 cinematic take on the suspenseful story was met with great success. So the story itself clearly
has staying power: In 1930s Los Angeles, insurance agent Walter Huff (Marty Lodge) falls for Phyllis Nirlinger (Celeste Ciulla), the sexpot wife of a wealthy client. When he learns of Mrs. Nirlinger's plans to get rid of her husband, Huff helps her
plot the perfect murder—and accident insurance on railroad "mishaps" pays double indemnity.
The problem here is in the setup: In the play's crucial
opening scenes, Huff and Mrs. Nirlinger seem to stumble into their
murderous project without having established any of the
impulsive passion that would make such a weighty decision believable.
The pair meet by chance, and suddenly they're ready to kill.
While a certain hotheaded chemistry is lacking, the
actors themselves otherwise deliver with the material they have to work
with. Lodge, a Round House veteran, exudes an easy, slick
confidence, and for the amount of time he spends onstage, he never
misses a beat. Ciulla too is striking, if a little melodramatic
at times, with a throaty voice and seductive presence that
helps distract from some of the show's more unconvincing
aspects. Playing multiple roles each, the rest of the cast members
embrace the dark and ominous vibe as well, adding complexity
and layers to a plotline that needs it at times. A handful of
climactic scenes really hit their stride, tapping the
emotionally intensity that feeds a thriller, but that tension comes
too late to be completely satisfying.
Indemnity is no doubt entertaining. Soaring art deco
set pieces and menacing projections by scenic designer Daniel Conway
transport
the audience to a distinct time and place they won't care to
leave, while the cast channels that ambiance completely. Even
stage hands rearranging furniture onstage keep in step with the
noir theme, decked out in neatly tailored period suits and
hats. But exciting design choices and committed actors can't be
everything. Building a captivating production requires a compelling,
plausible storyline to serve as its foundation, and when that
foundation feels shoddy, it's hard to overlook it. This murder
mystery has style and swagger to spare—unconvincing substance
is the only crime it's guilty of.
Double Indemnity
is at Round House Theatre Bethesda through June 24. Running time is two hours, with one intermission. Tickets ($10 to $61)
are available through Round House's website.