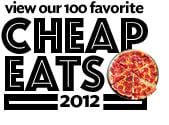 The soft-spoken servers and sedate dining room give no hint of what's to come when you get to the table: a tama-rind-striped potato-and-chickpea salad that's a riot of flavors, a vindaloo so fiery it challenges the most dedicated spice lovers.
This is the most vibrant Indian cooking in the area—and at lunch, when a well-stocked buffet costs $9.50 a person, some of the most affordable. You'll want plenty of raita and a basket filled with such breads as cilantro-sprinkled naan and mint-flecked paratha to counter the heat of the curries.
Also good: The puffed-rice salad called bhel puri; pan-fried potato cakes with yogurt; chicken makhani in a creamy tomato gravy; sole in coconut-and-mint curry; lamb in mint-and-cilantro gravy; naan with garlic and black pepper.